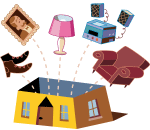 Tell us First about your Second Hand Stories
We want you to tell us about any entertaining stories you have about buying something second hand on Preloved. The more unusual, interesting and quirky the better!
Perhaps you have a unique collection and are always buying new pieces on Preloved?
Maybe you have saved thousands of pounds kitting out your home or organising your wedding by only buying second hand?
Has any item you've recently bought or sold come with an interesting or quirky story attached?
Did you meet the love of your life on a second hand shopping trip?
Why do you think second hand is so first rate?
Come on, get in touch and you could help us spread the Joy of Second Hand!
Tell Us More...