Help Us Stamp Out Animal Cruelty
We want to stamp out animal cruelty. And you can help us.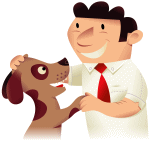 If you're thinking about buying an animal there are certain key precautions you should take. For example, you should be able to see a puppy with its mother and, preferably, with the rest of the litter. Take time to make sure that the animal is happy and healthy with plenty of energy, clear eyes and a shiny coat. Never buy an animal because you feel sorry for it. An animal that has been poorly reared can cause much unwanted heartache and may also need treatment from a vet which can quickly prove very costly.
If you have any concerns, please get in touch with us and we will advise you on what to do next.
Preloved works closely with various UK animal charities, such as the RSPCA, Dogs Trust and Cats Protection, to identify any adverts that may have potential animal welfare issues and can investigate further. Where we feel there are legitimate concerns we will stop advertisers from using our site.
If you're using Preloved to find a new safe and secure home for an animal there are also ways to ensure that their interests are put first. Be sure to find out as much as you can about the animals new home. For example, ask lots of questions about its suitability, the new owners' lifestyle, their experience of animals, and whether they have a full understanding of the commitment involved.
Every animal is relying on you to give it a safe, happy and secure forever home, so take plenty of time to ensure you make the right decisions.