Campaign Advertising On Preloved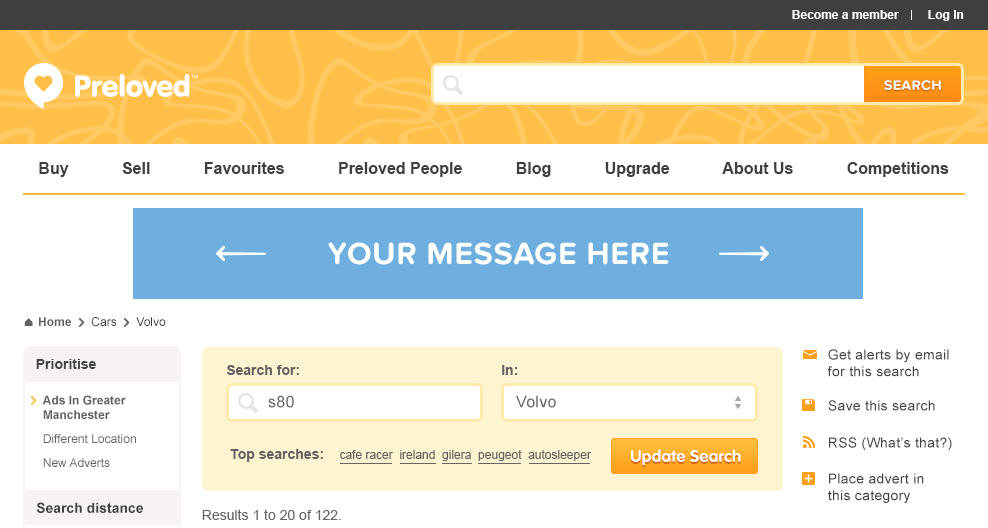 Campaign Advertising on Preloved is a low cost, effective way to gain high profile exposure to the millions of people that visit Preloved every month.
Campaign advertising allows you to:
Place video, image, banner or text ads in a selection of high profile positions.
Reach a broad range of visitors across the entire site
Alternatively target specific visitors.
Gain complete control over your budget. You set the amount you want to spend each time your advert is displayed and your overall daily budget.

Preloved Fast Facts
Preloved hosts one of the largest online buying and selling marketplaces in the UK. Each month, millions of buyers visit Preloved in search of a bargain amongst over half a million classified adverts.
More demographic information...
Three Ways to Manage Your Campaign
Set up your campaign in minutes using our online system. If you don't have display ads you can create professional looking display ads online using your own text, images and logo. It's the quickest way to get exposure to millions of UK visitors.
You can place advertising on Preloved via Google AdWords. If you already advertise with Google Adwords, this enables you to manage your Preloved campaign from the same central location. It also allows you to target campaigns to niche categories or keywords, or to a specific geographic location.
Agencies can find us on DoubleClick Ad Exchange. This enables you to intelligently select and bid on Preloved inventory in real time.
Get Started
Preloved campaign advertising is managed entirely online. No phone calls or pushy salesmen. Click here to find out how to begin campaign advertising on Preloved.