Charity Shops and Plant Care – The Joy of Second-Hand
The 4th in Our Edition of #TheJoyofSecondhand Blogs!
---
A little about me…
When we moved into our flat just over two years ago, we had no furniture and no money, so I had to furnish it on a very tight budget! I was already charity shop mad as I'd been buying clothes in them from my early teens, so I was very excited to finally be able to buy furniture and décor items second hand. I first managed to source the essentials such as sofas, chairs, and a coffee table for free! These weren't necessarily my first-choice design-wise but we needed somewhere to sit! Once I had the basics, I then began to swap out the less desirable items for things more to my taste. The best part about shopping second hand is it's ok to mix and match furniture. If something doesn't look right in your home, just sell it and buy something else! Here are some more of my top tips to finding that perfect bargain…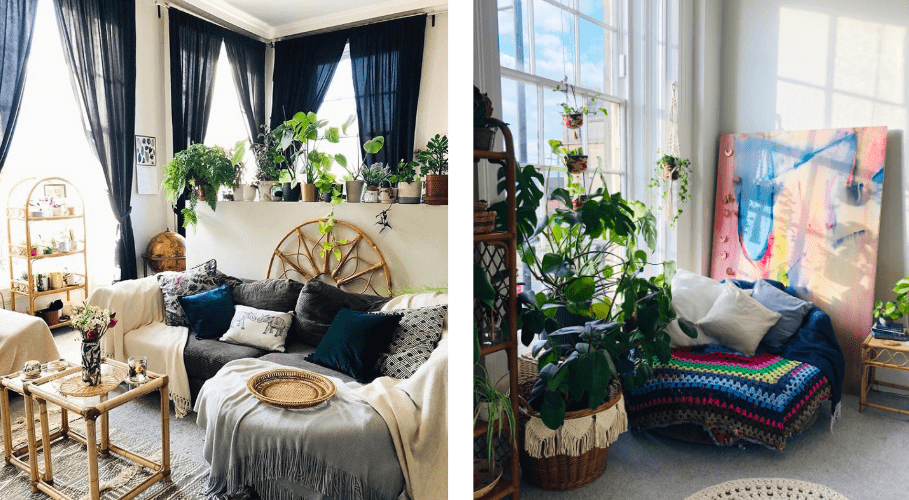 ---
1. If you love it, buy it!
The number of times I've seen something in a charity shop or online and have ummed and ahhed about it. Is that too expensive? Do I really need it? Where would I put it? Then when I've finally decided to go for it, it's already sold, and I've been left heartbroken. FYI, I still think about the £25 bamboo rocking chair I left in a charity shop daily! Always go with your gut feeling. I often sell items I have to make space for new purchases, and in the process recoup the costs of my new bargains, whilst giving my unwanted furniture a new lease of life in its new home.
---
2. Do the rounds
Wherever you are: a car boot sale, charity shop, or online you have to make sure you look twice. I always do two laps of the charity shop; more often than not a hidden gem will catch your eye on your second glance. When shopping online, typing in different keywords can help you find what you are looking for. For example, I adore natural materials and have a lot (maybe too much) wicker and bamboo furniture. Instead of just typing 'bamboo furniture', I search for similar words such as wicker, rattan, and cane. By doing this you will come across items you wouldn't have otherwise. I also set notifications for my favourite keywords or something I am after particularly. This way I am notified immediately when a new item is uploaded, and I don't miss out on a bargain.
---
3. Haggle!
The best thing about buying second hand is you can make offers and haggle to get yourself the best deal! I find most people selling their furniture just want to get rid of it as quickly as possible, which bodes well for you as they will more often than not accept a lower offer, so don't be afraid to haggle.
---
Moving onto my 2nd passion… Plants, plants, and more plants!
Before I had my own space, I was never into houseplants and would definitely not consider myself to have a green thumb. Plants have definitely become a lot more fashionable over the past couple of years, and as I got more into home interior, especially with the influence of Instagram and Pinterest, I began to obsess over greenery. Not only do they brighten up your space, but they also clean the air and are proven to improve your mental health!
I now have over 120 plants in my one bed flat, (my boyfriend thinks I'm crazy) and I'm always on the hunt for more. I've even managed to acquire quite a lot second hand! Some people have given them away for free because they take up too much space; others sell them for cheap not knowing their value. I got my massive monstera deliciosa for £20! So I would definitely recommend looking for plants on second-hand websites like Preloved to grab a bargain.
Since becoming obsessed with all things leafy, I have had to learn how to care for them and in turn how to propagate a plant. This is when you take a cutting from the mother plant, root it in water, and plant it up in the soil to produce a new baby plant. Now we are spending a lot more time indoors during lockdown, propagating, repotting, and tending to my plants is a good way to keep myself busy. It is very satisfying watching a plant you have tended to, grow into a new plant, and thrive, especially now we are in spring.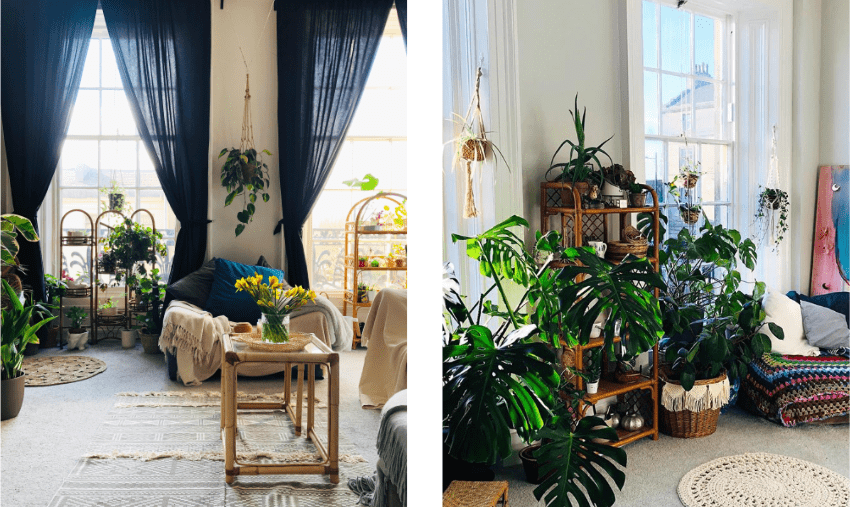 ---
My top tips for bringing green into your home:
1. Start easy
If you are a beginner, some of the easiest plants I have found to care for are pothos, monstera deliciosa (cheese plant), and tradescantia (wandering jew.) I have found them to be quite resilient as they are not too fussy and will forgive you if you forget about them every now and then. They are also super easy to propagate once you've gotten the hang of keeping them happy!
---
2. Lighting
Our flat has massive windows so we get lots of light (hence all the plants), however not all plants want to be in direct sunlight. A quick google of your plant baby will tell you it's preferred conditions so you can find it the perfect place in your home for it to thrive.
---
3. Watering
It is definitely a lot easier to kill your plant by overwatering than it is underwatering! As a general rule, pop your finger into the soil, if the top two inches are dry you are usually ok to water it, if it's damp then leave it alone. Also, if you have your plants in pretty ceramic pots, (I have gotten all my pots and baskets from charity shops) make sure you remove any excess water from the pot to avoid drowning your plant!
---
4. Humidity
Most plants love humidity! If you don't fancy buying a humidifier to keep your plants happy, you should buy a mister, which you can do cheaply secondhand. I mist mine every few days. When doing this I also check the leaves and remove any dead foliage. Another easy way to create humidity is to group your plants together, which is also aesthetically pleasing!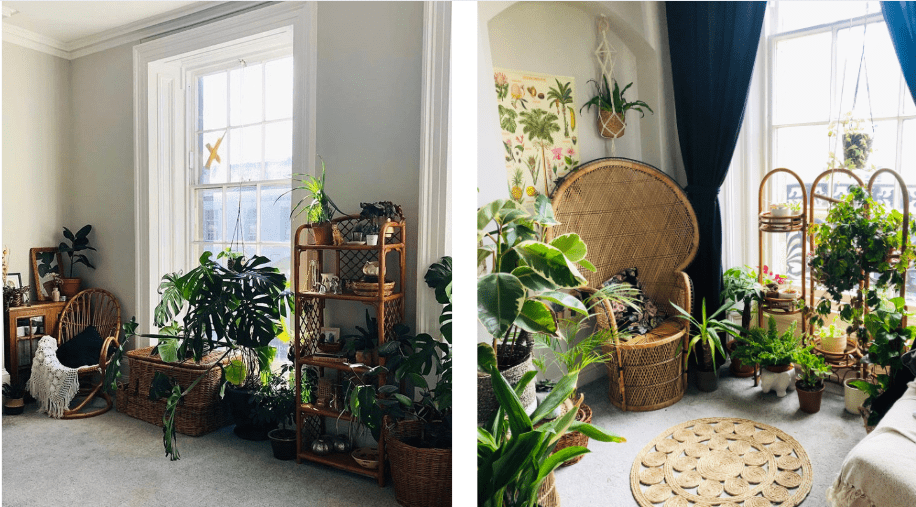 ---
Thanks for reading my top tips on Charity Shops and Plant Care! Be sure to check out my Instagram page here where you can see my Second-Hand Indoor Jungle in action!
---
More #JoyofSecondhand Blogs Here:
Visit our Member Rewards Page Today for Exclusive Offers on everything from Shaving Sets to Recipe Boxes!
…
Be sure to check out all our other blogs to keep up to date on how Preloved approaches the COVID-19 Pandemic.