A garden party can be a highlight of your summer, and it's not as stressful as it may initially seem! All it takes is a bit of planning, forward thinking and making the most of it when the day comes. Here is Preloved's guide to planning the perfect garden party.
Planning the perfect garden party – where to start
Make sure you have a notepad at the ready, because to get organised for a garden party there are a lot of lists to be made. First of all, make sure your garden is in tip top shape. If it isn't, ask friends to help out, with the promise of a party if they do!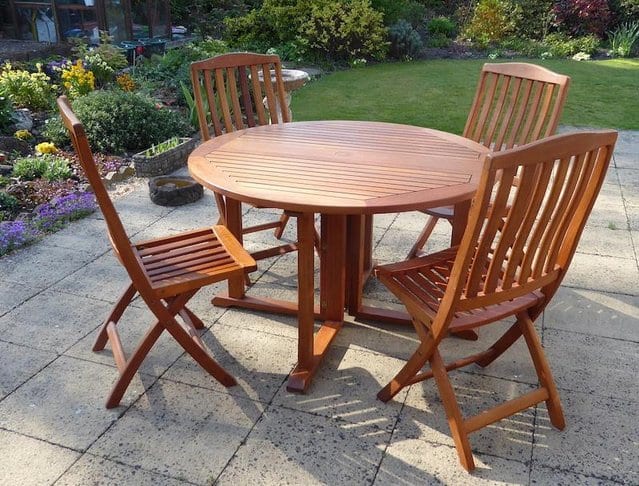 Do you have garden furniture or a BBQ? If not, it isn't that expensive to invest in some. Check out Preloved for second hand tables and chairs. If you have the time, you could go for a shabby set and add your own personal style with outdoor wood paint.
If you're not quite sure where to start with the garden, clearing all the rubbish, dead leaves and twigs is a great start! Then, when it comes to making it look pretty, your local garden centre will have a variety of potted plants you can choose from. If you're naturally a little more green fingered, then you might want to really get stuck in. Us at Preloved love upcycling and DIY. For your garden you could take a second hand wheel barrow or old chimney pots to plant your favourite blooms.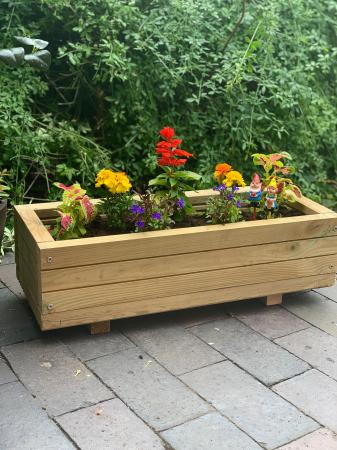 If you plan for your party to go on into the evening, there are two things to consider; lighting and heating. Solar powered lighting is a great garden buy as they are rechargeable by sunlight and are fine in any weather. Garden heating will keep your guests cosy as your party carries into the night.
What should I include in a garden party invite?
Every invite should include a date, time, location, any information on what to bring and any other questions you personally need them to answer. Are they vegetarian? Do they have any allergies? Also ask who they will be bringing. Do they have a partner? Do they have kids? Get all the information you will need to move forward in your planning. Consider what date you think will be the best for most people, but most importantly choose a date that you know won't cross over with anything in your diary!
Send out the invites. Whether by Facebook, or physical invites, this doesn't matter as long as you have a rough number to work from for the rest of the planning.
What kind of food and drink should I buy?
Before you hear back from your invited guests, you can start thinking of what food or drink you can have at the party. Pinterest is great for recipes of all kinds. Why not make a board and collect all your ideas together in one place? You can even invite people to pin to your board, so people who confirmed early can get a say on what food you will be providing! Even Preloved have a Pinterest! We love sharing our summer inspiration and great upcycling ideas!
Ideas you may want to consider are BBQ food, punch bowl and salad recipes, desserts, recipes for the kids and cocktail recipes if you want to get creative!
A bar butler is the perfect tool to keep your guests' drinks flowing so you can focus on other things – like those burgers on the BBQ or those kids in the paddling pool!
What can I cook for a vegetarian at a BBQ?
You may not have to think about this if all your guests eat meat, but it is something to think about if you want variety. If you are inviting a strict vegetarian, then they may prefer for their food to be cooked on a separate BBQ, a cheap disposable should be enough if there are only a few vegetarian guests. Vegetarian ideas for food are –
Your guests might have their own ideas too, so ask them for help if you're struggling with any recipes.
What to buy, and when?
Once you have your confirmed list of guests you can start planning what you actually need to buy. You may need to do a number of lists.
Days before the party
Tableware – Table cover, plates, cups, cutlery, salad bowl, napkins
Drinks – soft drinks and alcohol
Condiments – ketchup, mustard, mayonnaise
BBQ – coal/kindling/briquettes/firelighters/gas
Evening before or morning of the party
Vegetables/Salad – peppers, onions, lettuce, cucumber, tomatoes
Meat – burgers, sausages, chicken legs
Bread – burger buns, hotdog buns
Don't forget to have fun!
Garden parties are all about making the most of the sunshine and spending time with good friends and family. So, now you get to think of all the things that will make it memorable.
Music
Do you have a keen DJ in the family? Or someone with a good taste in music that you could persuade to sort you out with some good tunes? Create a playlist in advance, ask your guests to choose a song each and spread them out throughout the day so everyone is happy!
Games
If you have kids at your garden party, games are a must. So, think of all the things you know will keep them busy like a paddling pool if it's sunny, or a treasure hunt with prizes hidden around the garden. If there's a BBQ, steer away from games that involve flying objects – this will be a hazard and the novelty will wear off on your part!
Games aren't just for kids though. Limbo, Twister and tug-of-ware will lift everyone's spirits and have them laughing even when they leave! See what second hand board games are listed Preloved!
What do you do if the weather isn't good?
The big question is will you benefit more if you reschedule? Will the same people still say RSVP attending? If you choose to power through the weather what are the alternatives?
Gazebo, Tent or Teepee?
Gazebos are quick to put up when you get a spot of surprise rainfall! Though, there is also the option of a large tent or teepee. They're spacious and can be left set up in the garden all summer. A perfect spot for the kids to have their own space on days when the weather isn't great and they don't want to stay in.
Important things to remember
Hot sun and alcohol don't mix well, so save the drinking for after 6pm. Late evening wind downs can be the most interesting and fun parts of the whole day. Talking of the hot sun, remember to take care, use sun cream and stay hydrated!