What is the
Driving change through legislation and a series of bills, the 5 key areas of welfare reform will be:
Sentience & Enforcement
The 2006 Animal Welfare Act recognised in law that animals can feel pain and suffering. The new action plan claims to take this one step further by recognising animals as sentient beings in law, making this the centre of welfare-based government decision making moving forward.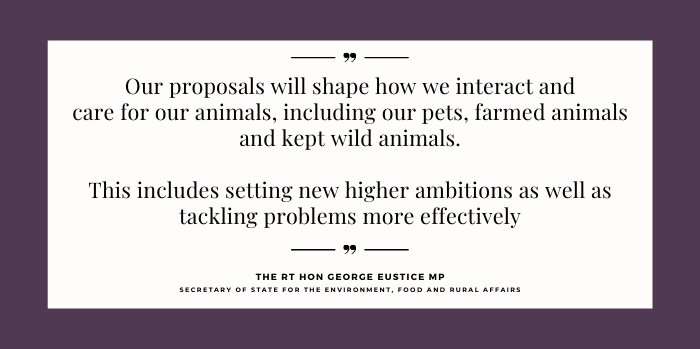 The landmark Sentience Bill will recognise sentience in law and, making sure the programme is overseen, an Animal Sentience Committee is being set up to review and report on government decision making and ensuring Ministers are held accountable for how they take welfare into consideration in policy decisions.But how will this directly affect pets?
Pet Theft
Since he start of lockdown there's been an increase in pet theft across the UK, leaving families devastated and pet owners terrified to walk their own dog. A taskforce has been created to tackle his issue.
Gather, research and commission work to build a clear evidence base of the scale of any issue.
Consider the issue from end to end, including causes, prevention, reporting, enforcement, prosecution and sentencing.
Make clear and timely recommendations on ways to improve the situation around pet theft.
Imported Animals
APAW outlines reform to increase the minimum age that dogs can be imported into Great Britain, as well as restrict the ability of unscrupulous traders to move heavily pregnant dogs into Great Britain.
Additionally, the government will prioritise the health and welfare of dogs by prohibiting imported dogs into Great Britain that have been the subject of practices, such as ear cropping or tail docking.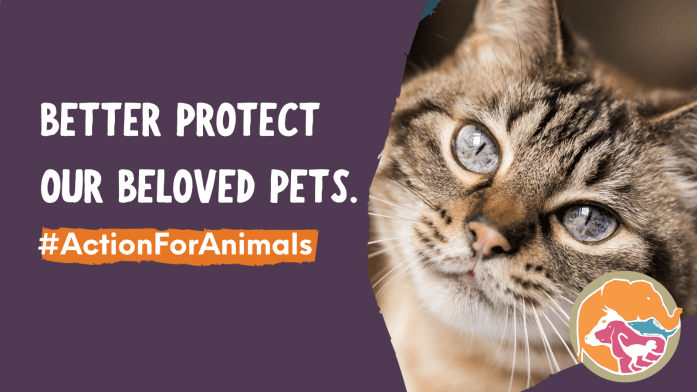 Microchipping
Whilst the introduction of mandatory chipping for dogs showed high take up, one bone of contention has been the database support for this. APAW will be reviewing the current database systems, with a view to introducing improvements.
Further measures to be considered for reform includes greater assurance that microchip database information is checked appropriately, for example in cases where healthy dogs are presented to vets for euthanasia.
A notable addition to the plan that Preloved has pushed for over recent years, is the introduction of compulsory microchipping for cats, helping lost or stolen cats to be reunited with their owners. Whilst Preloved has already introduced this as a mandatory listing requirement back in 2020, we're delighted to see the government taking action here.
Rescue Shelter Regulations
One area of concern here at Preloved, and something we've been seeking reform of, is the lack of regulations for Rescue Shelters and Sanctuaries. This would mean shelters would be licensed, monitored, and regulated.
The work of legitimate shelters is undeniably important. However, there are unscrupulous sellers out there who will use a 'shelter' shopfront as a ruse to rehome farmed and potentially poorly pets, taking advantage of those buyers looking to do the right thing (#adoptdontshop), redirecting funds away from legitimate shelters who need it to continue protecting animals in need and perpetuating the cycle of animal cruelty. Introducing licensing measures here will weed out the villains and shine a spotlight of authenticity on those who are genuine.
This is why the Preloved team are delighted to see the government pursue the licensing of animal sanctuaries, rescue and rehoming centres for dogs, cats, and horses in England & Wales (the measure will be in place in Scotland in September 2021).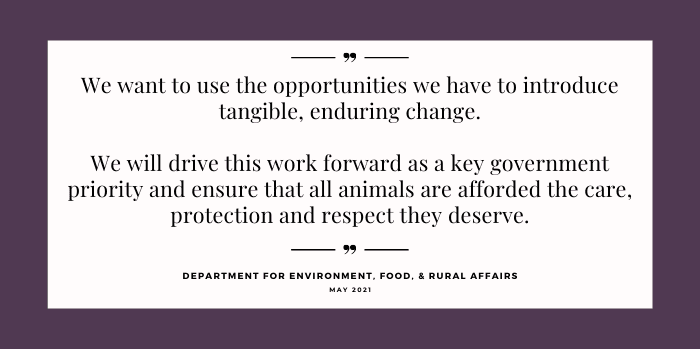 Equestrian
The government will consider changes to equine identification and traceability to improve biosecurity and welfare, with consultations planned for later this year (2021). They will also be reviewing welfare issues in the racing sector, such as fatality levels.
What's Next For The Action Plan For Animal Welfare?
The government will now be working with various welfare organisations, business, and the public, to help develop their plans. Primary legislations will be implemented during the remainder of this Parliament, including the Animal Welfare (Sentience), Kept Animals, and Animals Abroad Bills, secondary legislation, and other non-legislative measures.
For More Information
For more information on Defra's Action Plan For Animal Welfare, regarding Farm Animals, Trade & Advocacy, and Wild Animals, click here.