COVID-19 Update: Advice when Creating an Advert with Preloved during the Pandemic.
What have we done so far?
During the course of the COVID-19 pandemic, we have taken various 'buying and selling' precautions aimed specifically at our Pet Categories. This has been to protect our members but most importantly the welfare of pets advertised on the Preloved site. On the 24th of March, we released our updated stance toward the rehoming of pets and horses during the coronavirus pandemic. This included:
We strongly advise against the buying or selling of ALL animals at this time. All rehoming of animals must be done face to face. We do NOT permit the 'shipment' of animals, nor encourage pet courier services as an alternative to not being able to view the pets advertised in person.
We always advise against paying deposits to 'hold' pets that have not yet been viewed. This is to protect our Preloved community against would-be scammers, who could request a pre-payment whilst 'stay at home' is enforced.
---
Other Measures during COVID-19
We also took other precautions on-site to ensure our community was well informed and making conscious decisions when buying items online:
1. We left a gentle reminder in all categories for every individual advert to avoid face to face transactions, linking to a blog explaining the important reasons why. Please see the example below: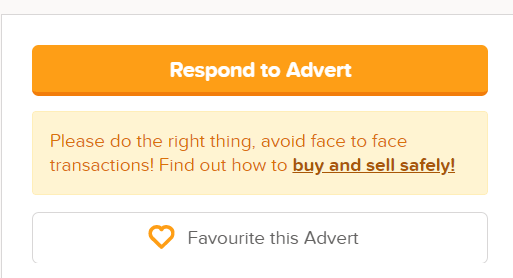 2. We issued a Press Release detailing our new safety guidelines, including the reasons why we strongly advise against the rehoming of animals during the current climate.
3. On the 2nd of April, we released a message to all pet owners on our blog including the most up to date information and overall guidance for your pets during the Covid-19 pandemic. These suggestions were vitally informed by animal welfare bodies and organisations such as Defra, Dog's Trust, The Kennel Club, and the RSPCA.
---
What was the outcome?
Thankfully, our members took notice and we saw an outstanding decline both in the creation of pet listings, and the responses to existing adverts related to animals. Unfortunately, the COVID-19 pandemic is still a major concern. We understand that lockdown is imperative to saving lives, and this has to be replicated in the way we do things at Preloved for the greater good of our community.
---
So, what do we do now?
We have to take further action, not just with our pet categories, but with regards to ALL listings on our site. This will ensure that our advice is being taken seriously and that we can protect the safety of anyone visiting Preloved. We do understand that we are the brand people come to for second-hand items because we are trusted by our members. After all, it's at the forefront of everything we do.
1. We've now added a new feature when our members go to place a new advert, as a gentle reminder of our stance during the pandemic. This states: "Whilst we are accepting new adverts from sellers, we kindly ask our members to abide by the existing government guidelines in relation to COVID-19 and social distancing."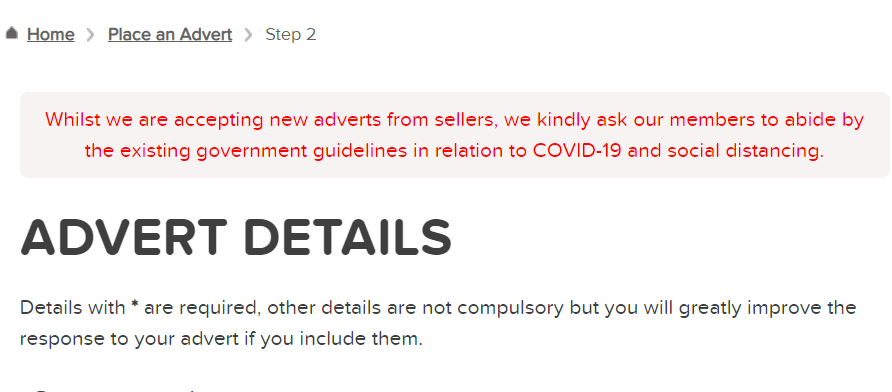 2. We do not advise responses to existing or new adverts in all categories including pets, where you must view the item in person.
3. If you do decide to publish an advert whilst the COVID-19 lockdown is in place, please note that no face to face arrangements or communications should be made with the buyer until the end of social distancing regulations.
4. As a buyer, you will have the ability to favourite or save existing listings to your account, so that you can easily go back to them at a later date when the time is right. Please DO NOT ever pay a deposit for an item to temporarily hold it until lockdown is over. We will not be held responsible if your money is lost from making this decision.
---
We understand people may have litters in need of new homes, so please follow advice provided by established animal welfare organisations which you can find here.
Our number 1 priority at this time is the safety of our members, and our wider communities. During this difficult time, we have to put trust in our members to do the right thing. We appreciate your understanding at this time.