We all want to enjoy this festive time of year, and share the fun and excitement with our pets. But for some, it can be a stressful and potentially hazardous time. So here are PDSA's top tips for a pet-safe Christmas.
Pets don't know it's Christmas, so imagine how confusing it can be for them! We often have parties with lots of noisy house guests; we bring a tree, that normally lives outside, into the house, and decorate it with intriguing decorations that look like pet toys but we don't let them play with them. We're out of the house more than usual, at parties and spending time with loved ones, and our normal routine goes out of the window.
To help minimise any stress, make a cosy 'den' for your pet in advance so they can escape from all the comings and goings if things get too busy for them. A quiet room with their own bedding and blankets is ideal for dogs, while cats feel safest when they're high up. Cat trees with posts, platforms, and boxes to hide in, are available from reputable pet shops and could make for a nice early Christmas present.
Get your pet used to feeling comfortable in their den ahead of Christmas by giving them healthy treats when they are relaxed in the den. They will learn to view it as a pleasurable and calm place, where they can escape all the bustle and noise. If your pet is easily stressed out, you can also place a pheromone diffuser near to the den. These release calming scents only our pets can smell.
A Christmas tree is a playground full of temptations with shiny decorations and flashing lights. Cats especially can view them as a climbing frame, but sadly vets see many injuries at this time of year due to falls and toppled trees. Don't leave your pet alone in the room with the tree, and keep doors closed when you leave the room. Decorations such as tinsel, baubles and ribbon might seem like fun to inquisitive pets, but can quickly become choking hazards, so keep them well out of reach from probing paws.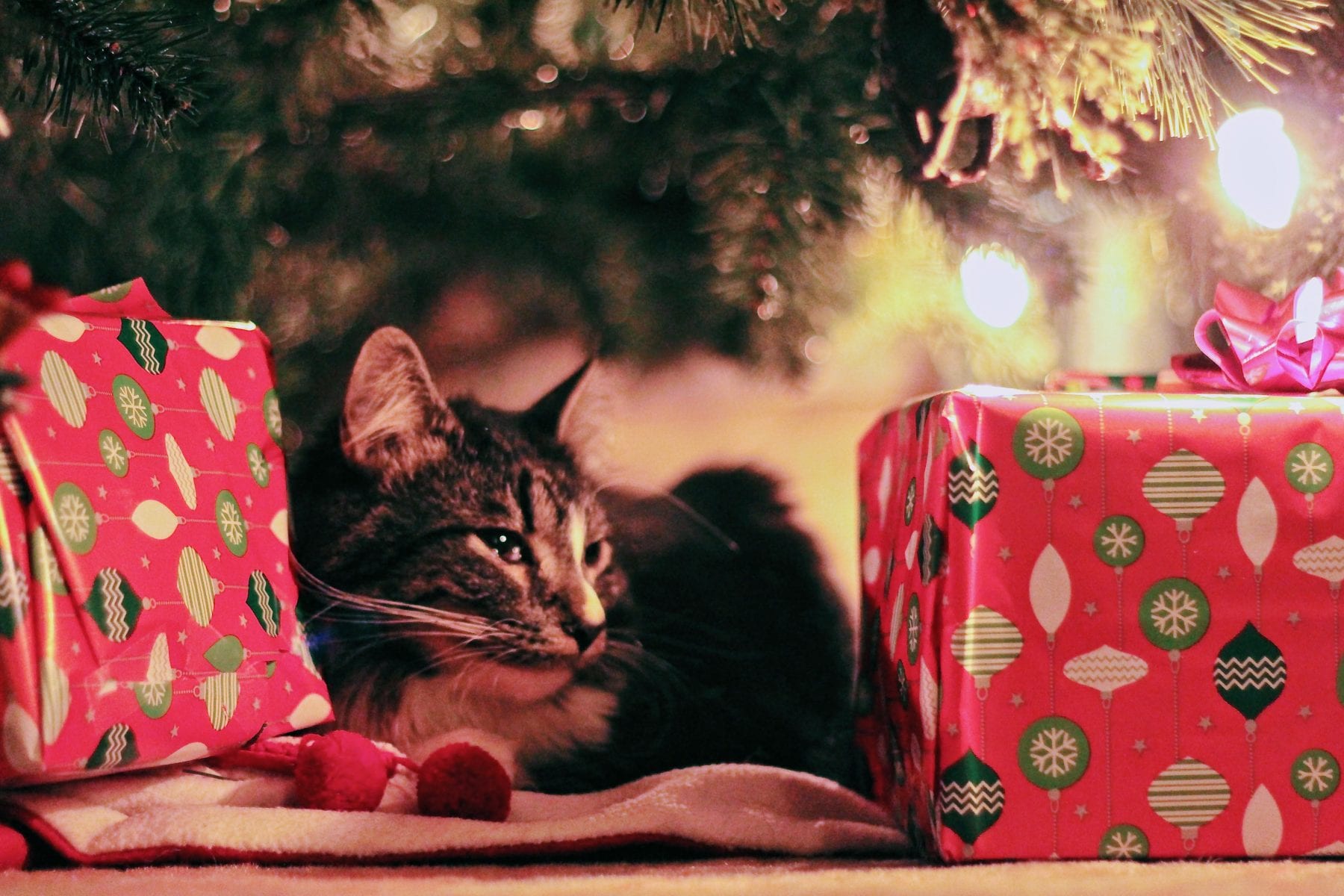 Pets love to play with used wrapping paper
Try to keep Christmas food out of the way of pets. They'll sniff out extra treats even if they're wrapped up under the tree. Some foods are hazardous such as turkey bones which pets can choke on. Chocolate is poisonous to pets, along with raisins, certain nuts, sage and onion stuffing, Christmas cake, and mince pies, so make sure these are safely stored away from pets.
You might want to think about keeping the kitchen doors closed on Christmas day, so pets can't get under your feet. With a big dinner on the go, the kitchen is full of hot ovens and boiling pots and pans, meaning that it might be a more hazardous place than usual.
It can be tempting to give your pet an extra treat or tit bit (after all it is Christmas!) but human food can lead to pet obesity. Feeding your dog turkey, pigs in blankets, roast potatoes and gravy is like us eating 16 mince pies or three blocks of cheese! Fatty foods, or foods they're not used to, can cause your pet to have an upset stomach or extra wind which won't be very popular with your guests!
If you're travelling with your pets when you visit relatives, make sure your pets are buckled up. Unrestrained pets can be distracting whilst you're driving, and they can be seriously injured too if you are involved in an accident. Make sure you use pet seat-belts and harnesses for larger pets, and pet carriers secured in the boot or foot well for smaller pets.
If you're worried about your pet's health over Christmas, call your vet as soon as possible. All vets have an out of hours service so if you're worried then don't wait for the next working day; call your vet practice who will give you advice and instructions.
For more advice visit the PDSA website. Whatever you do with your pets this Christmas enjoy spending extra time with them and have fun!