Last year we introduced you to Richard Ackers and the team over at Justice For Reggie. Ever since the devastating death of his pup, Reggie, he's worked tirelessly to make sure no other family suffers at the hands of unscrupulous online pet sellers. From visiting Downing Street, to working with the UKs largest rehoming websites, Richard continues to fight to regulate online pet sales.
We caught up with him to learn more about his goals for the future, and his proudest achievements so far.
What Do Selling Sites Need To Do To Protect Pets?
The most important aspect to the Reggie campaign is that we identify all sellers. We feel the best way to do this is by photo identification and we'd like to see every website adopt the facial recognition software scheme preloved use. This has been our ultimate goal since we started the campaign. We feel identification of the seller is just as important as identifying the dog. Sellers who operate discreetly are more likely to advertise sick and poorly bred animals. If they're not identified it'll just keep on happening.
We think the buyer's safe payment scheme is also good idea. It helps eliminate deposit fraud, where unscrupulous sellers ask for deposits for fictitious animals.
The last aim is for all websites to agree to a minimum number of photos on pet ads. We'd ask for 5 images of the animals, as well as a minimum of 300 words in the ad's description. The more information a seller has to put down, the easy it is to spot discrepancies.
Small changes can make a big difference. But hand on heart, in the 18 months I've been speaking with Preloved, they've made huge changes for the better. It's now one of the safest platforms to buy a pet on. There's still more to do, but I'm confident Preloved have animals and peoples best interests at heart.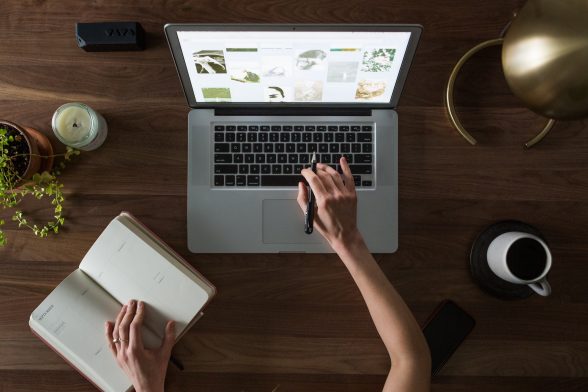 What Are Justice For Reggie's Proudest Achievements So Far?
Public Support: The support from the public has been incredible! Managing to get over 100,000 signatures on our petition, it just shows you how passionate people are about Pets in the UK!
Downing Street: Walking the 232 miles to Downing Street to present our petition in person has to be one of our proudest moments so far. Hearing Reggie's story and the changes we know are necessary debated in Westminster was unbelievable. It just showed us how far we'd all come as a team!
Friends In High Places: We've now got really good relationships with so many organisations that fully support #reggieslaw! We have monthly meetings with Government departments, MPs, Police Crime Commissioners, major UK charities… These are busy people, and they're making time to discuss #reggieslaw. The fact that we have their support, and the time they're committing to this cause, shows the work we're doing is a top priority for them.
Creating Important Alliances: Getting the biggest animal selling websites in the UK around a table to discuss what needs changing, and how, was a major step in the right direction. Seeing how they're collectively working to proactively regulate themselves by going far beyond the minimum standards that the government have set out, we can see that these sites want to see the law changed too.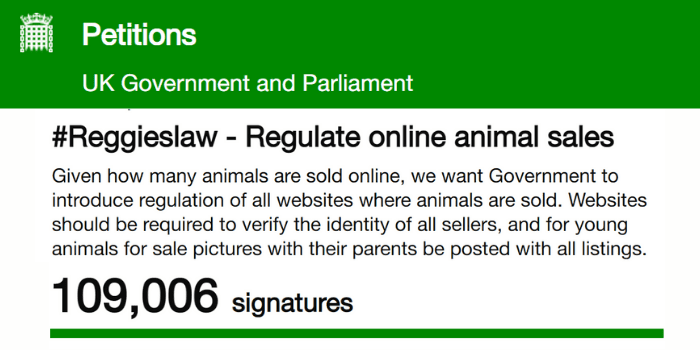 What Are Your Future Plans To Regulate Online Pet Sales?
We'll be carrying on our work to ensure the government regulate all websites that allow the sale of animals. Preloved have gone above and beyond but unfortunately some other sites don't. If preloved blocks a seller, in our experience, that seller just finds a platform with fewer security measures to go and advertise on. It is pointless 2 or 3 websites doing all they can if 12 don't do anything at all.
This is why it's vital that all selling sites have to follow the same rules, and have the same procedures that protect the animals being rehomed. The government's involvement is essential to bring all websites up to the standard Preloved are at.
In the meantime, we're looking at setting up the Reggie Regulated Group, whereby participating websites will agree to meet certain standards. And hopefully we'll also be adding to the number of websites we speak with.