7 Space-Saving Ideas to Maximise Your Bedroom Space
Bedrooms are safe sanctuaries where we can lounge and spend the rest of the day. They are easy to style and personalise, but when you have a limited area, it can easily look messy and full. Space-saving tricks ensure that every corner of your space is utilized. Some furniture can even have multiple functionalities. When you put our space-saving ideas into good use, your bedroom looks spacious and more breathable. Check out these ideas to maximise the space in your bedroom.
---
1. Loft it up
The usual bed frame can consume up a lot of space in your bedroom. If you have an area that is high enough, you can have a loft so the area under can be an additional space for you. It literally elevates your space-saving abilities. Having a loft just means more space for you, without sacrificing where you will sleep.
There are a lot of space-saving bed ideas, but having a loft became more popular because of its functionality. Your space below the bed can be turned into a study space, a lounge area, or just a free space, making your bedroom a hundred times more spacious.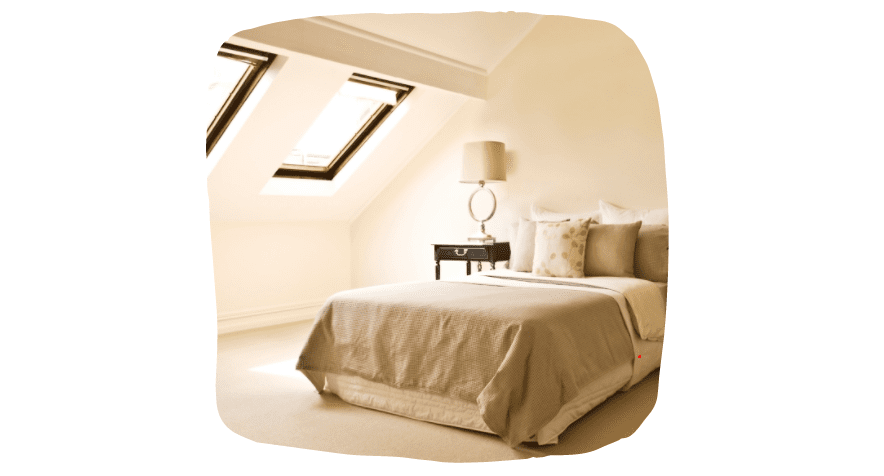 ---
2. Utilise the space under your bed
Another space-saving technique is utilising your bed to its full capacity. You can make the space under your bed more functional by installing drawers for your extra clothes, beddings, and anything you won't use on a daily basis. You can also use the space for another bed whenever guests arrive, or install shelves under the bed that doubles as a bookcase for your collection. Alternatively, you can use one of these sofa bed mattresses to save space.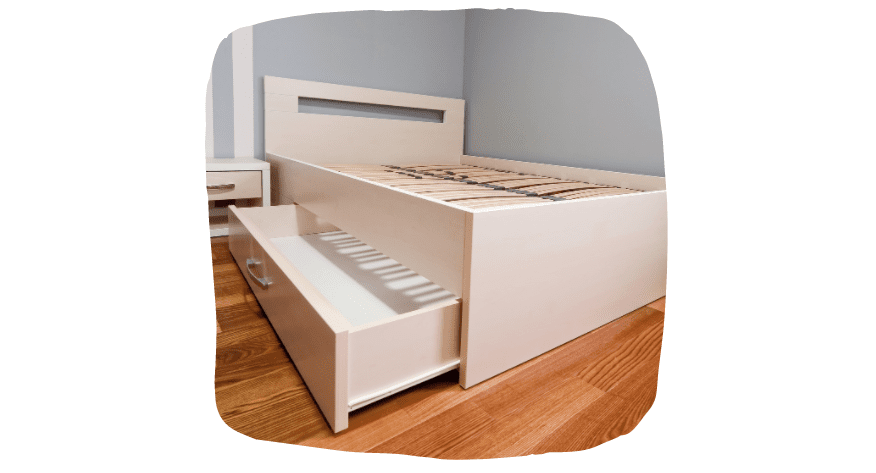 ---
3. Organisers
Investing in closet organisers that keep all your things together is totally life-changing. You can get organisers for inside your closet or ones that make use of plastic and lightweight drawers to keep your small clothing pieces grouped together. Use home organisers on the back of your door too, as well as hooks for coats, hats, and items that you need before you leave your home.
Vertically designed hangers will also get your life together. It makes picking up clothes a lot easier, doesn't mess up the arrangements easily, and clothes are also easy to spot.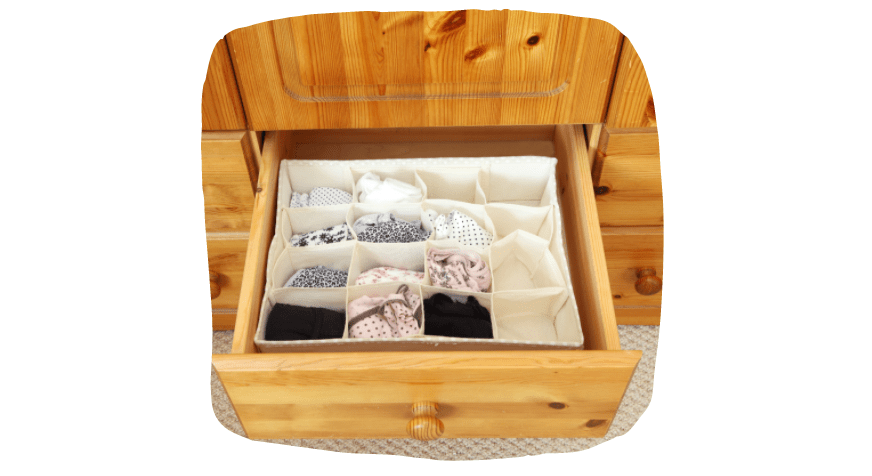 ---
4. Cubicle Shelves
Cubicle shelves can flip the storage space of small bedrooms, and removable cubicle shelves can be styled in various ways. You can store a lot of things you need, essential clothing accessories or designer pieces that you think are fit for your room's ambience. 
One of the best things about cubicle shelves is that you can redecorate them the way you like. They can be placed sideways or vertically, depending on your space. Use it as a nightstand, a bookcase, or collection storage, any way you like.
---
5. Use a hideaway desk
Desks do occupy space. But the need of having a temporary workstation is not negligible. You can always opt for a hideaway desk that can be closed to have a more spacious bedroom when you are not working on it. These clever desks can double as wall décor or storage.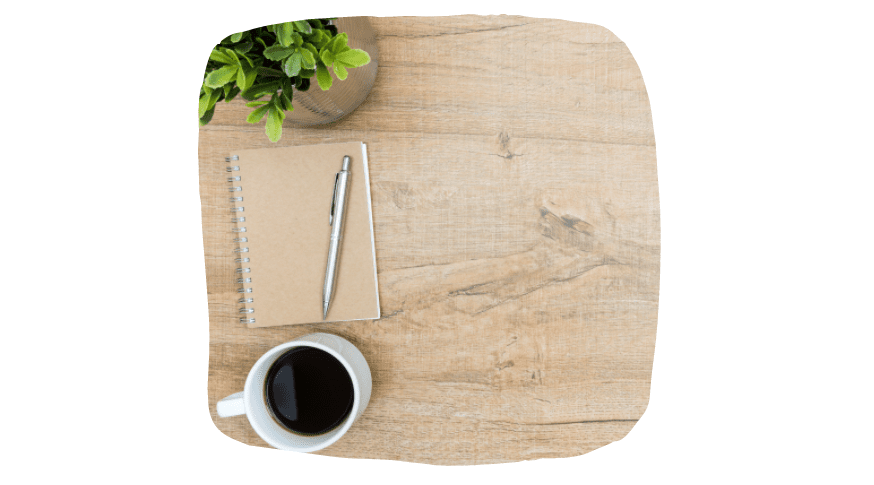 ---
6. Get creative with lighting
Corners can be tricky when you have a limited space, which can hinder you from having a nightstand. Let's face it, we need a few things right before we go to bed, and having a nightstand just makes everything so much easier. A small bedroom idea that can help you is by installing a floating nightstand at the corner of your bed. With this method, you skip the hassle of purchasing a nightstand that can take a good amount of space in your bedroom. And, a floating one looks super cute.
You can also get lamps nowadays that come with storage spaces. This intelligent idea of having a storage space while emitting light is an ingenious way of making use of a small space in your room. Another lighting idea is having it installed in walls. In this strategy your space is free, and you still have ample lighting for your room.
---
7. Alternative shelf space
A bookcase that doubles as a headboard is a creative way to show your inner bibliophile. It makes use of the space in your bed, and the book spines give your room a certain elegance. There are a lot of headboard designs as bookshelves that can even be done at home. 
Another space-saving tip is having mounted shelves. These shelves give way to more space on the floor. These shelves usually come in layers, so you don't have to be pressured to buy them all, if you don't want your wall to be overwhelmed with shelves.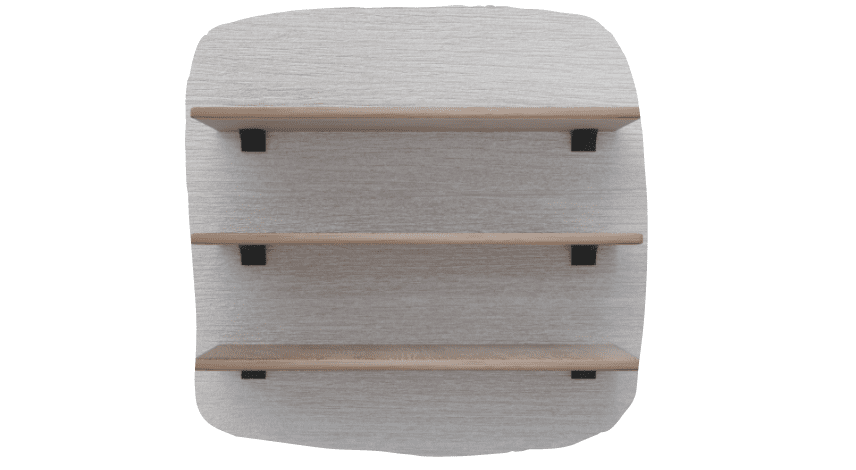 ---
You can have unlimited ideas in making the most out of your bedroom. These space-saving tricks are designed to optimize space without sacrificing functionality. Storage tips will also help you utilise every inch of your bedroom. The overwhelming availability of multi-function furniture brings space-saving ideas into reality.
If you're looking to buy a mattress for your bedroom, check out the best ones in the market reviewed by a team of sleep experts at TheSleepMatters.
---
Other useful reads
Claim our Membership Discounts for March!
…