Preloved moderators spend every day reviewing the pet adverts that make it passed our stringent submissions process. They look for signs of illegal activity and animal cruelty and take action when it's needed. But what happens if you spot a suspicious advert online? Who can you report it to?
Report Concerns To Preloved
It's really important that members let us know if they've seen something that raised their concerns. This allows us to investigate sellers and adverts. It might be something that you've experienced first hand, such as visiting the animal in it's home. We've created a handy check list for you to use when you're thinking of buying a new furever friend. This gives buyers an idea of the issues that might need reporting.
Each advert on Preloved has an orange button called 'Report Advert'. This can be found underneath the advert's Description section. If you click on that button it will redirect you to a short form where you can provide information about your concerns. Don't worry about having to remember details from the advert, the form automatically enters the advert ID Reference so our moderators can find it on our system even if the seller removes the advert.
Most websites like Preloved will have a similar function on their adverts. Whichever website you're using, remember to let them know if you see something worrying.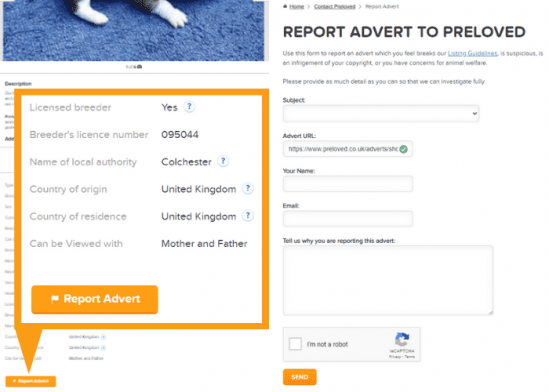 Report Suspicious Adverts To Animal Protection Services
You can also report suspicious adverts directly to Animal Protection Services via this link.
Animal Protection Services are a charitable incorporated organisation in England & Wales (reg 1186401) who carry out undercover investigations into animal cruelty, as well as educating the public on welfare issues. By collecting vital information about sellers and their adverts, APS are able to prosecute unscrupulous sellers on our behalf.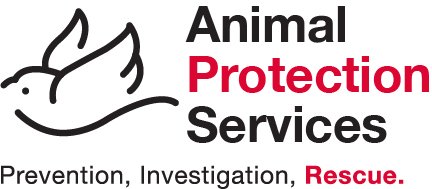 Seek Advice From PAAG
The Pet Advertising Advisory Group (P.A.A.G.) was created in 2001 to help combat growing concerns regarding irresponsible advertising of pets. The Group comprises animal welfare organisations, trade associations and veterinary bodies. They've compiled a list of 'Minimum Standards' that websites like Preloved must meet, and we're proud to go above and beyond these standards.
If you're uncertain about something you've seen but you're unsure whether to report it, you can contact the team at PAAG who will be able to offer advice.

---
We're proud to work alongside Animal Protection Services.
To find out more about our work with them, and about the Animal Welfare Alliance click here.