Last year we shared the story of Duffy, a dog found on Preloved who was successfully trained to be a support dog. This year, we have received an update on Marley from Support Dogs which we want to shout about in light of Assistant Dog Day.
Support Dogs is a charity that trains assistance dogs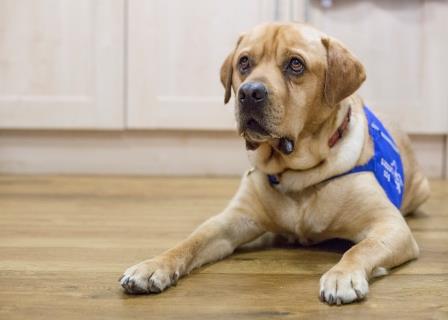 to aid children and adults who live with autism, epilepsy and disability. Given that the entity does not have a breeding programme, they source their dogs from rescue centres and places like Preloved.
Marley is a 3-year-old Labrador Retriever who joined Support Dogs because his owners could no longer look after him. After some TLC that resolved his ear infection and got him fit again, he underwent a successful 18-month training and was ultimately paired up with Kym.
Kym was born with Hypophospatemia Osteomalacia (vitamin D-resistant rickets). This degenerative condition causes constant pain and affects Kym's mobility to the point where it makes the simplest task an ordeal. Marley's duties include: loading and unloading the washing machine, helping Kym to dress and undress, picking dropped items and assisting her should she fall.
Kym recognises the importance of assistance dogs as they not only help their owners physically, but they are an invaluable source of comfort. They provide independence and confidence, and in turn Kym is proud to see how Marley has raised to the challenge of supporting someone; "he has come on leaps and bounds with his training and has been given a new purpose in life, which he relishes. I feel very lucky to have him". Danny Anderson – fundraising manager at Support Dogs – added that "seeing a journey of a dog that was unwanted to being able to make such a positive impact on someone's life is very special".
Support Dogs are funded 100% by voluntary donations. To find out more about Support Dogs visit www.supportdogs.org.uk.
Have you got a pet update you would like to share with us?
We love catching up with our members about their much loved animals found on Preloved. If you have a story you would like to share with us, we would love to hear from you! Simply click here to be taken onto an online form. The stories we find the most inspiring will be featured on our blog as a Pet Update!