We're incredibly proud to talk about the work we do with the Pet Advertising Advisory Group (PAAG), so we're happy to share their new site, HowToBuyAPet.co.uk. We spoke to Charley at PAAG, who has told us a little about why the site is important, and what it is that PAAG do to help.
Helping the Public Make Smart Pet Purchases: HowToBuyAPet.co.uk
We're a nation of animal lovers, which sadly makes us an easy target for unscrupulous sellers. A quick online search for the dog of your dreams can pull up reams of tempting cute pictures and great offers which can be difficult to turn down. But, as we are finding, time and time again, when an advert seems too good to be true, it probably is.
That's why, this week, some of the UK's top animal welfare organisations, veterinary and industry bodies who make up the Pet Advertising Advisory Group (PAAG) have united to help stop Britain's animal-loving public from being duped into buying pets advertised online by pet sellers who put profits before welfare.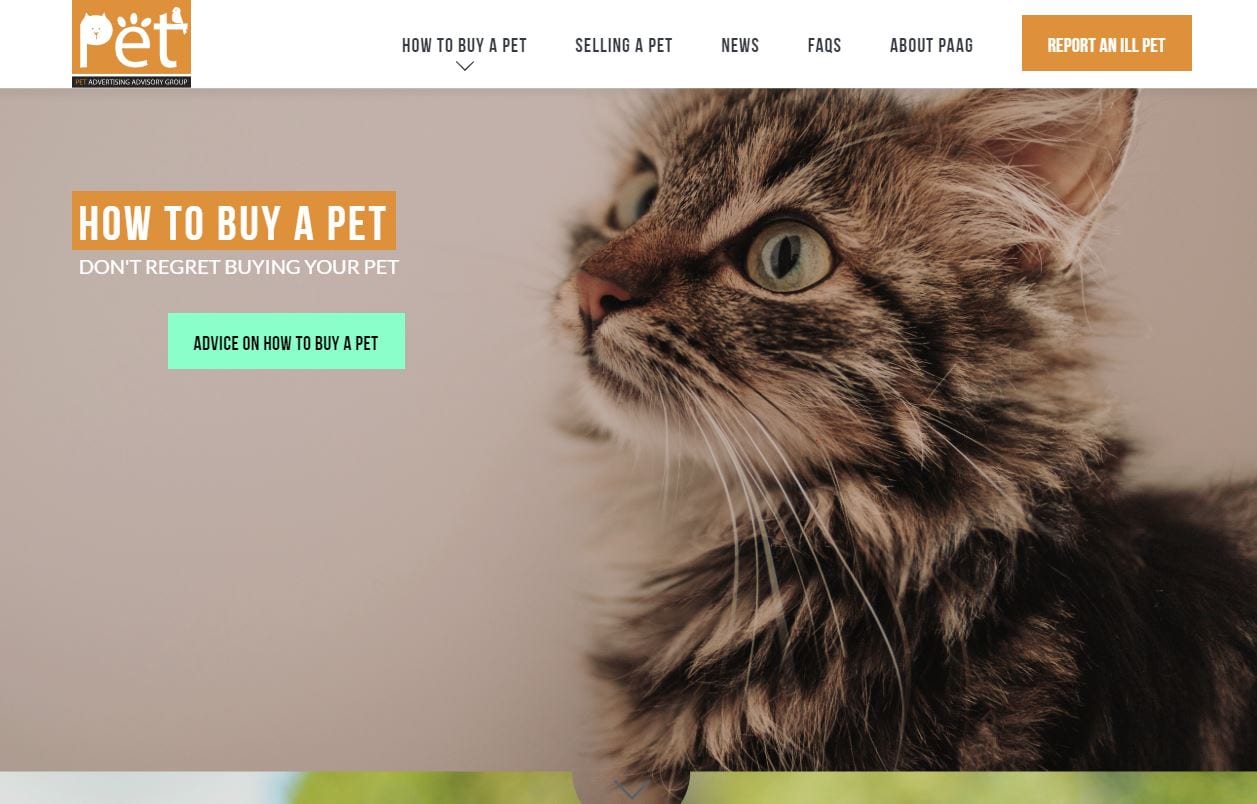 With 1,000 new online pet adverts appearing every day PAAG, which is chaired by Dogs Trust, has launched a new website www.HowToBuyAPet.co.uk to help arm the public with tips on how to spot an untrustworthy ad or scam and the questions to ask a pet seller before you visit and part with cash.
Uniting against online adverts from unscrupulous, and often criminal, pet sellers who make a good living pedalling pets that are often sick, underage or have been illegally imported into the UK, the group hopes the website will be the definitive source of advice and information for the public and includes details of how to report suspicious websites or traders.
Since it was formed in 2001, PAAG has been working tirelessly to tackle the thousands of underhand online animal sellers, yet the group fears that the issues we are seeing now are just the tip of the iceberg, and it has become far too easy for Britain's animal lovers to be deceived.
HowToBuyAPet.co.uk is designed to protect the public; to help stop them from becoming a victim of a scam and to eliminate their chance of ending up with a sick pet, huge veterinary bills and heartbreak.
We want our website to become the first step in your journey to getting a happy, healthy pet and urge you to take a look before you buy your next pet.
About PAAG:
The Pet Advertising Advisory Group (PAAG) was created in 2001 to combat growing concerns regarding the irresponsible advertising of pets for sale, rehoming, and exchange. The Group comprises animal welfare organisations, trade associations and veterinary bodies. Defra, DAERA in Northern Ireland, the Welsh Government and the Scottish Government have endorsed PAAG.
Even since its formation, PAAG has witnessed a massive increase in the number of animals advertised for sale online. The ease and popularity of the internet means that the impulse buying of pets has become an appealing option, with people able to search and find an animal for sale at the click of a button. However, the lure of quick, unregulated sales also attracts many unscrupulous breeders and dealers to websites.
PAAG aims to ensure that pet animals advertised for sale are done so legally and ethically. PAAG has been engaging with online marketplaces in the UK to help them distinguish appropriate adverts from those that should be removed. We have developed a set of Government-backed Minimum Standards which several of the UK's largest classified websites have agreed to meet. This continuing work with websites is vital, especially given the current lack of regulation with regards to the online advertising and sale of pets.
PAAG also aims to raise public awareness of the need to act responsibly when looking to buy pets advertised on websites and in publications and the need to do research before making any purchase.
PAAG members
Battersea Dogs & Cats Home
Blue Cross
British Veterinary Association (BVA)
British Vet Nurse Association (BVNA)
Cats Protection
City of London Trading Standards
Dogs Trust
Edinburgh Dog and Cat Home
The Kennel Club
International Fund for Animal Welfare (IFAW)
Mayhew
Ornamental Aquatic Trade Association (OATA)
OneKind
People's Dispensary for Sick Animals (PDSA)
Pet Industry Federation (PIF)
Raystede
Reptile and Exotic Pet Trade Association (REPTA)
Royal Society for the Prevention of Cruelty to Animals (RSPCA)
Rabbit Welfare Association and Fund (RWAF)
Scottish Society for Prevention of Cruelty to Animals (SSPCA)
Ulster Society for Prevention of Cruelty to Animals (USPCA)
Wood Green
World Animal Protection
World Horse Welfare