It's that time of year that if you look up at the night sky you can see just about see witches on their broomsticks. You also need to start buying in more garlic to help keep those pesky vampires away. With spooky season fully underway you need to make sure you close it out with a bang. In order to do that however, you need to start getting your plans together now. The Preloved team love all things Halloween but most importantly a Halloween party. So, we have pulled together our top 20 Halloween party ideas.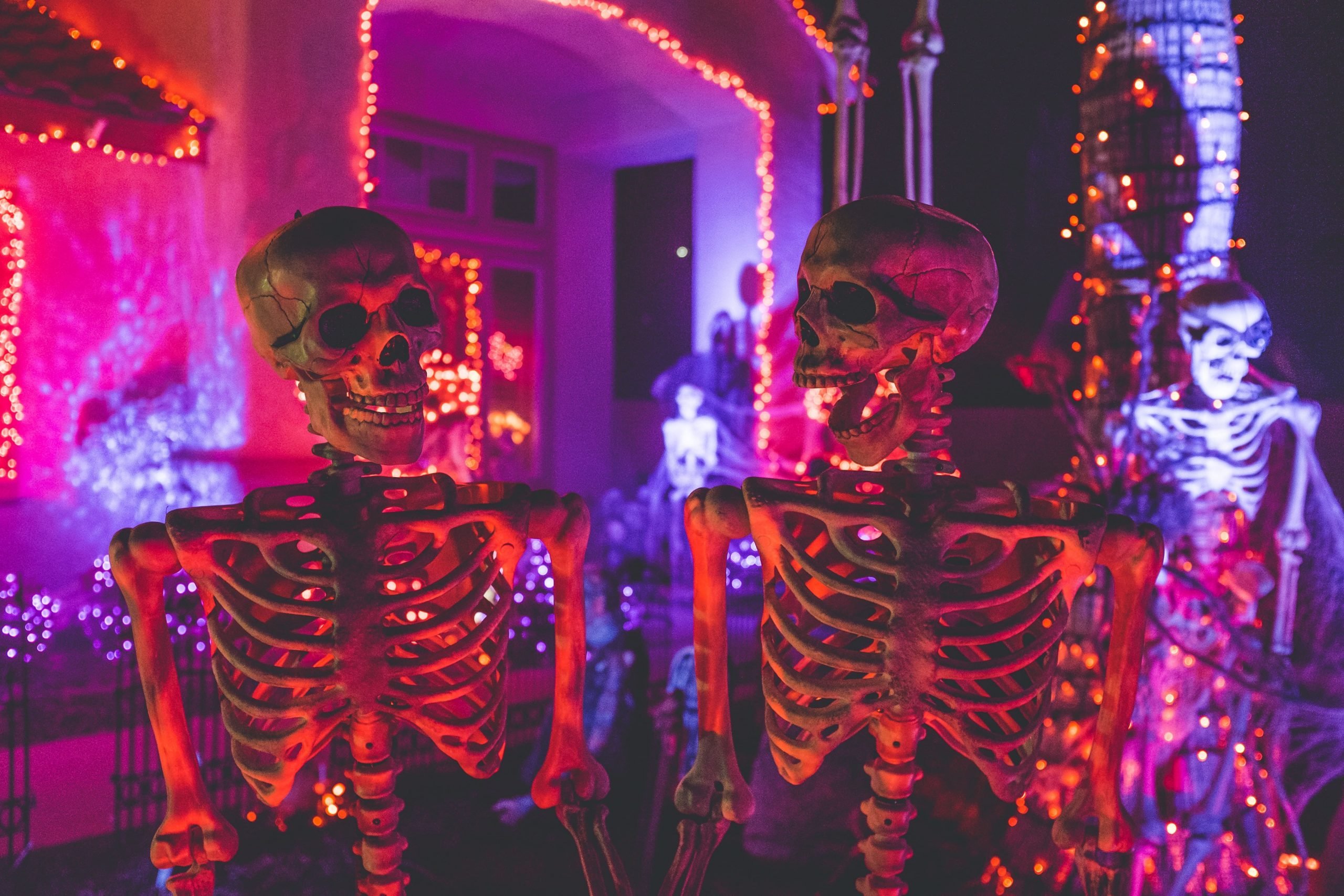 Halloween Party Ideas
We will be looking at some creative but cost effective Halloween party ideas. Whether you are looking for something to keep your guests entertained, or to make your house fit and ready for the spooky occasion we have you covered with these 20 ideas.
Our Top 20 Halloween Party Ideas
Red lipstick on a mirror

Let's start out with something that is simple but effective, red lipstick on a mirror. You can write anything you seem fit, whether it be something funny or something haunting; make it your own. Only downside with this is it is a bugger to get off, make sure you use a damp cloth and then window cleaner.

Fake Spiders Webs and Spiders

It's important that you don't have one without the other, because what is a spider's web without it's owner. These can be bought online or at any of your high street supermarkets.

Halloween Carving

Even if you are hosting your party on Halloween or before you have to carve a pumpkin, make sure you grab the carving kits from your nearest store, or save yourself the miles and get it online.

Hand-cubes

Add something scary to your punch bowl. Fill some cleaning gloves with water, make sure you leave room at the top to tie it tight then put them in the freezer; once frozen cut the gloves off and add them to your punch.

Paper Mache Pumpkin Bowls

Save some pretty pennies and keep your guest entertained with these paper Mache pumpkin bowls. You'll need a balloon, glue, newspaper and paint. (Plus a few household items like a needle and a small knife). Blow the balloon up to your desired size, then cut your newspaper into strips, dipping each strip in glue start covering the balloon. When you have enough layers and the paper is dry start painting your pumpkin, however you want let your creativity wild. Once the paint is dry then use your needle to pop the balloon and the knife to cut off your bowls 'lid'.

Toss the beanbag into the pumpkin

With this you have to pick the tall pumpkins and carve them with a big mouth, think a shocked expression. Then figure out where you'll play your game and get throwing. Make sure you don't put a candle in it, a fake one could be useful to light it up though if it's dark.

Put fake nails on your gloves

Add a bit of flare to your costumes or your cleaning accessories, by adding some fake nails to your gloves; giving you a bit more of a witch-y look.

Halloween Bingo

This is a nice and easy one, search the internet to find themed cards, and then look for a second hand bingo kit. Bingo is great for all ages, the weirder and more wonderful the prizes the better and more competitive it gets.

 Skeleton Garland

Similarly to making snowflake garlands, use up old scrap paper and make some garlands to deck out your place.

Bloody Glasses/Plastic cups

Yet another simple but effective one, to make simple household things more Halloween themed. For Halloween it is usually a given that you will have some spare fake bloody lying around so why not add it to the rims of your glasses, for a bit more of spooky feel.

Black & White Framed Photos

All you need for this is a printer and access to the internet. Look for old style family portraits, think Victorian era, and then once you have printed them out you can add them to the walls. For an extra touch why not scratch their eyes out or paint them red to make it seem more haunted.

Spiderweb placemat

Similar to the Skeleton Garland, either use scrap paper and paint it black or get some black paper and cut out some spider web shapes in a big enough size to be placemats.

Tinsel Foil Back Drop

This one is the easiest as all you need to do is buy the tinsel foil back drops, if you get the orange and black ones then you will able to stay on theme.

Squash Dipping Ramakins

Around Halloween supermarkets sell the small squashes that look like baby pumpkins, if you hollow them out you can use them as dipping ramakins.

Snake Wreath

Think Christmas wreath with crustsy leaves in burnt orange with fake snakes woven through it. You can either look to buy these online or make your own but getting a wreath kit and then fake leaves and snakes, make sure you paint the snakes the colour that you want though.

Bleach Napkin designs

Got plenty of material napkins, but none Halloween themed, then pour some bleach into a cup and use a paintbrush to put some Halloween design on them. A spiders web is the easiest to draw.

Pin The Spider On The Web

Time for another activity, a nice and easy one here, but if you are throwing a party for kids then this will lead to hours of fun.

Bats on Straws

A simple way to make your accessories for Halloween that bit more on theme. All it takes is some black ribbon, straws and scissors. Tie black ribbon in a knot on the straws (not too tight you still want to be able to enjoy your punch) and then cut either side to look like bat wings.

Char-boo-terie Board

Make your standard lovely and incredible charcuterie board and make sure you add a skeleton too it, or just some parts of the skeleton.

Monster Party Hats

Lastly, be it you do this before your guests arrive or when they do and they get to keep them, it's time to upscale your party hats with some eyes and mouths, also known as 'Monster Party Hats'.
The Last Tip For Your Halloween Party
Whether you are Trick or Treating, throwing a party or heading out on the town this Halloween make sure you have a great costume and eat PLENTY of sweets and chocolate. Also DO NOT FORGET to make it a costume party, there is no movement on this one! If you are thinking where can I get all of the above then you should check out our Preloved website for some Halloween theme inspiration.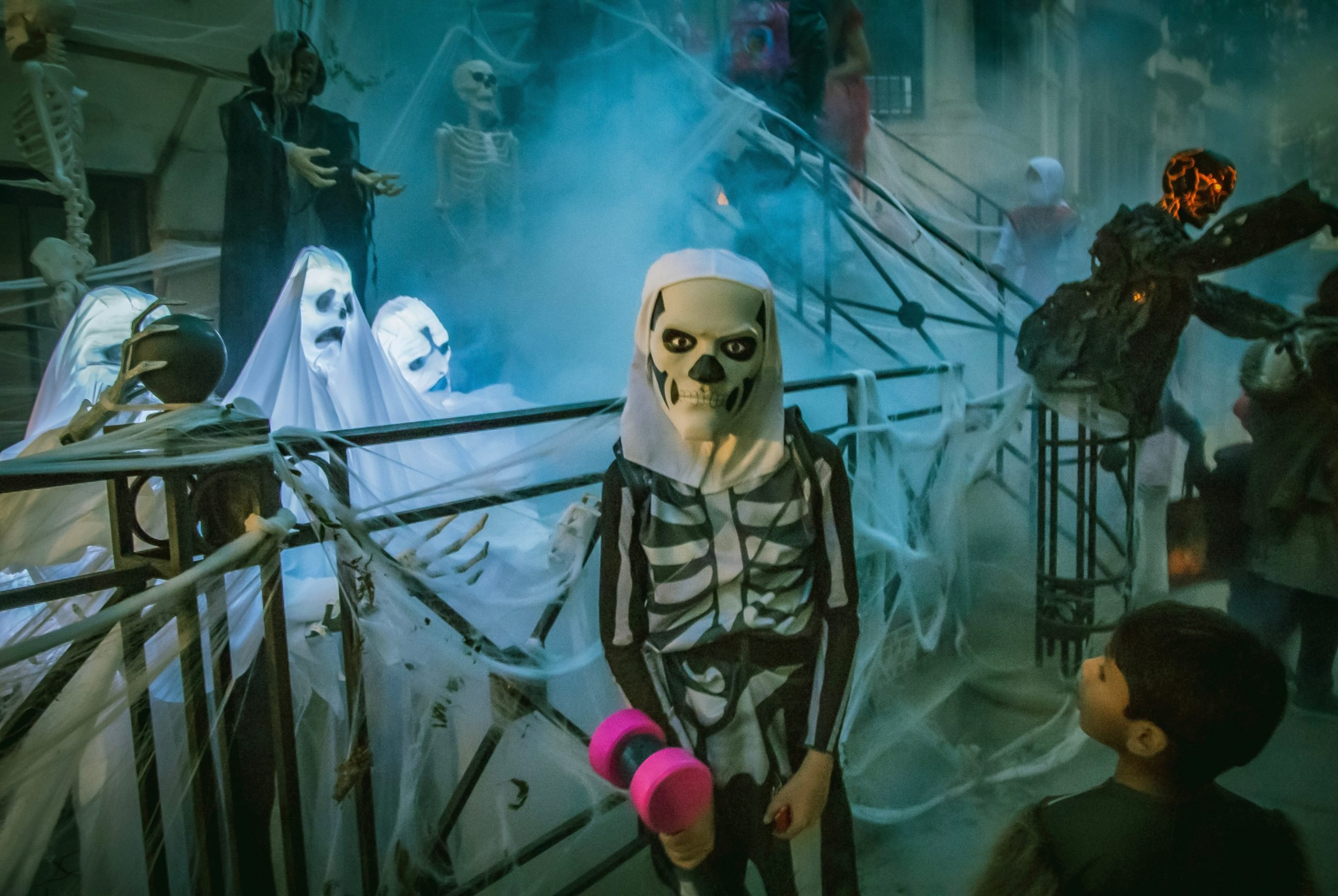 Got a pet? Fancy some fancy dress costume inspiration? Then check out our blog on some of our favourite Pet Halloween Costumes.