If you've read Preloved's guide to tents and camping, you'll already know about the fun to be had under canvas. In our tips for buying a used caravan we turned up the luxury a little. Now, it's time to cast our eye to the camper van and give some hints on what to look for, and how to get a bargain!
Caravan or camper van?
Firstly we'll revisit the decision we made in our caravan buyers guide – do you choose a caravan or a camper van?
Caravans do offer a lower cost option and, if you expect to spend one or two weeks relaxing in the same spot, can be the better choice. If you do want to take trips around the local area during your holiday it's easy to take the car and explore places that might be too small and narrow for a large camper van.
However, if you are looking to spend your holidays travelling between several different camp sites, perhaps doing a tour of a wide area, a camper van is probably the better choice. There's little to do when arriving at each destination – you can have your feet up and be enjoying a cup of tea within minutes of arriving at your pitch.
All shapes and sizes
The next decision to make is what size and type of camper van to buy. Of course, your budget is going to be a major consideration here, but buying the biggest possible van might not always be the best option.
Caravanette 
The quaintly named "caravanette", sometimes known as a Dormobile after one of the original manufacturers, is the smallest type of camper. This type of van normally has a fold out bed arrangement, and a small kitchen. Any other facilities such as a toilet or shower usually involve the great outdoors! Standing room is achieved either by a lifting roof arrangement or the addition of a permanent raised roof.
The best known is probably the VW camper van which has existed in various forms since the 1950s. Demand for these is very high, and this is reflected in the price. Fortunately, there are many other options including the purpose built Mazda Bongo, imported from Japan, or campers adapted from standard panel vans.
Whilst you really need an awning to live comfortably for any period of time, the great advantage of this type of vehicle is that it is small enough to circulate around town. Many can slip under the 2m height barriers erected in many parking spots. It's even possible to use one as your day to day vehicle.
Coachbuilt Motor Homes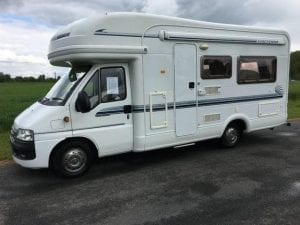 Coachbuilt motor homes use the cab and chassis of a production van but have a coachbuilt body built behind the cab and often extending above the cab for an additional berth. These vans will usually have plenty of headroom for standing upright; they include a fully equipped kitchen, berths for between 2 and 7 people. They even have a bathroom and shower to save those midnight treks across the camp site in your pyjamas.
A Class Motor Homes
A Class motor homes use the 'underneaths' of a production van, but the entire body is coach built, leaving no visible signs of the original van. This enables manufacturers to provide a more spacious driving area which stretches the entire width of the van. It also offers much greater headroom in the cab by virtue of a berth above which folds upwards. These tend to be larger vans and also more expensive and are fairly rare in the UK.
The RV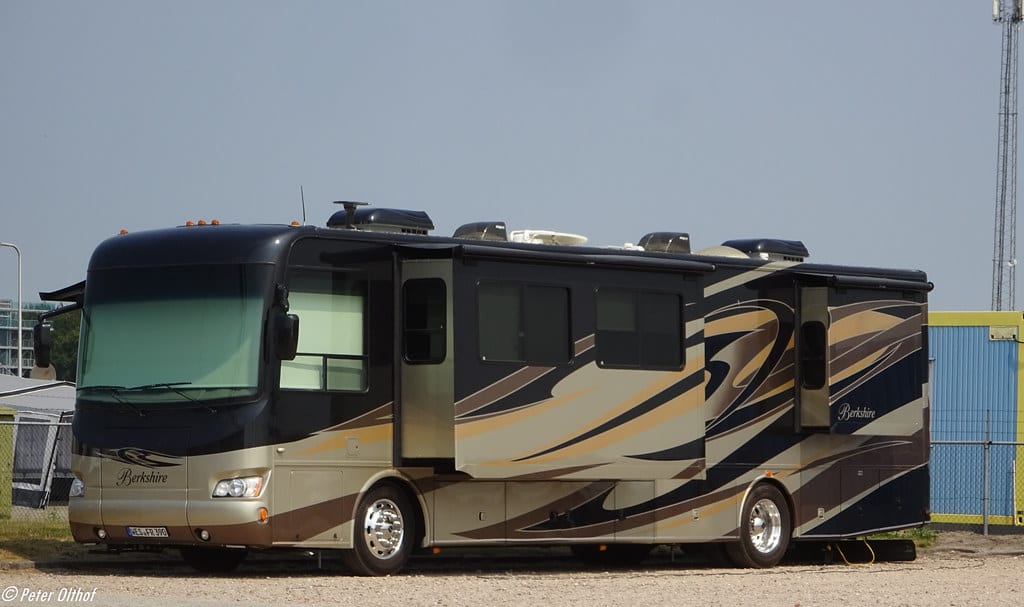 Finally, we move into rock star territory with the recreational vehicle (or RV). These are big vans, often based on the drive train of a bus or coach. They offer the ultimate in luxury inside with sleeping quarters divided into luxurious cabins and a large living area. Some vans increase space even further by having sides which expand outwards. These vans are obviously not for everyone: they are expensive to buy, expensive to run, and many camp sites are not large enough to provide access to something so large.
Awnings
Of course, the larger the van, the more comfortable it will be to live in over long periods. Larger vans will have more beds, larger living accommodation, a better equipped kitchen and the space for a shower.
However, a great way to enlarge the living accommodation of your van without spending a fortune is to add an awning. There are two main types of awning for camper vans. Whereas a caravan awning relies on the caravan to provide one wall of the structure, a camper van "drive away" awning is more or less a free standing tent. It has a special flap arrangement which allows you to link it to the side of the van when on site. Simply untie it and drive away for a day trip around town; the awning guarding your spot for your return.
The other type of camper van awning is the roll out awning. This is permanently fitted to the side of the van and can be rolled out either manually or sometimes electrically to provide cover overhead. This can be enhanced with side walls and even inner bedrooms to make a fully enclosed awning. However, this then means it has to be completely disassembled should you wish to make a day trip in the van.
Do your research
Find out as much as you can about the van. What will it cost to insure? Are there common problems that need to be checked? What different layouts are available? Of course, in the age of the Internet, these facts are easier to find than they used to be.
Preloved offers a readers reviews section featuring camper van reviews written by the people the owners themselves.
Check the seller
Once you've found a potential van, there are a few simple things you can do to help check that you are dealing with a legitimate seller.
Remember, whilst motor homes purchased from a dealer will be a little more expensive, you do benefit from a certain amount of extra legal protection should there be a problem with your purchase. When calling a private seller, ask about "the motor home". If they ask "which one?" you may be dealing with a dealer that is trying to pretend otherwise, thus avoiding their legal obligations.
Ensure you are able to visit the van at the sellers home; or business premises if they are a dealer. This should match the address shown on the van's registration document.
Check the van
Always inspect the van thoroughly in daylight. If you are not mechanically minded, bring along someone that is. In fact, as this is likely to be an expensive purchase of a complex vehicle, it would be worth having the vehicle inspected professionally. Both The AA and The RAC offer inspection services specific to motor homes. The main things to check are:
Mileage
While many people shy away from vans with high mileages, it is also wise to be cautious of vans that have done a particularly low mileage for their age; this can be an indication that the van may have been standing for long periods. Remember, most camper vans are based on the running gear of panel vans. They can withstand many hundreds of thousands of miles of abuse from 'white van man'.
Servicing
A full record of all servicing is important for all vehicles, including motor homes; this should be carried out on time and by an appropriate dealer. If the van is still under manufacturer's warranty, the warranty will only be valid if the services are carried out at franchised dealers within the recommended time frames. For older vans, the service history is likely to be less complete. However, check to see if the seller has receipts for work he has had done.
The van that Jack built
Some vans, particularly smaller camper van conversions, have undergone conversion by a keen DIY fanatic. Matching the finish of the professional conversion companies can be difficult, but if you are on a budget this might be a compromise you are willing to make. However, you should check with your insurance company, as they may decline to insure a van that has not been professionally converted.
Check for damp
One of the most important checks for a second hand motor home is for damp. Repairing damp in a van is usually expensive, and in some cases could cost more than the cost of the van. If you can smell damp inside the van, be particularly cautious. It is worth spending £15 on a damp meter from your local DIY store. Check corners, bed boxes and inside cupboards and lockers. Check the condition of the external sealing around the body and window frames by pressing close to the joint; poor sealing will soon lead to internal damp problems. Look for any external damage that might cause water ingress. Ensure the floor of the van does not feel spongy underfoot.
Check the chassis engine and running gear
Check for corrosion on the chassis and look out for signs of new paint or underseal that might be hiding something underneath. Checks in the engine bay should be similar to any other car or van. If you don't have experience with cars, bring someone who is with you.
Check the gas and electrics
Check the condition of the gas and electrical system. If in any doubt, have them checked out by a professional as faulty systems can be lethal. Look out for any signs of DIY work on these systems.
Get an HPI check
Motorhomes sold after 2001 carry a unique Motorhome Identification Number (MIN), a Vehicle Identification Number (VIN) and their Vehicle Registration Mark (VRM).
Preloved strongly recommends that you carry out an HPI check before parting with your money. This check will confirm the true identity of the van as well as report if it has outstanding finance, has been reported stolen, or has previously been recorded as an insurance write off.
Check your licence
Watch out if the van weighs more than 3,500 kg. In this case, if you are over 70 or if you passed your test after 1 January 1997 you will not be automatically entitled to drive it on your licence and may require you to take a further driving test. For more information, see this page.
Finally, be a good buyer
Be a good buyer by turning up on time for your viewing; make a prompt decision (having done all the appropriate checks), and offer to take the van away promptly. If you need a loan, get it in place beforehand so you are ready to go. Offer the seller a guaranteed method of payment that both you and the seller are happy with.
Being a good buyer that is able to move quickly is the best way of negotiating a good discount on the price of a camper that is in otherwise perfect condition.