Keeping your cat entertained isn't easy. You know the drill – you buy a new cat toy at the store and then a couple days later they've completely lost interest! The truth is, cats are smart creatures who need a wide variety of toys, hiding places and challenges to keep their minds stimulated – but this doesn't need to break the bank!
So, what are you waiting for? Grab your craft kit and jump into our list of 7 DIY and second hand ideas to pamper your cat!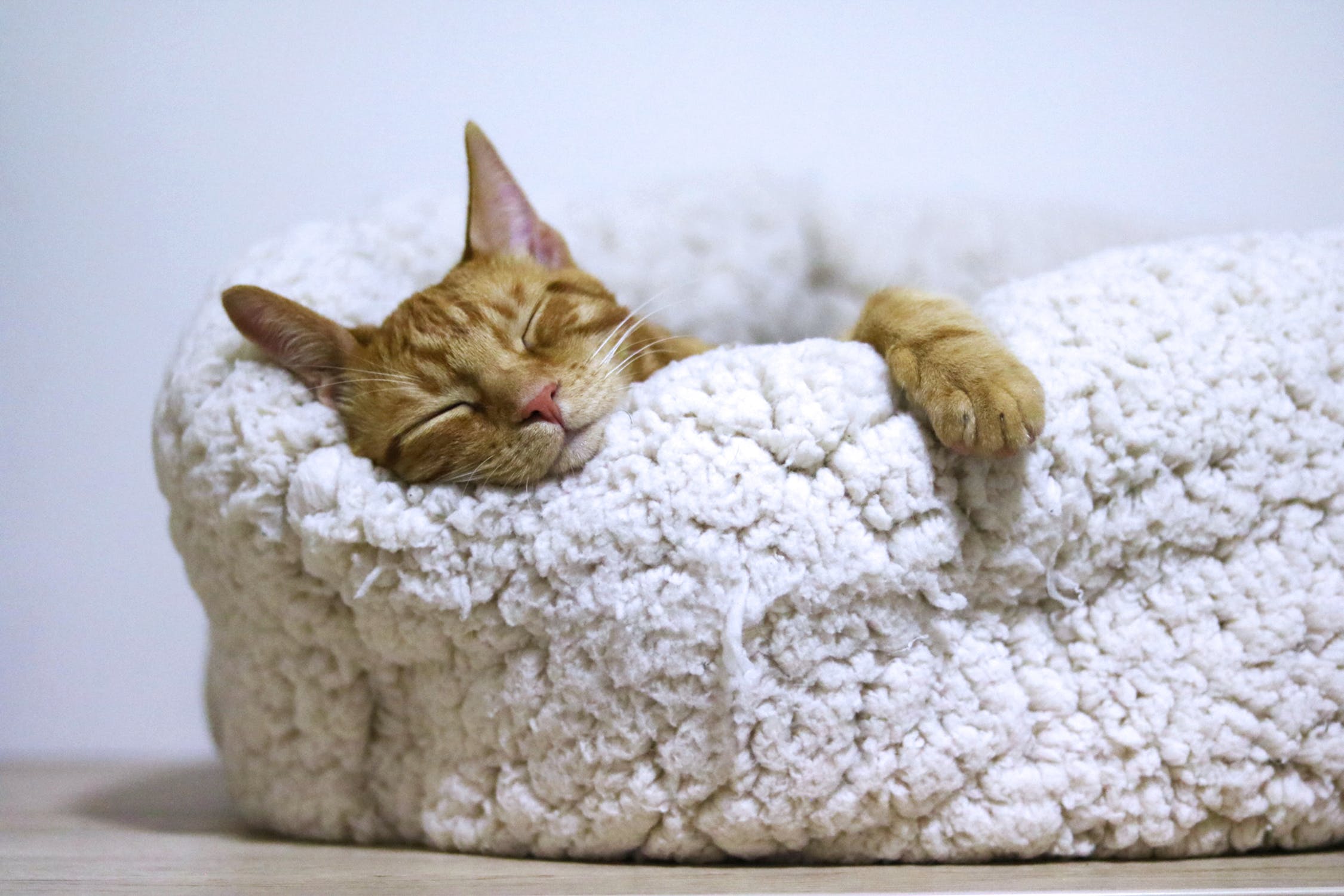 1. Self-Petting Station
Of course, your furbaby gets all the fuss and attention they deserve when you're at home. But what happens when you have to leave them alone for a while? If you hate saying goodbye to your cat when you head out to work, making them a selfpetting station is the perfect way to ensure your kitty feels loved. Your cat can pamper themselves by rubbing up against it and enjoy a satisfying scratch
under the chin in your absence!
 Start with 2 long flexible toilet brushes or bottle cleaning brushes.
Remove the brushes from the handles
Untwist the wire at one end and use this to attach the brushes together
 Take a square piece of wood and glue or staple some fabric to it.
 Drill two holes about 10" apart through the baseboard.
 Insert each end of the brushes into these holes
Turn the baseboard over, splay out the wire ends and glue them in place
Present to your kitty!
2. Luxurious Cat Hammock
Swinging in a hammock on a sunny day is the ultimate in relaxation. So, what better way to pamper your kitty than building them a dedicated cat hammock? Your cat will love climbing into their luxurious new perch and watching the world go by.
All you need is a good-sized cardboard box and an old sheet or large cloth.
Simply cut the sides out of the box to make a frame and tie the corners of the sheet around the frame to create a sumptuous sleeping spot for your furbaby.
If you like, you can even jazz it up with some non-toxic craft paint – so your cat feels like
complete royalty!
3. DIY Food Puzzle
Everyone knows cats love treats, but why not make treat time more fun by creating a cool, homemade food puzzle? After all, your cat's ancestors used to prowl through the forest searching for a meal – so with a designed treat tray you can honour her inner huntress and provide a challenge to help keep her mind sharp.
Egg boxes and old ice cube trays make perfect choices, simply sprinkle some cat-friendly treats into the wells and watch
them get sucked in!
4. Peek-a-Boo Puzzle
Cats are happiest when they have mental stimulation. If your kitty is left to get bored forlong periods, it can lead to behavioural issues and poor health. To avoid this, keep your beloved kitty on his toes by making him a homemade peek-aboo puzzle. Simple to create, your feline will love reaching inside and batting his toys about with this stimulating and fun-filled game.
To make a peek-a-boo puzzle, all you need is a cardboard box, box cutter and your kitties' favourite playthings. A shoebox and small balls which have little bells inside are particularly good choices.
Tape the box closed and cut some holes in the top and sides large enough for your cat to reach through. Then put some jingly balls and catnip toys in the box and watch your little kitty entertain himself for hours!
5. Private Curtain Litter Box
Cats are very clean and private animals. As you would've noticed, your kitty is pretty meticulous about their toilet habits. So, if you really want to pamper your feline, a great option is to make them a curtain litter box. Your furbaby will appreciate being able to do their business away from prying eyes – even if they don't return the favour when you're in the bathroom!
If there's nowhere you can easily hang the curtain, simply use a tension rod, fold the fabric over and sew or glue to secure it. You could even hang a cute "Do Not Disturb" sign too!
6. Cat Wall Climbing Furniture
It's no secret that cats love to climb. It honours their built-in instincts to scale trees in search of prey and hide from large predators.
As a result, making your beloved kitty their own climbing furniture is the perfect way to make them feel special. Not only that, but it'll also stop them from climbing in places you'd rather they didn't! It's easy to create a dedicated wall climbing system for your cat, so long as you're
handy with a drill.
Get some shelves of differing lengths and cover them with carpet or another non-slip material first. This will ensure your feline doesn't slide off as she lands.
Arrange the shelves in a staircase layout up and across the wall, with the first step low enough for them to easily leap onto from the floor. You can even attach some dangly toys and catnip balls from them to make it much more exciting.
7. Suitcase Bed
Does your cat give you an evil glare when you return home from a trip? If so, foster your felines' forgiveness by making them their own trendy suitcase bed!
Using an old suitcase, cut out the lining and place a nice soft pillow inside. Cover this with your kitties favourite blankets and voila! You can also add some cute little cat themed cushions too, so your cat will feel extra special.
With regard to the lid, you can either remove it altogether, or keep it propped open with some wooden sticks for an uber cool look.
As we have seen, there are many easy ways you can pamper your beloved kitty without breaking the bank. With just a couple hours, some tools and simple materials – you can create all kinds of things to make your favourite feline feel special!