Singlehandedly Transforming my 1960s Three-bed Semi
The 2nd in Our Edition of #TheJoyofSecondhand Blogs!
My story
A couple of years ago, I was a new-ish bride and the proud owner of our first home, a 1960's semi, in need of a great deal of renovation. Unfortunately, my personal circumstances changed, and I ended up living alone permanently. I found myself relying on family and friends for support and to get me through a difficult time.
Limited in enthusiasm and short of funds I was surprised when a friend suggested I start a renovation project. But in actual fact, it became my saving grace and to be frank I was fed up of living with stripped walls and dug out wiring. The more I thought about it, the more feasible it became. On a shoestring budget, I began the living room, ripping up old carpet, and tiles, and having the floor professionally leveled, ready to lay laminated wooden flooring.
It was a real case of hand to mouth progress- once one task was completed, I had to wait to save up enough for the next phase. Luckily, I found some trusted and patient workmen, who were happy to go along with my stop-start tactics, and gradually things began to take shape. I became a dab hand with a paintbrush, and fortunately had friends who were not averse to a bit of decorating if there was food provided at the end of the day!
---
How Preloved Furniture Provided that Finishing Touch
Finally, I had a room worth calling home. Of course, it was empty, and the thought of trying to furnish it from scratch was daunting, but thanks to Preloved I was able to buy within my means. I found a small side table and went from there. A large cheese plant gave a homely touch, teamed with a framed print of similar plants, matching cushions, and a copper-based lamp completing that end of the room.
A friend gave me a small table which served me well, but I longed for a large farmhouse type. Costs were prohibitive until I saw one advertised on Preloved for free, I just needed to pay to collect and deliver!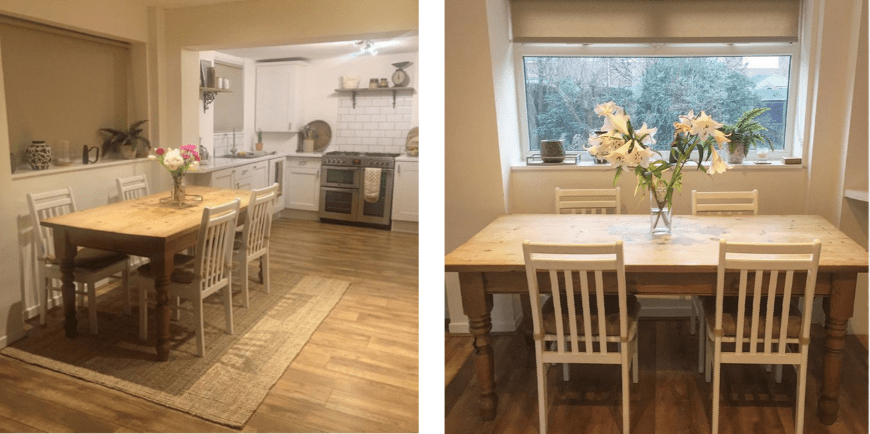 Over the past three years, I have had beautiful pieces of antique furniture from Preloved at a fraction of the cost. My vintage kitchen scales for example at £20 from a local Preloved seller.
One of the first pieces I ever bought was an oak set of drawers. The owner was such a lovely lady who was downsizing and wanted to pass on her items to a good home. I bought a TV unit to match the oak drawers all for just £50 with delivery.
When she dropped the items off, she also included a "money plant" which was to bring me good fortune! It meant such a lot at that difficult time and although I don't have the plant anymore (I'm not green fingered!) I have her previously owned beautiful furniture to look at each day!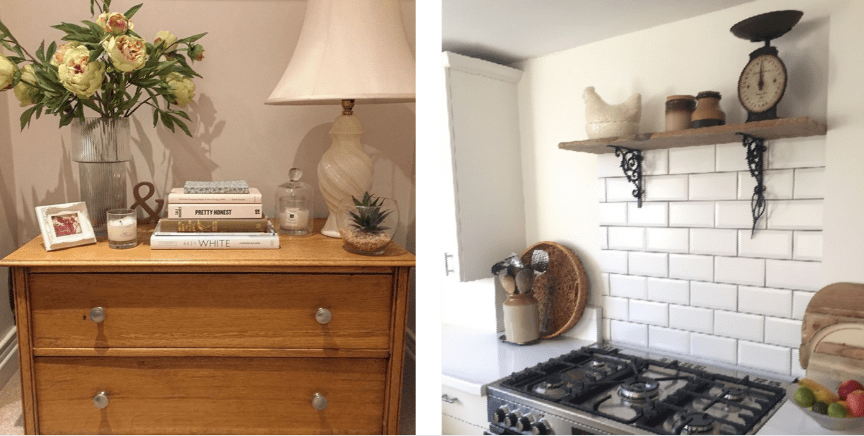 A home should be full of the things you love, and I am of the opinion that they don't have to cost the earth and are even better when they are "Preloved"!
---
Here's a few tips for sourcing pieces of Preloved Furniture for your home:
I have downloaded the Preloved App so I can easily keep an eye on what's available in my local area which would add something special to my home.
Don't be afraid to ask sellers to deliver if possible, I don't drive so it's something I always do, and you'd be surprised how many people are willing to help for a small fee (or for free!)
Upcycle if needed. The amount of times I have purchased something, and someone has been shocked asking me why on earth I bought it…. once I've given it a lick of paint its unrecognisable and they are stunned.
Research, remember that large retailers have huge margins, so have a look on re-sale second-hand sites like Preloved!
Happy Hunting!
---
Check out Amberley's Instagram Account @raineysresidence for more Inspiration!
---
ENTER OUR #JOYOFSECONDHAND COMPETITION ON TWITTER: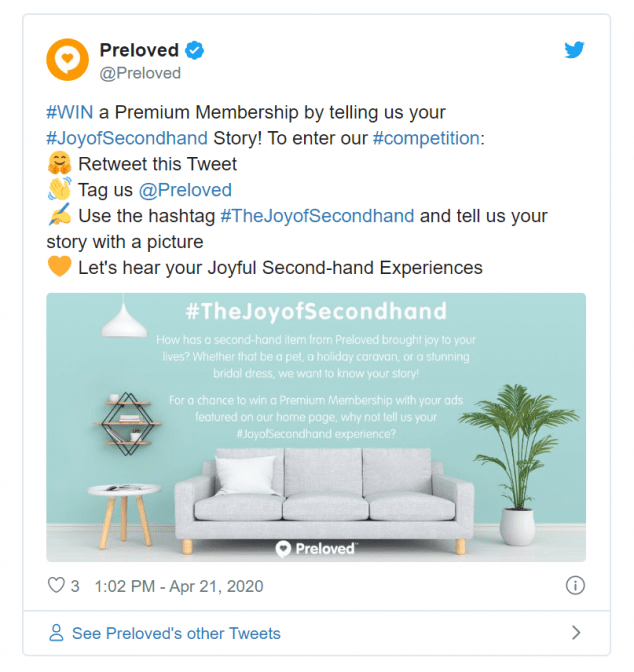 Visit our Member Rewards Page Today for Exclusive Offers on everything from Shaving Sets to Recipe Boxes!
…
Be sure to check out all our other blogs to keep up to date on how Preloved approaches the COVID-19 Pandemic.