A Furniture Makeover, A Toddler, And A Lockdown: The How To On Applying Metal Leaf To Painted Furniture
---
A Little About Me
So how bananas has the world been lately? I know for me, it was brakes on the business, an incredibly confused small person stuck at home with an equally confused large person (me) and dog thrown in for good measure. Lockdown was a time of fear, solidarity, and hope of a light at the end of the tunnel. Before I go on and reminisce about the early lockdown days of trying to entertain my son with paper plate dinosaurs, I'll introduce myself.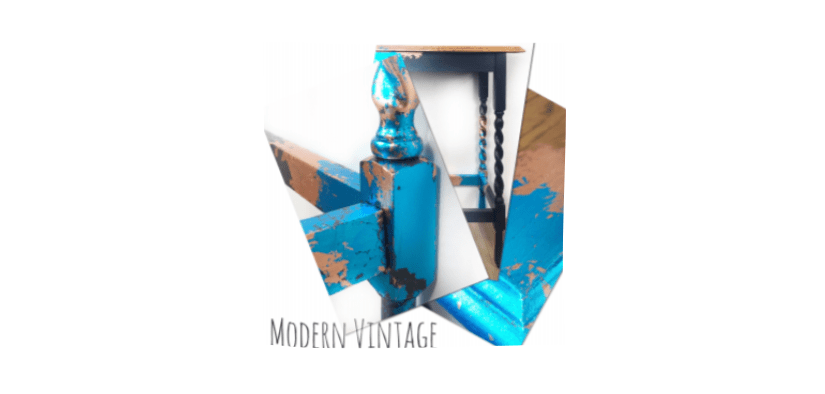 I'm Becky, founder of Modern Vintage, based in a small village in South Wales. I create bespoke painted pieces from vintage furniture to fit our modern lives. When I'm not up to my elbows in paint or out in my workshop, you can usually find me run ragged by my Duracell powered small person and dog. It's like trying to herd cats dealing with those two. Throw into the mix Mr. Modern Vintage, who when he's not stuck overseas working, is at home. Sometimes I feel like I'm in charge of a crèche with this lot. 
For many lockdown weeks, my poor client's project sat waiting for my attention. It was just too treacherous to start with a confined 3-year-old buzzing around with a penchant for finger painting. Such a gorgeous table and those barley legs were crying out for some detailing. You just don't get furniture made like that these days.
---
The Metal Leaf
Where to go for metal leaf supplies you ask? For me and near on everyone I know, it's got to be Gold Leaf Supplies. Brilliant, helpful, and Welsh- of course, I'm biased, who am I kidding. They have an awesome range of materials, so you'll have more in your basket than you need before you can blink- not that that is ever a bad thing.
My client was after a real statement colour and what better option than this turquoise coloured silver leaf. The light-resistant option was a must to keep that gorgeous deep blue colour. My imagination ran wild and before I knew it I was picturing this with copper leaf.  Why not? Bold and beautiful for this stunning table. Before my fingers are typing way too fast and just pasting a picture of the final reveal, here's my how-to on metal leafing painted furniture AND doing it in lockdown.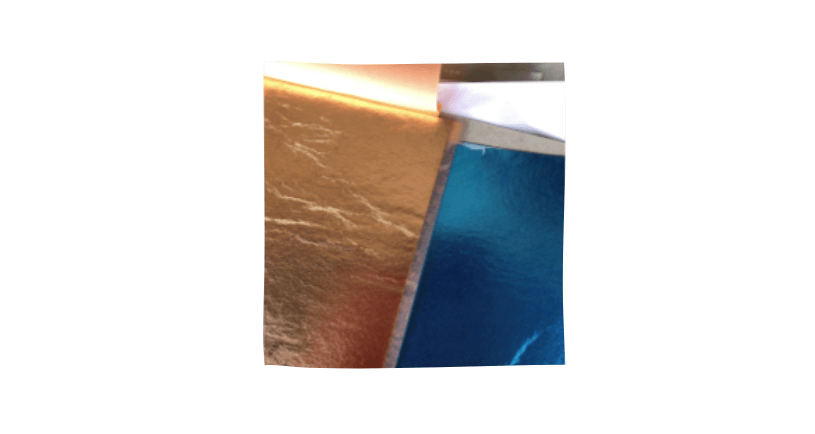 ---
The First Challenge- TIME
If like me you have a small person running the roost at home during these unprecedented lockdown times, it is probably best to leave any delicate tasks like painting or gilding until after they are in the land of nod or lock yourself away in a safe place. Any chance of small person intervention is thus avoided and you can be rest assured of avoiding WWIII if they decide to take on the commission themselves. 
Now for me, I had no "safe place" to lock myself into, as my small person is incredibly handy with doors and locks and I prefer daylight for working with metal leaf. Thank you John Logie Baird for your invention of the television as we know it. This saved me at times. Particular thanks going to Shrek. My ability to work in the day was saved by an ogre and donkey.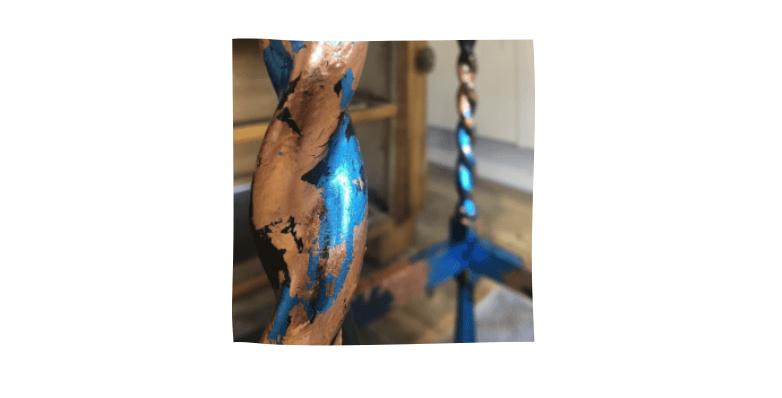 ---
So What Did I Use?
For this project, I used Fusion Mineral Paint Ash, a stunning dark grey as my base colour, with the top stripped and oiled with Danish clear oil. Now for the really fun bit, applying the metal leaf. When it comes to gilding, it can be overwhelming.  I remember first pondering trying it and wondering what the peanuts "size" was? It's an adhesive. I know a lot more now, but I am by now means an expert! Each type of metal leaf will suit various sizes, water, oil-based, etc, and also depending on what surface they are being applied to. Here I used Kölner Permacoll Size. 
So the size has different "open" times after drying when the leaf can be applied. I applied my size with a small artist's brush, as I was going for an arty approach on the legs and top. Once dry after 30 minutes, this size was open indefinitely. Perfect for me, as I knew I had to gild in stages with my small person around. No way could I go all in expecting to quietly get it done in one sitting – I'd have ended up with a blue and copper coloured son trying to delve in and help!
---
The Gilding
Once my little darling was occupied, out came the supplies to start the gilding. The blue came in 10 loose sheets and the copper in transfer sheets, which is very helpful if you're gilding onto a flat surface. The blue was quite a brittle metal leaf to work with, so talc was a must. Talc those hands and the loose metal leaf is easier to hold if you want to avoid using chopstick like instruments for instance. I've never been able to use them for eating let alone for applying a piece of metal leaf that wants to break apart! For the transfer sheets, just hold the piece of leaf against the furniture with size on it and rub so that the leaf comes off. With my approach, it's very much "off the cuff" and working with both colours at the same time for the intermingled effect. 
A long time later, I had a really awesome mix between blue and copper over the Ash, bleeding onto the oak top. It wasn't the fact that gilding takes forever, more of a lack of time during lockdown! The leaf was sealed with Whitson's Universal Lacquer. This prevents oxidisation/tarnishing and ensures durability of the leaf over time. The whole piece was then sealed with General Finishes water-based varnish in Satin. As a finishing touch for my client, I nailed in black furniture gliders (17mm) into the feet, bought off Amazon. Very practical and plus they looked the ABSOLUTE part.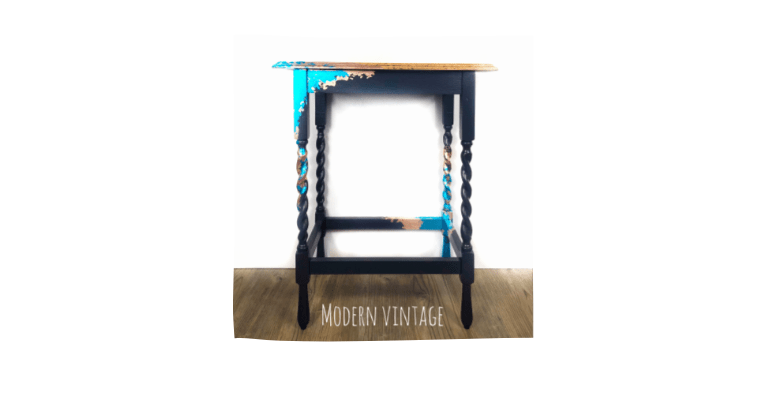 ---
She's a head-turner. What an awesome commission to do. There's one thing for sure, this is one project I won't be forgetting in a hurry. Here's hoping my next project won't have me relying on an ogre and donkey to get it done. 
Let me know what you think! Becky x 
---
Here's a quick rundown of all products used in this transformation: 
Coloured Loose Silver Leaf ‐ Turquoise ‐ 10 Leaves
General Finishes water based varnish, satin
Furniture Gliders- Amazon
Colron Danish Oil – Clear- Amazon
---
Check out Becky on Instagram Here
Check out Becky on Facebook Here