Wayne Hemingway is a man of many talents; not least his ability to multi-task. A celebrated fashion designer, DJ, festival organiser, property developer and passionate designer of sheds, he started his design empire from a single market stall in Camden selling second hand clothes raided from his and his wife, Geraldine's wardrobe before quickly going on to source preloved clothes and fabrics from around the world. In 1983, the pair launched their label, Red or Dead (a reference to Wayne's Red Indian background and Geraldine's first Russian-inspired collection), which shook up the fashion world with its desire to make cool affordable clothes through the creative use of materials, such as turning Dr Martens from a workwear item to a global fashion statement.
By the time the couple sold the company in a multi-million deal in 1996, Red or Dead had become a global brand with outlets around the world.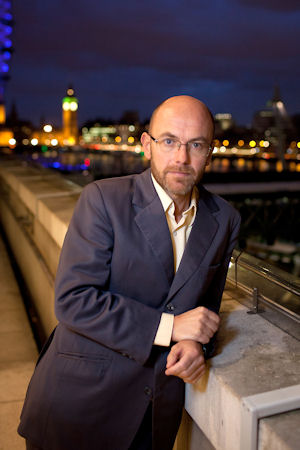 Today, Wayne and Geraldine continue to embark on everything they do with a deep-rooted, no-nonsense commonsense, wry humour and unique s
ense of style and panache. Projects atHemingway Design range from the design of urban social housing schemes and fashion, to wallpaper, interiors and water butts!
Preloved caught up with Wayne to ask him about his passions for all things preloved, vintage and nearly new!
Which period do you think had the most style and why?
For art, furniture and design, the late-50s and early-60s. For fashion I do like the narrow-trousered look of the 1960s, and for music it would be the 70s, which was such an exciting era with Bowie and Glam Rock. There was also soul, funk, disco and punk happening, the start of electro and new romantics, and the mod and rockabilly revival.
Which of today's items can you see being the vintage pieces of tomorrow?
There is lots of things out there that will become vintage in the future and plenty of clothing in the shops which within twenty years my grandchildren will be picking up and thinking that's a nice piece of clothing. On the whole the world is getting better at design and we are producing or making stuff that is well designed and will stand the test of time. As long as things are looked after and is well made they will become covetable in twenty-five years time.
I walked past Habitat with my two daughters recently and the feeding frenzy that was going on and we were looking at things and thinking 'that looks cool now' and will continue looking cool in the future. It's the same with a designer like Orla Kiely who will still look good in 20 years time.
You're off to a desert island and can only take three vintage treasures, what would they be?
I would take a box of my 7-inch modern soul records, which is what northern soul moved into in the 1970s; one of my 1960s Marks & Spencers open neck shirts, which I think are called bowling green shirts; and some old pairs of army shorts from around 1956. You could give them about 5,000 washes and they'd still look as good as new.
You're a renowned collector, tell us about it
We have a collection called The Land of Lost Content (the world's largest archive of 20thcentury popular culture) which has collections of all sorts of fantastic things like Midwinter pottery, stuff from the early 1960s and 1970s, mass market art by artists such as JH Lynch, great mid-century modern furniture by G-Plan or G-Planesque in style. What I'm buying at the moment is 1960s to1980s workwear, old denim and cords worn by factory workers. I think that the whole Hard Times look is back and there's come great clothes turning up in places like Germany and France.
What's driving the current interest in vintage and second hand?
Common sense is prevailing! Also there's a realisation that you don't have to have everything new. The idea that everything is disposable is not a good way to live and forward-thinking kids know it's naff to go out and spend all the time and they've seen people with credit card and mortgage debt. Part of the idea of not wasting stuff is about reusing it, you can see it in different ways like music being remixed, so in other areas upcycling is not just a fashion but a realisation that we have strayed too far from commonsense for a while.
You wear many hats, so what do you consider your role?
It's all part of life. So if it's working on a social housing project in Kings Lynn and turning things around, it's about common sense, not architecture. With our design work and running a festival in a way we do it for ourselves and it's the kind of event we would go to. It's the same with housing, we're designing the sort of houses where we would want our kids to live.