First thing first, if you have just got engaged – congratulations! At Imagine DIY, our many years of experience in making wedding stationery means we know all the best DIY and design tips. Here we list our top tips on making your own DIY wedding stationery.
Top Tips for DIY Wedding Stationery
Finding Inspiration
Wedding magazines are a great place to start and often have wedding planners; dress style guides and give tips on current trends and colour schemes. These are a great foundation for building your wedding scrapbook.
Wedding shows are great fun to attend. You can see dresses up close; get an idea of prices from different suppliers, venue styling, catering, and so much more. They're a great way to boost the excitement for you and your bridal party…and usually, there's plenty prosecco on offer.
Pinterest is also an incredible place to find ideas for everything wedding! Weddings are in fact the top topic for pinners, so this should be your go-to place for inspiration. Visit Imagine DIY's profile for inspiration on DIY invitations too – we have design guides and trend tips and stunning products from our website.

DIY Wedding Stationery Timeline
Follow our timeline to avoid last minute stress and costly mistakes. We recommend:
12 months – Write your guest list and start making save the dates.
8 months – Send your save-the-dates and start planning your invitations (wording, venue, ceremonies, day/evening guests, accommodation, RSVPs).
6 months – Send your invitations and start recording your RSVPs (including any numbers and menu options).
3 months – Finalise your seating plans, start making your table stationery (place cards, favours, menu and order of service covers, seating plan), as well as organising a guest book, card box and start planning your thank you cards.
YOUR BIG DAY – Confirm your seating plan, decorate the venue and collect mementoes, but most importantly ENJOY YOURSELF!
After the honeymoon – Send thank you cards and finalise wedding album.
Top Tools for DIY Wedding Stationary
From personal experience in making wedding invitations, tools are important if you want a lasting, well designed and professionally finished product. We recommend the following items:
Essential Tools:
Paper trimmer/Guillotine – An absolute must! You can't cut hundreds of straight lines with scissors – it would take you forever!
Paper scorer – These are brilliant for creating perfect folds in card and paper. You can, in fact, buy a simple scoring blade to convert the paper trimmer into one of these.
Tape runner – This nifty little gadget saves so much time in cutting and pealing tape when securing flat card and paper together.
Double sided tape – This is required when you need a stronger adhesive for some materials like lace or embossed papers.
Hot melt glue gun – Absolutely the best way to secure embellishments and bulkier items. Unlike wet glue, the glue gun sets quickly and won't soak through the paper or material you're using.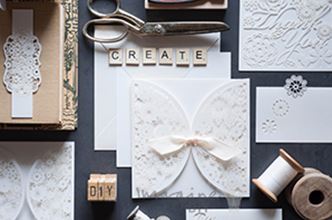 Tools for the more adventurous:
Corner Chomper – A great tool for rounding edges.
Envelope punch board – We love this tool for making your own envelopes!
Die Cutters – This machine has many designs to choose from such as snowflakes, butterflies and flowers. It also has the advantage of cutting multiple shapes at one time so this really is an amazing gadget and worth the investment for crafty experts!
Printers: We recommend using a laser jet printer as they prevent ink from smudging on unconventional paper surfaces. We would also recommend a printer that has a direct feed and doesn't bend the paper whilst printing. This prevents the card from curling and makes it much easier to figure out which way to place the printed inserts to print on both sides!
Don't Forget to Visit Imagine DIY
For more useful resources visit Imagine DIY. All of our top tips, design guides and DIY wedding inspiration are available for you to use. We also have experts to hand to give advice where needed! We wish you all the best for your wedding and future together!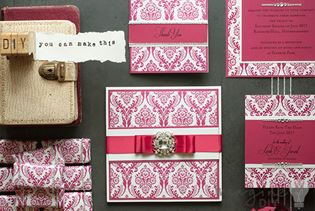 Much Love,
Imagine DIY x
Don't forget to check out the rest of our weddings blogs for more inspiration!