A Stylist's Guide to Shopping Secondhand – By Rachel Blake
The 3rd in Our Edition of #TheJoyofSecondhand Blogs!
My love for vintage and preloved clothing started while I was studying for my degree in Fashion Design at Manchester Metropolitan Uni. I wanted to look unique and stylish but didn't have the funds to buy new clothing. So, my friends and I used to trawl Affleck's Palace in Manchester's Northern Quarter as well as the charity shops for cool vintage and one‐off finds so we didn't look like anyone else (such was the goal of a first-year fashion student!!) At that time it was socially acceptable to buy vintage, but the idea of shopping secondhand by going into a charity shop horrified a lot of people due to the stigma of the clothing being old, smelly and something you only bought if you couldn't afford new. There were no online marketplaces – the internet was in its infancy back then.
Fast forward twenty years and thankfully times are changing. Many now realise there are too many clothes in circulation. Over 150 billion garments are produced globally every year, with 300,000 tonnes going to landfill in the UK alone. Fast fashion accounts for a large percentage of both these statistics! It is estimated that half the fast fashion produced is disposed of by consumers in under a year… That's a lot of wastage!
Buying preloved can save you a fortune while still looking relevant and stylish… AND help you do your bit to save the planet. If you choose well you can end up with a fabulous outfit for a fraction of the price. The outfit below consisting of a pure silk blouse by Ralph Lauren, 100% wool skirt from Jaeger, and Hobbs pink suede shoes cost me the grand total of £24! All second-hand items destined for landfill, now getting a second lease of life.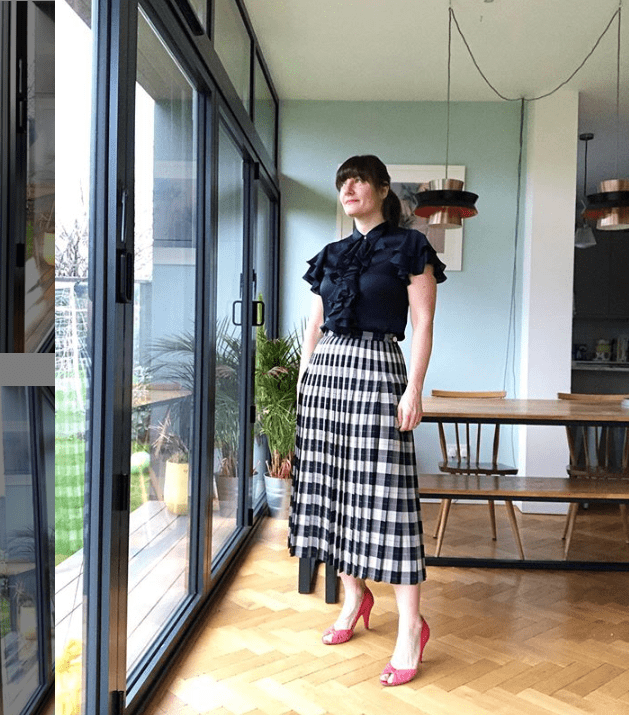 I've put together my top tips for buying from charity shops and online sites for those that don't often frequent them, feel a bit overwhelmed by the jumbled rails of clothing or the abundance of listings. I've also added some stylist tips and tricks to get the best out of your newly acquired clothing when shopping secondhand.
Tops tips for buying vintage and second hand:
Don't go into a charity shop with the aim of finding something in particular, you'll be very lucky to find it. Instead, enter with an open mind and a little time to be able to browse the rails. With online sites, you have the luxury of searching for particular items which makes it much easier if you are after something specific
Like when buying new, only buy an item if you can think of five things you own that you can wear it with. Just because it's a bargain, it doesn't mean you need it
Search for good quality labels ‐ they'll last longer and you'll cherish them more
Both online sites and charity shops are always drowning in jeans ‐ for some reason they do not sell well, even premium brands. Boot cut jeans are coming back once again ‐ you'll find an abundance of them at the moment ‐ buy before everyone else cottons on!
Buying an H&M or New Look top for £4 is not a bargain when it probably cost £6 new
Go on a second-hand shopping spree at the very start of the season. Charity shops save donated items for the next season so chances are you'll have the pick of the bunch. For online sites, buying items out of season means you'll most likely get an item at a knockdown price.
For designer bargains, head to more affluent areas to trawl the charity shops where more wealthy people take their unwanted clothing. For vintage goodies, shop in areas with an ageing population where you tend to find one-off 60s and 70s gems. If you are shopping online there's no need to travel – sit back with a cuppa and browse the listings!
Don't forget to have a look at the men's section online and in charity shops too. My friend recently picked up a men's Dior jacket that fits perfectly – her best buy to date!
Look sympathetically upon lightly bobbled jumpers ‐ they can easily be de‐fuzzed with the help of a razor
Don't dismiss amazing items that are too big ‐ a little wizardry from a good seamstress can rework garments and still bring them in under the original price. Alternatively, use a vintage leather belt to cinch in larger dresses or blazers for a slouchy and stylish oversized look.
Some items are a steal because they are made in an undesirable colour. Transform clothing with an inexpensive Dylon machine dye and bag yourself a bargain (note: you can only dye darker!)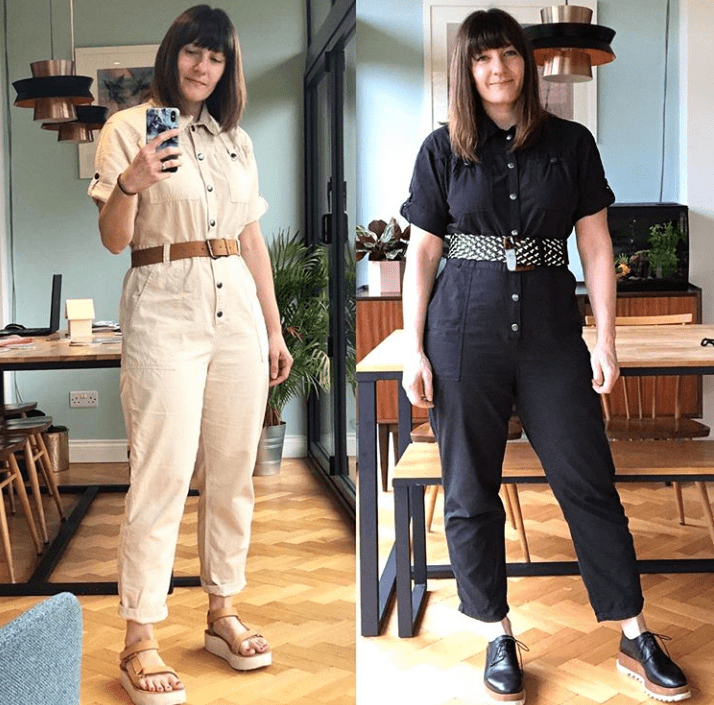 This old Topshop boiler suit, languishing at the back of my wardrobe, was transformed into a much more useful garment using an easy‐to‐use machine dye.
Lastly, declutter your wardrobe and get rid of items you don't wear. How do you keep track of whether you've worn it or not? Place hangers on the rails backward, and when you've worn an item, turn it round the right way. After 6 months you can see what you don't wear. Sell it online and make a few pounds towards your next preloved purchase!
Good luck with all your buying and selling ventures, and remember- Shopping secondhand NEVER means shopping second best!
---
Take a look at Rachel's Instagram Account Here
Visit our Member Rewards Page Today for Exclusive Offers on everything from Shaving Sets to Recipe Boxes!
…
Be sure to check out all our other blogs to keep up to date on how Preloved approaches the COVID-19 Pandemic.