My names Amy and I'm the painter behind Tickety Boo Interiors. It's difficult to pinpoint exactly where it all began, it was all a bit of a snow ball!
I come from a fashion retail management background, working closely with current trends, product placement and merchandising; it's all I've ever known since leaving college. So when I had my 2nd child and the Mr and I decided it was best for our little family for me to stay home, as happy as I was to witness every milestone and  funny moment, I massively missed being me and being able to express myself. I was used to being so hands on and involved creatively, I needed to build something of my own that would work around my family.
When we moved into our first family home, a 1930s semi filled with character, I couldn't wait to get stuck in! I wanted my two children to have vibrant and fun bedrooms which didn't come out of a catalogue without spending mega bucks – so with a glue gun in hand I got creative!
My daughter was obsessed with mermaids, her room was a mixture of glitter, pearls and vibrant purple and pinks. For my son's nursery I went for dinosaurs- transforming our daughters old nursery furniture using cans of spray paint and some toy dinosaurs I found in charity shops. I'm still asked today from friends where they can buy these dinosaur drawer handles!
I then started painting small pieces of furniture whilst on maternity leave, after seeing other furniture painters sell their pieces via social media. I loved the buzz of giving tired, but beautifully-made furniture a new look to suit modern homes, as my Nan would say "they don't make them like they used to anymore". When you see just how much unwanted furniture goes to landfill it's scary. Plus, each painted piece is a one off- no one else will have it in their homes!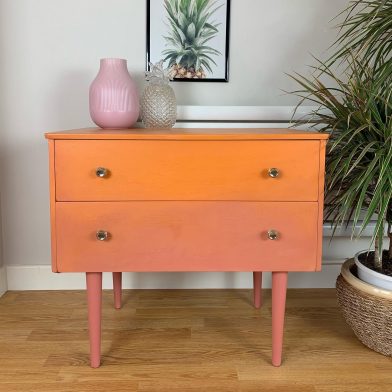 I decided to open up my own sales space within an emporium, I absolutely loved setting up my space and re-jiggling my painted pieces around. I would raid charity shops for vintage homewares to dress my space. Unfortunately the emporium had to close, so I needed a new sales avenue. It's around this time I created my online shops within Etsy and Vinterior.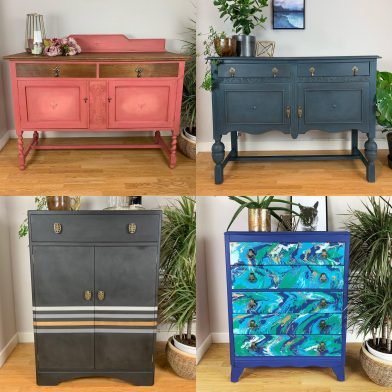 My business Tickety Boo Interiors has been alive for nearly two years now, and I'm still just as passionate if not more!
My style is quite bold and vibrant, I love neutrals too but show me a tin of bright red and I'm sold! I believe every room within your home should have an eye catching piece of furniture. A piece that brings the room together and creates a talking point. I'm also a magpie to ornate vintage hardware, I can't help myself! I love scouting out charity shops, car boot sales and EBay for sets of drawer pulls. I've forgotten what I have now in my stash but can't help buying more!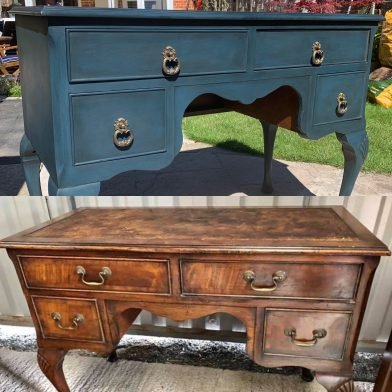 My dream would be to link my love of retail and furniture painting, and one day have my own Interiors store. Selling lots of lovely interior accessories, painted furniture and offering workshops to pass on my love of this trade.
I love that I can have best of both: be there for my two young children, as well as be my own boss doing something I love.
Buy easier and sell faster and upgrade your Preloved membership for as little as £5 – what Preloved gems could you find?