Today Preloved hand the blog over to Sera from The Agoraphobic Fashionista, to share with us her budget wedding story. With only 3 months to plan the wedding, a super tight budget and so many wedding ideas to choose from, it was a challenge Sera and her soon-to-be husband chose to accept!
My Perfect Budget Wedding
We realised pretty quickly that the cost of a wedding was going to greatly exceed what we could afford. All it took were a few enquiries to wedding vendors and we were almost ready to call the whole thing off. We simply were not in a position to pay out the average cost of a wedding (£20,000), in fact, we didn't have a budget at all!
We made a decision to still go for it, but to try and keep costs low and we also decided to 'pay as you go'. Considering we had only given ourselves 3 months to plan our nuptials, it was going to be tight – but we knew it'd be worth it.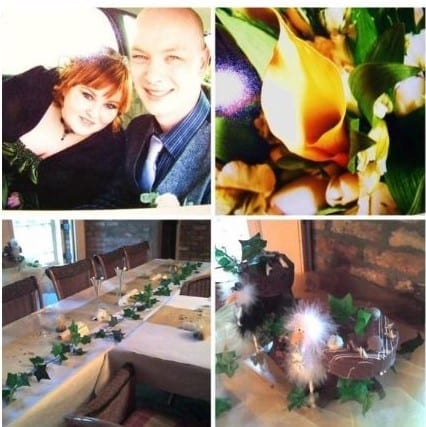 Choosing a Low Cost Wedding Venue
The first obstacle was in finding a budget-friendly wedding venue and reception venue. We opted for the Registry Office, and found a quaint local pub with an upstairs room that was reminiscent of a church for the reception. After discussing our budgetary restraints, we managed to sort out a deal wherein our guests would be treated to a sit down buffet dinner. This worked out at less than half the price per head than a sit down dinner at a different reception venue.
It pays to shop around. The great thing about both of these venues is that they were happy to allow me to decorate myself and gave us a free reign in terms of what we wanted to do with the room. The venue supplied only the food and the room, but we figured that was all we really needed.
The Budget Friendly Wedding Dress
Here is where we run into a regret. I decided to save money on the dress front, and it's the one instance in regards to our wedding where I wish I had paid out. There are many options for the budget bride in terms of 'The Dress'. You could buy a traditional style from China – Ebay is heaving with them. A word of warning though; I did this, I ordered a beautiful ivory dress, complete with cathedral train and bell sleeves and, it never showed up.
Cue searching through sale rails in wedding dress stores, phoning around to see if there were any plus size wedding dress options available for my budget. There weren't and so I ended up wearing a £60 dress that was made up by a dressmaker on Ebay (in the UK this time). It was black and green and very medieval, great for some I'd suspect however, it remains the reason our wedding photos are not on display.
Again, we opted not to have a bridal party as we were aiming to keep costs down. The groom's suit was comprised of different pieces we'd sourced from budget friendly stores. Buying a complete suit can be rather costly, so this way we managed to dress the groom for the day for a purse friendly price.
The Wedding Flowers
If you're feeling creative, this is a great opportunity to save some cash and have a little bit of fun at the same time. Florists can end up proving very expensive, especially if you go beyond wanting just a bridal bouquet. I browsed websites for inspiration on my on bouquet and on the morning of the wedding, I took 15 minutes out to relax and put together my own wildflower bouquet.
Now there are endless Youtube videos and Pinterest boards dedicated to this task, making it even easier a task and providing a wealth more inspiration. Not only did I end up making my own bouquet that I loved, but sitting down and making it was a therapeutic breather before the wedding itself.
The Wedding Decorations and Cake
The final area we saved money on. Ebay and Etsy have material stockists everywhere you look, so it was easy to pick out a colour scheme and we started buying organza and faux ivy vines, when we could afford it. I found some great little gold tea light holders for centrepieces and our wedding favours were unwrapped Raspberry Ruffles in little gold pouches. I made my own aisle at the registry office with organza and faux rose petals and confetti. I arranged all the wedding reception tables as well on the night before the wedding.
Our cake was purchased the day before the wedding and it was a 3 tier chocolate concoction, made up of 3 different sized chocolate cakes available at our local supermarket. They were tasty and we arranged them on a cake stand so they really did look the part.
Lessons Learnt
It is possible to have a thrifty wedding if you shop savvy, using but my one word of advice is think very carefully and be very sure on the areas you want to save money.
If you're looking for a low cost wedding and investing in a second hand wedding dress, why not browse our bridal wear section on Preloved today. There are hundreds of wedding decorations and accessories up for grabs second hand too!