We have ten easy yet effective plastic-free and zero waste Christmas decorations for you and the family to make this festive
season, and
enjoy year after
year.
Decorating our homes at Christmas time is tradition. The decorations bring a little more light and joy into our lives to combat the dark, cold winter that has just arrived. It's our favourite thing about the festive season – Christmas just wouldn't be the same without our homes decorated. 
The one thing that we don't like about Christmas, is the amount of plastic that is produced in the form of Christmas decorations. Some retailers have finally started to realise that we would like to see less plastic in our Christmas décor, but it hasn't stopped the overwhelming amount of plastic decorations that hit the shelves year on year. 
Here at Preloved, we feel that plastic and Christmas don't have to go hand-in-hand. If you feel the same, then the good news is that there are lots of ways to have planet-friendly decorations. So much so, that we've compiled our favourite plastic-free and zero waste Christmas decorations, made from natural and compostable materials. 
Don't worry – we aren't asking you to throw away all of your plastic Christmas decorations! The most eco-friendly decorations of all will be the things you already own. Re-using what we already have is the perfect way to achieve a zero waste Christmas. Which is why most, if not all of the things on this list can be made from things you already have at home! 
Dried Orange Garland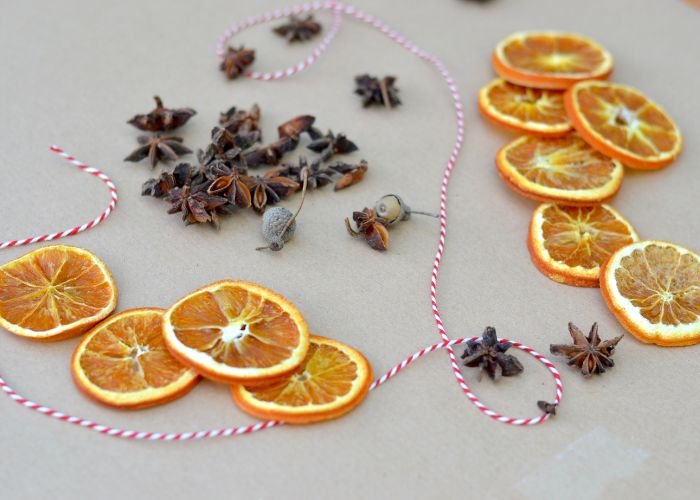 Dried orange slices look incredible as Christmas décor. If you want your house to look and smell the part this Christmas, these garlands are so easy to make. Head to This Lovely Little Farmhouse for the full tutorial.
You could even use dried oranges to hang on your Christmas tree. This is great if you decorate multiple rooms in your house, as you can get the whole house smelling festive! 
Top tip: We would advise to use these garland indoors only. If you use them outdoors, it can cause the oranges to rehydrate and subsequently rot. Obviously, this makes them a zero waste Christmas decoration. However, not ideal if you want them to last the entire festive season. Keep them indoors, and store them in air-tight containers when not in use. This way, they'll last years. 
Pinecone Zero Waste Christmas Centre-Piece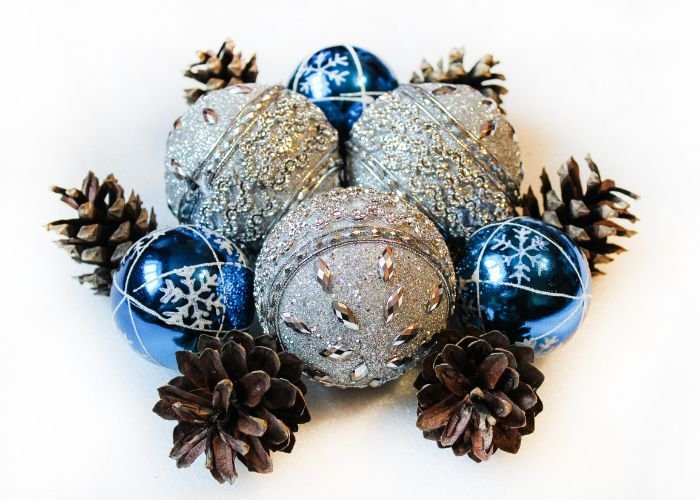 A pinecone centre-piece is a great zero waste Christmas decoration, and looks really effective on either coffee or dining tables! Not to mention the fact that they are super quick and easy to make. All you need are some pinecones and some old Christmas baubles. We say old Christmas baubles because it's a better way to make use of them, rather than throwing them away!
We would also recommend arranging this centre-piece in a glass bowl or even a glass vase. It will look really effective and you can create layers with baubles and pinecones, and will look gorgeous to look at while you're having your Christmas dinner.
Fabric Wrap Your Gifts

Another way that you can achieve a zero waste Christmas this year is changing up how you wrap your presents! If you have the time, you could learn the Japanese art of Furoshiki, also known as fabric wrapping your presents, rather than using single-use wrapping paper.
To make this as planet-friendly as possible, we would recommend choosing a sustainable fabric for wrapping your gifts.
Or you could go even more zero waste Christmas wrapping and use spare fabrics you already have lying around at home! They would just need to be in the shape of a square to work as gift wrap.
The best part about this is that your loved ones can then re-use the fabric however they see fit, making it a gift within a gift! We would also recommend using plastic-free Sellotape for your wrapping needs this Christmas.
Popcorn & Cranberry Tree Garland

If you want an easy zero waste Christmas decoration, then try this cranberry and popcorn garland from Salty Canary. That is, if you can resist eating all of the popcorn before you assemble the garland! This could be a great one if you have older children, as they will be able to get involved, which adds even more of a personal touch to your decorations.
We would recommend using this garland on your Christmas tree to add both a pop of colour with the cranberry, and some different textures! These garlands wouldn't last outside, so as long as they are kept indoors, they will last the festive season.
Origami Stars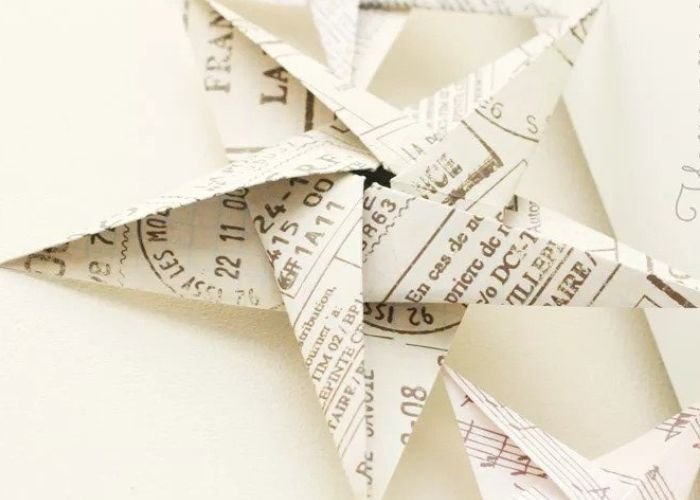 These five-pointed origami stars are super easy to fold and make lovely Christmas decorations. What's more, you can make them zero waste by using old magazines, scrapbook papers… Even left over wrapping paper! Any spare paper you having lying around the house.
You could also utilise these stars numerous ways, such as hanging them in windows, standing them on mantlepieces, you could even create an origami star garland to hang on the staircase. Not to mention using them as tree decorations. They are incredibly versatile and can work with any decorations you already have. You can also get the kids involved with this one, stick a Christmas film on and they'll be occupied for hours!
Head to Homemade Gifts Made Easy for the full tutorial.
Zero Waste Christmas Wrapping Paper

If fabric wrapping isn't for you, you can still reduce the amount of Christmas wrapping paper waste by making your own this year.
You could save your newspapers throughout December and use it to wrap your gifts, complete with twine and foliage to complete the look.
Alternatively, you could buy some recyclable parcel paper and get crafty with some paints to create your own festive wrapping paper! This is one that the whole family can get involved with, it adds a personal touch to your gifts and the children will love this arts and craft activity.
Here's how to make your own craft wrapping paper.
DIY Christmas Wreath

Instead of getting a shop-bought wreath, why not make your own?
They are a great way guarantee a wreath that matches your home décor and existing Christmas decorations. They're easy to make, zero waste, and they are a great excuse for a day of cosy Christmas crafting.
These DIY Christmas wreaths will be zero waste because they will either last for years, or break down in the compost.
Crochet Stars

If you love to crochet, then this one's for you. Any leftover bits of wool from other projects can be easily transformed into these gorgeous crochet stars. You could hang them on your Christmas tree for a unique, textured decoration. They can be strung together to create a crochet star garland (which we personally love the most!). Or, if you really fancy going "all-out" you could use them instead of bows on your Christmas gifts!
Click here to see the free crochet star pattern.
Newspaper Zero Waste Christmas Cards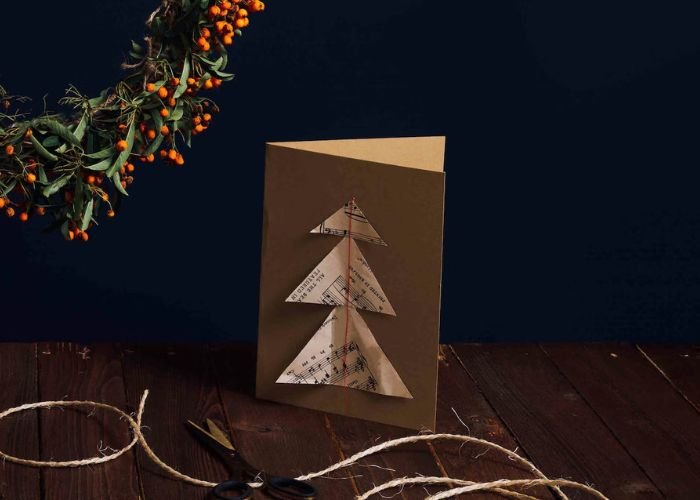 If you had some leftover scraps of paper from your origami star crafting session, then you could put those bits to good use and DIY some Christmas cards!
They are so simple and easy to make, but really stand out with a fun, rustic look. It's yet another activity to get the kids involved with, as we all know how hard it can be finding things to keep them occupied in the winter that aren't screens! We think these are great because they can be keepsakes as well, it adds a lovely personal touch to your friends and families Christmas cards.
Head to Pebble Magazine for the full tutorial on these newspaper Christmas cards.
DIY Zero Waste Christmas Tree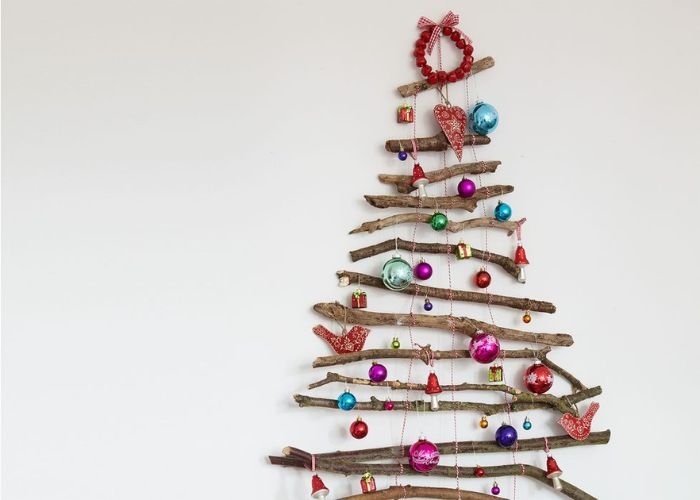 Being both sustainable and stylish, a twig Christmas tree is an inexpensive way to to make a bare wall look festive and is a great alternative to a traditional Christmas tree if you're short on space or are away for the big day, but still want some seasonal cheer at home. Even if you already have a classic Christmas tree, a twig tree could work great in another room in your home to bring the festivities no matter where you are! 
Head to Prima for the full tutorial on how to make a zero waste Christmas tree.
If you try out any of these zero waste Christmas decorations, make sure to share them on our Facebook or Instagram pages and tag us!  
If you have loved reading these zero waste Christmas decoration ideas, then why don't you check out our blog all around how you can have a budget-friendly Christmas? Or if you are a beginner to crafts, we have 5 beginner Christmas crafts for you to have a go at! You could also check out Dogs in Christmas outfits… Because why not? It's Christmas!