Need some home and interior design inspiration? Look no further than your neighbour's house! Whether you've just bought a house, are planning to buy one or are simply keen to give your current home a bit of a revamp for the coming year, trawling through websites or combing the high streets for knickknacks can be tiresome. Why not use your neighbours home for some interior design inspiration?
Jealous Neighbours
A recent study carried out by Carpetright surveying 2,000 UK homeowners asks the question 'Are we jealous of our neighbours?' The answer appears to be a firm 'yes'.
A third of survey participants have upgraded their flooring after admiring the home of a friend or neighbour, while 1 in 5 said they'd seize any opportunity to sneak a peek at a neighbour's interior design choices.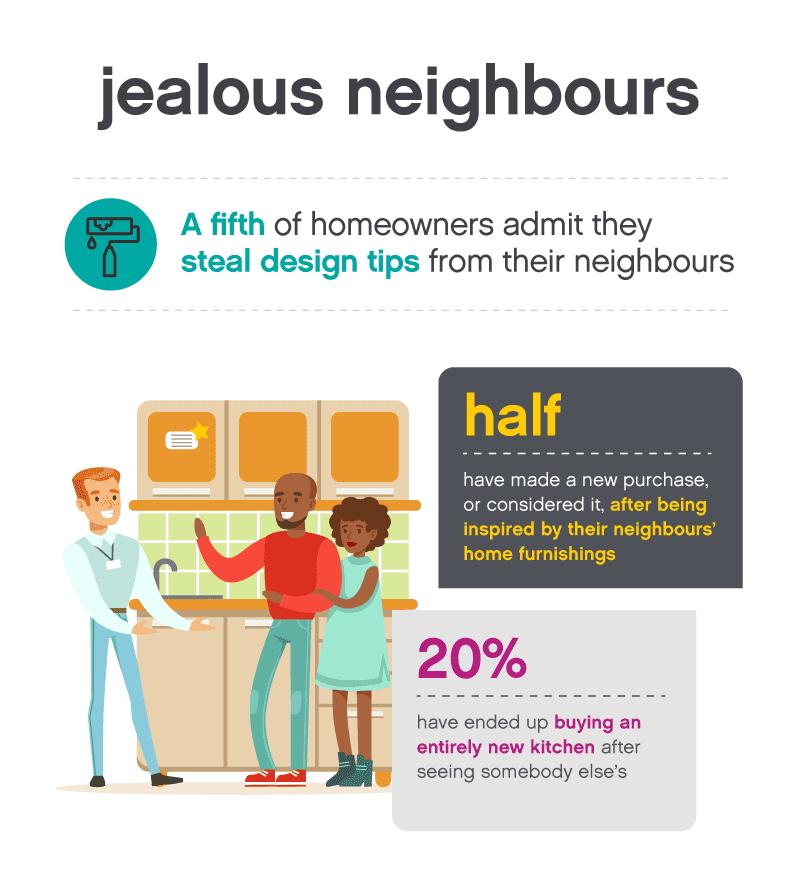 Meanwhile, the kitchen appears to be the most enviable room with 20% of participants claiming to have bought an entirely new one after seeing somebody else's!
As for the top five home furnishings; these include a wood burning fire, hardwood flooring and a large American fridge/freezer (who knew we were such fans of our transatlantic cousins' kitchen appliances?). Other items which prompt the arrival of the green‐eyed monster include laminate flooring and wallpaper too.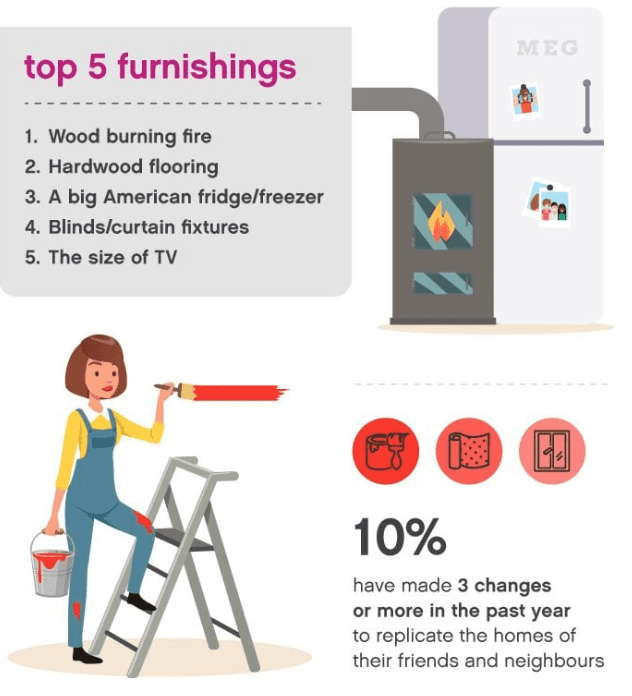 Spruce up your flooring
Since flooring seems to be one of the features which makes jaws drop and wallets burst open, why not try and make yours the talk of the town i n 2019? Gone are the days of boring flooring – there are plenty of stylish options (think silky soft carpets and vibrant rugs) available for homeowners who are eager to turn heads.
Keep mucky paws at bay with pet-friendly flooring
Deciding which type you'd like and in which room will be your first step. After all, some flooring types are not universally suitable for all rooms. Plus, if you own a dog or cat, you'll want to opt for pet-friendly flooring that isn't scratched or scuffed easily. 2019 might be the year you finally ditch that clawed carpet (and those dirty looks from your in‐laws when they come to stay).
As luck would have it, pet‐friendly flooring is usually child‐friendly too. You've probably witnessed first‐hand that sticky fingers and overzealous painting can wreak havoc on certain floors. To cover all your bases, you might even decide to consult a cleaning guide first. That way you'll know how to clean up should mucky pups or crayon‐wielding kiddies decide to run riot
Go bold with bespoke carpet
From Berber to Saxony, there is a whole smorgasbord of carpets to choose from depending on your tastes and room design. Your existing carpet might be soft on your feet and bring warmth to its room, but why not kick off 2019 by adding a splash of colour to it? If you can't figure out which colour to go for, try the flooring visualizer tool – perfect for indecisive minds.
Charm guests with wood flooring
Wood flooring seems to be the most enviable flooring type according to the survey findings (it was voted one of the top 5 desirable furnishings). Aside from being aesthetically pleasing, there is a huge selection of engineered wood available – from oak, beech, maple and walnut, the huge variety means you can tailor your flooring to the colour scheme of the room you're revamping. Elegant and more stable than solid wood, engineered wood flooring is sure to impress your guests.
Turn heads
Easy to clean and suitable for high-traffic areas, laminate flooring is the perfect choice for homeowners who want simple, fuss-free flooring in their living rooms, dining rooms or hallways. Made from pressed wood, laminate is durable, scratch-resistant and available in a variety of realistic-looking wood shades. Plus, laminate comes without the hefty price tag.
Load up on stylish accessories
But flooring isn't complete without accessories and if you're looking to turn heads, you'll certainly need some of these. If anything, they'll add a bit of colour and personality to the room, especially if you pair a patterned or striped rug with minimalistic flooring.
And don't forget to deck out the rest of your home with some affordable treasures from Preloved. The beauty of buying second-hand gems is that you never know quite what you're going to find. That vintage clock which sat gathering dust at an old cottage in Yorkshire? Turns out it's a wonderful fit for your living room. Or, that eclectic lamp bought on a whim in Shropshire? That's a perfect accessory for an angsty teen's bedroom. If you're looking to spark homeowner envy, these sorts of things will surely do the trick.
We hope we've given you some food for thought and useful flooring makeover ideas to help you feel inspired for 2019. With any luck, your guests and neighbours will be fawning all over your flooring revamp and turning into carpet copycats or interior design thieves in no time.
Buy easier and sell faster and upgrade your Preloved membership for as little as £5 – what Preloved gems could you find?