In honour of our competition to win tickets to the Caravan, Camping and Motorhome show this month – we thought it would be great to show the motorhome love with this guest blog from There's No Place Like Earl about a lovely staycation to Pembrokeshire!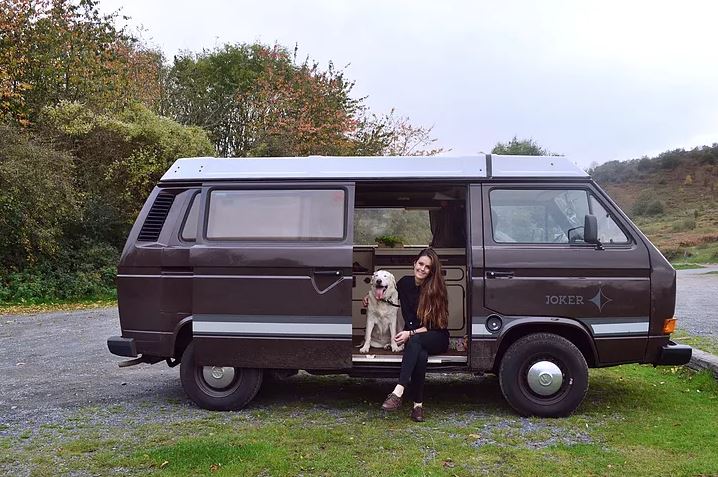 Ever had that "night before you head off on an adventure" buzz? Well, we did 2000 times over! I was a child again. Everything packed and ready to go.
The plan was to hit the road fairly early to optimise exploration time.
Tyre pressures checked, water full and oil just right.
We started out in Worcester with Caerfarchell, St Davids as our destination. Avoiding the M50. The journey took around 3 hours 45.
The roads were quiet and beautifully lined with autumnal trees, views of the Brecons and the odd 'pop in for lunch' pub sign along the way. (Tempting, but we had the seaside to visit)
Alex was in charge of the van maintenance armed ready with a toolbox filled with plenty of  'you never know's' and 'what if's' and most importantly his ever knowledgeable father's phone number!
We stocked up the night before with food and wine to keep the cost down. Eating out is wonderful but costly when you're away for a week. We cooked breakfast every morning, and packed lunch every day for the drive. There is nothing nicer than pulling up next to the beach on a windy day, watching the tide roll in enjoying a cup of tea and freshly homemade sandwiches.
If you are yet to visit St Davids and its stunning coastline there are a few places you MUST try! The Shed in Porthgain Harbour. The Fish & Chips here are by far the best! We opted for a post-surf takeaway and it was as always incredible. You can also pop into The Sloop Inn if you fancy a nice pint. The decor representing that of a local fishing boat gives you a real feel for the seaside. Both Alex and I had very fond memories growing up heading to Porthgain with our families, so to come back and experience it as adults and not be disappointed was fab!
The next few days we became beach bums!….For a secluded beach, this place is a great place to visit. Caerfai Bay, a tight road down but worth the squeeze. The car park overlooks some of Pembrokeshire's finest coastlines and if you're in season and lucky you may spot some local seals and dolphins. There is a short walk down to the beach its self absolutely worth doing. Trust me. Here we sat and watched the day go by.
The best part about taking a week out somewhere familiar or new in a campervan is the fact that you don't need to have a plan, just a full tank and an open mind. We head out early one morning in the search for an old jaunt I vaguely remembered visiting as a child. With no village name or direction, I just followed the winding road ahead in what I only hoped was the correct way (silently thinking I'd got it wrong, outwardly telling Alex I knew where I was going, Did I Heck!!)
With only luck on my side and the memory of a breezy summer day sat with my Mum, Dad and Brother outside a beautiful pub overlooking the beach. I got us there! I was secretly smug. As soon as I jumped out of the drivers seat into the fresh air it smelt the same! Open fires, fish & chips and the salty sea air.
We took a walk not too far from the camper to the nearest most inviting real ale pub. "two pints of 'ale' and a packet of crisps" sat by the log burner watching the October coastal village go by. What holidays are for right? If you ever find yourself in Pembrokeshire please visit Little Haven. You will not be disappointed. When you find yourself in Little Haven PLEASE visit The Swan Inn. The only way to describe it 'Quaint and just wonderful'.
Being a camper van lover and owner has a true air of magic about it, the home on wheels, a windbreaker whilst at the seaside, your hotel with a view. I can't recommend it enough.
Camping in general actually is something I recommend to everyone! It's all I can remember of family holidays, to be honest, that feeling of freedom as a child. The grass patch in front of you is your playground, the pebbles on the beach are your toys.
The sand becomes whatever you wish for it to be! (always a boat for me, with a frisbee steering wheel of course). It opens your eyes to the outdoors, and how truly beautiful our surroundings are. You don't need much to enjoy it! Canvas overhead, bbq in the rocks and to be optimistic about the Great British weather. That said, you're set.
Where will this summer take you? Follow Earl's journey's this summer over on Instagram