Today, a new ban on the manufacture of products containing microbeads comes into force in the UK, in an attempt to cut down on plastic in the oceans. These beads, used in a number of household products and cosmetics, cause irreversible damage to the environment and are contributing to the growing plastic in our oceans.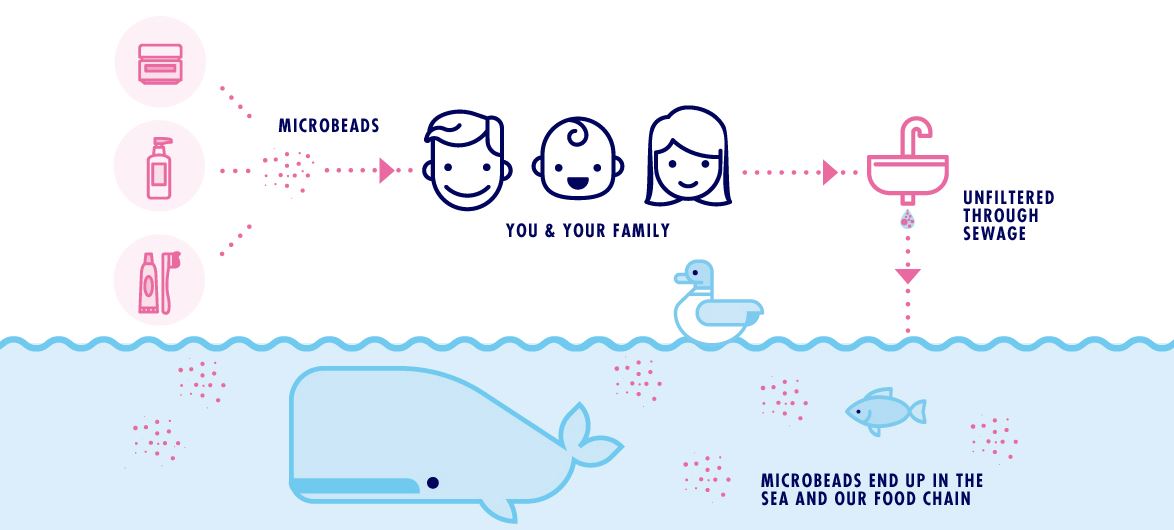 Microbeads have been commonly found in toothpaste, body scrubs and other household products we use daily. The ban, that comes into place today, bars the manufacture of products using microbeads, with a ban on the sales of such products coming into place in July.
Why are microbeads being banned?
There has been pressure on the UK government to ban microbeads for a number of years because of the damage they cause to the ocean.
Studies found that a single shower releases 100,000 microbeads into the ocean. These particles cause irreversible damage to the oceans, with these indigestible beads being easily ingested by sea life creatures and this eventually ends up back into our food chain. It's even been found that a plate of 6 oysters can contain up to 50 microbeads.
680 tonnes of microbeads enter the UK oceans every year alone – that's the weight of 90 double-decker buses!
We spoke to Lynne Lambourne, professional upcycler and environmental enthusiast, who said;
"Microbeads used in cosmetics are so unnecessary as there are plenty of natural alternatives that we can use. The oceans are full of plastic which is devastating the natural marine life. Today's change to the law is a fantastic micro start to a massive issue, changes have begun but there is much work to be done. 
We are all responsible for fighting to save our amazing oceans, microbeads today, tomorrow plastic bottles!"
Follow Lynne on Instagram for lots of information on how you can do your bit to Save the Ocean and products and people who can help you make the much-needed changes.
How can I avoid buying products with microbeads?
Beat the Bead have a free app that allows you to scan the barcode of a product and find out whether it will include microbeads.
They also have a list of all the products that are microbead-free, so you can check that your favourite brands are good to use! Many big brands have announced that do not use microbeads already.
How else can I reduce my plastic waste?
Reducing your plastic waste doesn't have to mean changing your life, a few simple changes can make a real difference.
Buy a reusable water bottle
Say no to disposable plastic straws – if you're handed one, consider asking the company to consider using reusable, eco straws
Carry a reusable shopping bag 
Choose cardboard or paper packaging over plastic where you can
Get your milk delivered
Sell your second-hand plastic toys, furniture and everything else on Preloved!
Why not check our blog on our top 5 easy ways to reduce your plastic waste?