Gardening is one of the most popular hobbies among Brits. We have long advocated for the benefits gardens bring not only to our physical and mental wellbeing, but also our environment. Sometimes we inherit a well established garden when we move into our new home; other times we find a house that is simply perfect, but we recognise immediately that the garden will need some work. This was the case with Ant and Jake.
The couple took part in this year's BBC series Big Dreams Small Spaces, in which Monty Don guides amateur gardeners towards turning their small garden into their little oasis. We got in touch with Ant, and he told us about life after Monty, the trials and tribulations of getting a garden done in time, what they sourced locally and his tips for buyers of a new build.
You can follow Ant on Twitter for more gardening adventures. He also made his own video post-Big Dreams Small Spaces in which he expands on some of the aspects and choices in the garden. Well worth the watch!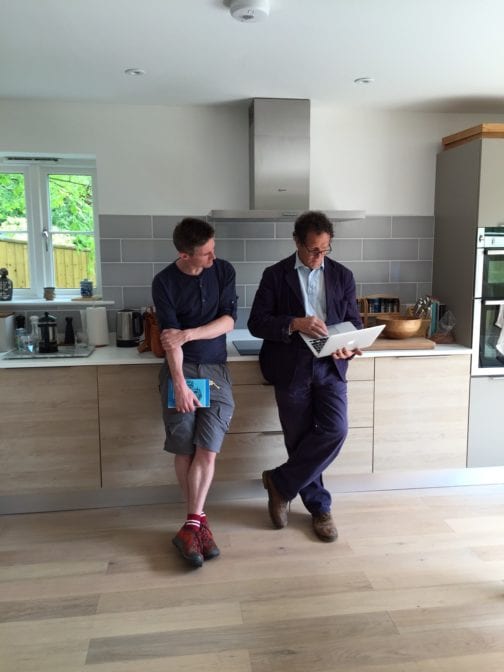 Question:

What is your gardening story?

Answer:

When I was old enough to push the mower I was the one who took over lawn duties from my dad. It wasn't much of a lawn. Just enough for myself, my sister and three brothers to run around on, make forts or do handstands. Mum was the gardener. She would point at things and ask me to prune or cut or dig. There was the ongoing battle with the holly tree whose prickles I still remember and the reason why there is no Japanese holly in my garden.

As teenagers we were made to do 'work experience'. For me I joined the Taggart twins, Frankie and Michael at the Bishop's house in Plymouth on Thursday afternoons to tend the garden; striped lawns and weeding. It was fun enough, and there was more time spent in the enormous kitchen scoffing homemade cakes and biscuits that the two Irish housekeepers baked in a continuous production line.

It wasn't until I was 36 that I attempted to make a garden. I was renting a flat in Bath and sharing with some friends I made at university. It was a book I bought in 2006 about called Japanese Gardens and Their Surroundings by Edward S Morse that started an interest in traditional Japanese architecture and gardens, which were so different to what I'd seen in the UK. It was that book that initiated me the first of many trips to Japan, and create a small garden on the porch roof of a rented maisonette. The garden lasted six months before the landlord found out and asked me to take it down. I had to wait another ten years before Jake and I bought a home before I could start on a garden proper.

Question:

What advice would you give to amateur gardeners who have moved into a new build?

Answer:

If you can visit the house on a rainy day, so much the better. It'll mean you can check for leaks inside the house. If it's a housing estate of new builds take a peek at the houses that aren't finished yet. Go and check the garden before the top soil and turf goes down to see if any building debris lurks beneath. With our house sited on a former pub garden we found a lot of ancient crisp packets and broken pint glasses.

If you've just moved in, then the drainage test that Monty told us about is a good measure. Dig a square one spade's length wide on each side. Then dig down two spade lengths. Brim the hole with water and leave overnight. All being well the water will have absorbed into the surrounding soil and some will have drained away. Now fill the hole up again with water and make a mark or poke a stick in at the maximum water level. Let the water drain and mark it's progress every hour. For good drainage it should go down an inch an hour. In our case it took three weeks for our first test pit to drain! If we'd wanted a pond there we'd have been set.

Question:

Is the drastic approach at solving the drainage issue in the garden a bit extreme? Monty certainly didn't expect that!

Answer:

Monty was surprised! He made an off-camera remark after we first did the drainage test and he said that the best thing would be to remove it all. He wasn't expecting us to do that. We didn't think the solution would be so extreme.

As it was a new build, we were fortunate to have a one-year snagging list whereby our developer would sort out problems with the build. After initially taking off the turf and a thin veil of top soil, we hit compacted clay sitting on top of the rest of the soil. Below ground was a 2 metre long sack of large rocks – the soakaway. Our developer had his experts come in and assess the clay, the size of the soakaway and our drainage pit finding. It was clear that it wasn't up to scratch. As we're at the bottom of a slope the rain water from the surrounding homes was coming in through our garden with little chance of escape and submerging the lawn by 1-2 inches over winter.

Six weeks later, 60 tons of soil was excavated and a huge water holding cage sunk into the ground. This was covered with landscape fabric, gravel and more landscape fabric. The new drainage systems also had new pipes installed so that it could overflow into the surface water drains.

Of course, with all the soil and clay gone we needed to replace the top soil. The developer paid for most of it, but it wasn't enough to fill the garden. It came to 31 tons in the end, with another few tons of compost and bark chips on top. It had to be done. And we had to pick up part of the unexpected bill.

Question:

Has the garden achieved the same feeling as the Japanese gardens you have visited?

Answer:

Parts of it do. The lantern corner with the pines, the gateway; I absolutely love these. The patio area is not particularly Japanese but eating in the garden with family is always the most fun of mealtimes.

The chamomile lawn is a nod to the tea plantations I've seen from the Shinkansen bullet train between Tokyo and Kyoto. Monty said he'd never seen chamomile used in the way we had, and neither had I. I felt reassured when I spotted a few sprigs of chamomile around some paving in the East Meets West garden at the Chelsea Flower Show.

The zen garden is a folly of sorts. At least at present. Monty and I talked about the zen garden off camera. We had both been to the gravel garden at Ryan-ji Zen temple in Kyoto and came away with different reactions. I'd wanted to visit this unique gravel garden for years having seen photos of it in a book. It looked magical, serene, a unique garden.

However, when Jake and I went in 2009 it was very crowded, with a lot of noise and not at all serene. It was also being renovated at the time, so the charm wasn't there at all. The connection I made in the photo to this oasis of calm wasn't there. When Monty visited he was given special access before the crowds so that he could bathe in the garden in the peaceful atmosphere it was designed to exist in. On screen it looked blissful.

So as we sat on the edge of the deck looking on the gravel and stones below I confided that my zen garden was not a place to find zen per se, but a place to understand the zen garden. To which he offered that what interested him was not the stones in the garden necessarily but the spaces between. So that has become an interesting area of my approach to the zen garden and the wider garden itself.

Question:

Did second hand or sustainability come into the equation?

Answer:

Indeed it did. This is not just because I have some Green leanings, but in the book that started it all for me, Japanese Homes and Their Surroundings by Edward S More, written in 1886 the chapter on gardens describes how driftwood and 'found things' are very much part of the Japanese gardens of the time: a timber for wall support, or part of a boat as a planter.

The paving stones, the gateway slate and the zen garden stones all came from reclamation yards. That's not to say they were necessarily cheap. It was satisfying to source them locally, and seemed fitting that we could instantly add age to the garden by reusing materials that already had a story in them.

Question:

Did you reuse any plants you already had?

Answer:

There are three plants in the new garden that I brought with me from my old flat. The most important became our centerpiece, the acer, or more formally Acer palmatum osakzuki. My flatmate bought this in a huge pot to sit outside our maisonette. When we moved to buy our own house he said that we should take it with us. He knew how much we loved Japanese gardens and this tree was his special gift to us.

The other was the Snake's beard, Ophiopogon japonicus. I used this to create my first garden on the porch roof. These plants are bulletproof! They've been dried out in the summer sun. Thrashed about in icy winds. Flooded out in April showers. Right now they're covering up the root barrier underneath the stand of golden bamboo at the back of the garden.

Finally, the bamboo behind the red bench. I don't know what species they are because they are my "rescue bamboo". I was walking home one day and saw a dehydrated, yellowing bamboo that had been cast from its pot and left by the side of the road. With some TLC I brought it back to life and now it's thriving.

Question:

Why the decision to use chamomile instead of lawn? What variety is it?

Answer:

Two reasons. The chore of grass cutting. It's very Victorian. Neat, ordered. Pah. Who has time to be so neat. Besides, I've put my miles in behind a mower. Also, I wanted undulating hills so the chamomile would provide a good solution as well as reminding me of those spring hills of tea bushes nestled in the valleys of Japan's hills.

The plant is Chamaemelum nobile, a non-flowering cultivar called Treneague. Not the type to get if you're after tea as it has no flowers. It also means it doesn't need cutting. The only downside is that it is a clone so can't be cultivated from seed. Which is why we had to order so many. It cost around ?450 for 1500 plants (in 2016) and was sourced from Mentha Nurseries. The plugs came before all our soil was in place so some plugs went in holding banks of soil with some trays laid on damp peat-free compost until we could use them.

The plants don't like sitting in wet soil. Something we found out later when after a few weeks of showers a web of dark, rotting runners was surrounding each plant. There wasn't a great deal of information online about growing chamomile. So if I were to do it again I'd make sure the soil was more free-draining. Indeed I'm looking to lift a test section and rework the soil with grit and organic matter to see if they're happier.

Question:

Did you do anything to economise? What did you splash out on?

Answer:

I logged all the expenditure so I knew how much money it was taking. At one point Jake and I got together and I said that we'd spent what we budgeted and that I was OK with the idea of spending more to get the garden to the level we'd be happy with. He agreed. It was an easier decision than it might have seemed as we knew how much we'd spent on each room of our new house. The garden was like another room; so, worth the investment.

In terms of splashing out, the steps were expensive. About £3k. They had two purposes. Stop me bringing garden things through the house, and a means to take my bike into a bike store we were going to build. I didn't want the steps at first but they were definitely a good thing. However the bike store was vetoed. My bikes live elsewhere now.

Question:

What plans do you have now? Is the garden done?

Answer:

Before you become a proper gardener in Japan there is usually a 4-year apprenticeship with a learned professional. I'm learning from books and gardens and I have already accepted that I will be making a lot of mistakes but that is part of the journey. I know that the right hand side of the garden isn't sitting right with me. I can't explain why yet, or how to 'fix' it, but that in itself presents an opportunity to learn.

Plans for development were already formulating before the TV crew arrived. I want a Japanese-style arbour. It looks a bit like a bus stop made of wood. There is also the corner I want to transform into something less Western. The garden will never be done, but the first chapter has been written.

Question:

Which is your favourite plant/part of the garden?

Answer:

My favourite plant changes. It can depend on the season or time of day. The dogwood's naked red stems in the winter sunrise was beautiful a few months ago. Just yesterday it was a Polypodium vulgare fern. A bright, Primary School poster paint green colour sitting against a sea of damp, brown leaves.

The damp shady garden is my favourite place, but the corner with the bench and lantern is the one I'm most proud of. I have Jake to thank for that bench. It's unique and superb. It was his first time woodworking. It worked so well I created a second bench the same way for the shade garden: two sleepers from B&Q. Sand them down, cut one in half, bolt it to the other sleeper and paint it. Pop in a hole and surround with postcrete (fast-drying concrete). You couldn't get a simpler woodworking job.

Question:

Anything you would have done differently?

Answer:

No. Everything has brought me to this point. Brought us to this point. Designing the garden was a solo endeavour. Bringing it to reality, evolving the design was a joint effort with Jake, and guidance from Monty. It culminated in something bigger and better than I had imagined. It will continue to evolve and change; so, never any regrets.