How To Avoid Being Petfished This Christmas
8 months ago, we introduced our Preloved members to the concept of being Petfished. The culprits of petfishing are deceitful pet sellers that use unscrupulous tactics towards buyers of cats and dogs online. We teamed up with The Department for Environment, Food and Rural Affairs (DEFRA) to give you advice on how to spot and avoid these untrustworthy pet sellers. That way, you can buy safely online and give a little furry friend a forever home.
Now that Christmas is just around the corner, we have to take even more caution and be extra careful. Although we would never encourage or recommend buying a pet as a Christmas present, we recognise that there is an increase in purchases around the festive season. We must point out that Christmas is a noisy, stressful, and hectic time for everyone which can cause quite an unsettling environment for a new pup. It can cause anxiety and nervousness in pets, who should never be regarded as gifts in the first place. Animals are sentient beings and just as valuable a member of the family as humans.
Despite this, seasonal demand for animals means dishonest breeders and sellers are more active than ever. Which is why it's even more important that we really understand #WhosBehindThePet. Watch this short video to find out why you should always research the seller and how deceitful ones are more common than you think…
— Defra UK (@DefraGovUK) November 13, 2020
---
How Preloved has supported the #PetFished campaign since it's launch
---
Hear real-life stories from people who didn't research the seller…
---
Remember these 4 steps to ensure that you don't get Petfished: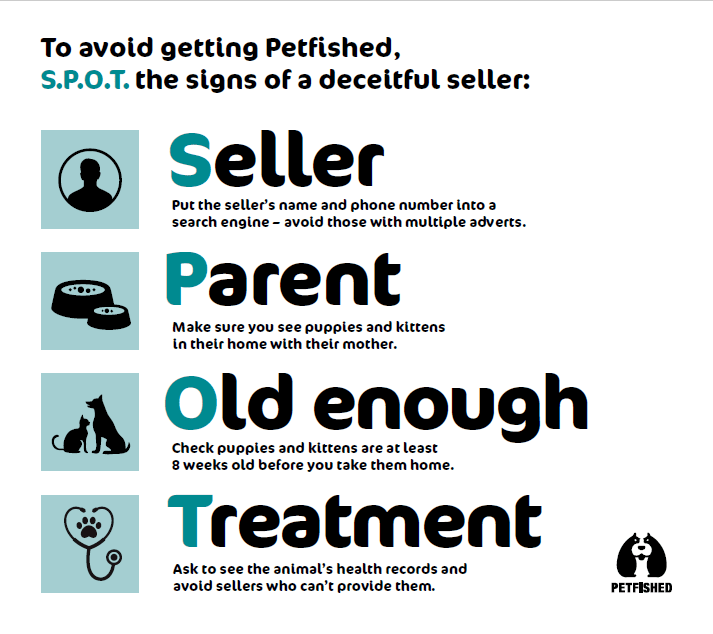 ---
Remember to always use the Puppy Contract if you're buying a puppy and the Kitten Checklist for cats.
For more information to help you understand #WhosBehindThePet, click here.
For more essential advice, Visit Defra Today
At Preloved, we also take Animal Welfare very seriously. Take a look at the measures we've got in place:
______________________________________
NEW Membership Offers for November!
30% off our Premium Membership
…