In this day and age, we're very snap happy sharing our daily activities, pets and travel. It captures a moment in time that you'll remember for years to come. When it comes to social media, Instagram is one of the best sources of inspiration for showing off and finding the most insta-worthy photos. So where are the UK's most instagrammable dog-friendly beaches?
According to Statista (2022), it is estimated that 13 million dogs were living in UK homes, and if you're one of those pawrents who loves taking your dog everywhere with you, you're at the right place.
IWOOT set out on a mission to find UK's most 'instagrammable' dog-friendly beaches, listing UK dog beaches and searching for their hashtag count. Because how else would you measure the most 'instagrammable' beach?
The results are in..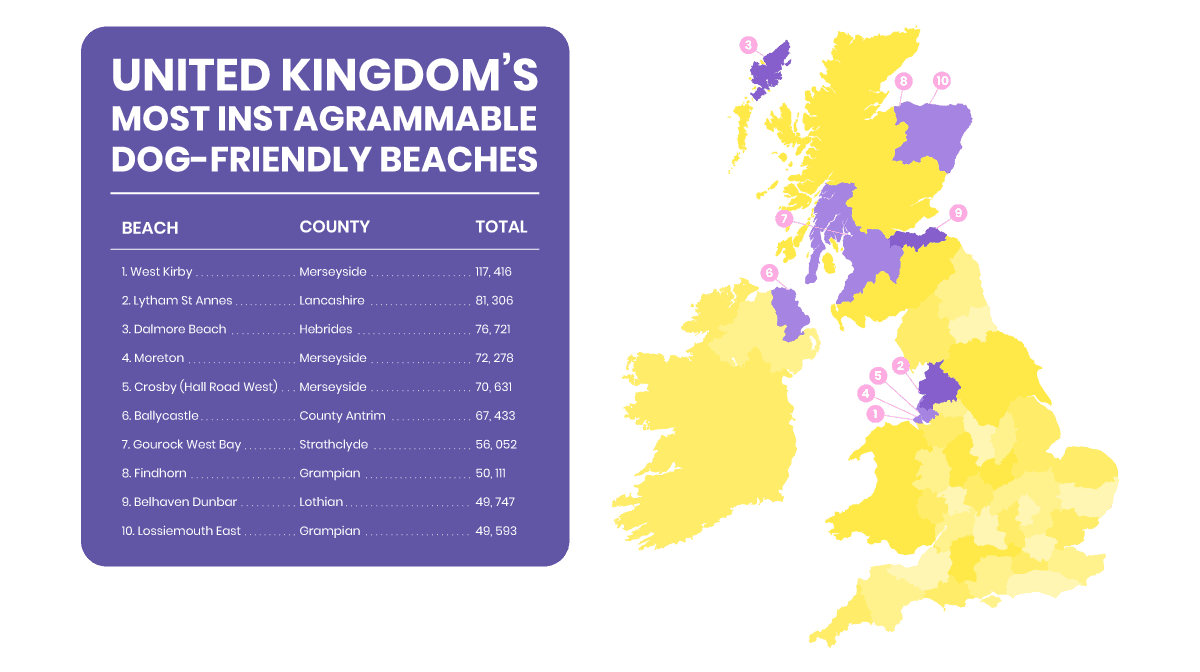 1) West Kirby, Merseyside – 117,416
With 117,416 tagged photos on Instagram, West Kirby beach claims number one spot. Although this stretch of the beach is 300m in length, it's been proven to be the most popular across Instagram.
2) Lytham St Annes, Lancashire – 81,306
Coming in at second place is Lytham St Annes beach. This is a sandy beach with plenty of space for your run to release energy. Also, just two miles away from Blackpool, so there's plenty to do with both your family and pet.
3) Dalmore Beach, Hebrides – 76,721
The beautiful Dalmore beach in Hebrides Scotland takes third spot. This stunning beach is definitely a visit. The waves crashing in from the Atlantic coast makes the perfect place for paddling and surfing too.
4) Moreton, Merseyside – 72,278
In fourth place is Moreton beach in Merseyside. Backed by a concrete sea wall, this beach is made for watching the sun set, a leisurely stroll or running with your pooch.
5) Crosby (Hall Road West), Merseyside – 70,631
Another Merseyside beach makes it onto the UK's most 'instagrammable' dog-friendly beach. Crosby beach is known for the 100 naked cast iron sculptures 'Another Place' by artist Antony Gormley.
6) Ballycastle, County Antrim – 67,433
In sixth spot is, Ballycastle with 67,433 photos tagged on Instagram. This stunning beach situated on the Causeway Coastal route on the Antrim coast makes a popular destination for dog walkers.
7) Gourock West Bay, Strathclyde – 56,052
Gourock West Bay in Strathclyde comes seventh. This is a shingle beach with awesome panoramic views of the surrounding mountainous peninsulas. It's absolutely worth a visit and also one for the gram.
8) Findhorn, Grampian – 50,111
Perfect for families, this beach Findhorn has something for everyone with plenty of wildlife and fun water sport activities. Push chair and dog friendly.
9) Belhaven (Dunbar), Lothian – 49,747
In ninth place is Belhaven, Lothian. This beautiful beach has amazing views across the Forth estuary and runs from Belhaven to the north of the River Tyne. It's quite an extensive beach so it's a great place for your dog to run wild!
10) Lossiemouth East, Grampian – 49,593
In tenth place with 49,593 tagged photos on Instagram is Lossiemouth East, Grampian. This stunning beach is accessed by a wooden footbridge and has become an instaworthy shot.
..and there you have it, the most instagrammable dog-friendly beaches!
IWOOT have split the list into regions too. To find out England, Wales, Scotland and Northern Ireland's Top 10 Most Instagrammable dog-friendly beaches, click here.