Hunting For Preloved Gems- My Latest Finds
Colour. I'm not frightened of it but the majority of my home is pretty neutral. Just take one look at my Instagram feed and you'll see what I mean. My bedroom is all white, that kind of bright white where taking a cup of tea to bed is a frightening process in case any gets spilt on the sheets! Despite the "spillage terror", I realised I liked my plain-looking room BUT I wanted to add some warmth to my humble sleeping abode. So, I got straight onto Preloved as I had lots of success finding items on there before. I have many Preloved gems but this time I had quite a bit of criteria. I was looking for two pieces of furniture, preferably matching in a warm pine, ideally tall, one to be a dressing table and the other a chest of drawers… So not too specific then!
---
I had recently joined Preloved as a premium member which meant that I was able to access a wealth of additional buying and selling tools listed below:
Premium: Great for Sellers
‐ Priority Placement
‐ Unlimited Photos
‐ Web Links
‐ No Listing Or Selling Fees
Premium: Great for Buyers
‐ No Banner Ads
‐ Respond Immediately To All New Listings
---
I promptly found the dressing table (and mirror) from a lovely lady who was expecting her first baby and changing her much loved dressing room to a nursery. I explained I didn't drive but I was local, and she agreed to deliver the dressing table for a small fee the following day. The extra cash she was getting from selling her furniture was going towards a new cot! I just loved the thought that her furniture was on a cycle and in return for the dressing table she was able to use the money to purchase something for the next step in her life journey.
The dressing table and matching mirror were perfect, and with delivery they cost me a total of £25 all in. I immediately styled it up with all my bits and bobs (the fun part) and have been using it ever since. I actually sent the seller a photo of the setup and she promised to send a photo of her bundle of joy in the nursery too!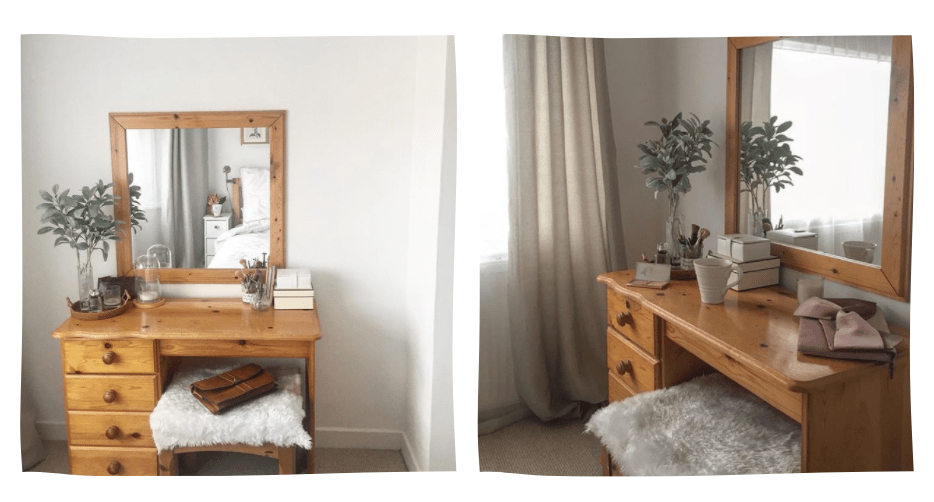 ---
Two weeks passed before I found my next Preloved gem, the pine chest of drawers that I was looking for. I was shocked that the guy selling it was offering the item for £30 with delivery and immediately got in touch. He and his wife were downsizing to move to a bungalow, so they were "decluttering" and earning some extra cash while doing so. The process was easy and all very COVID safe too with masks and sanitising gels used by both sides.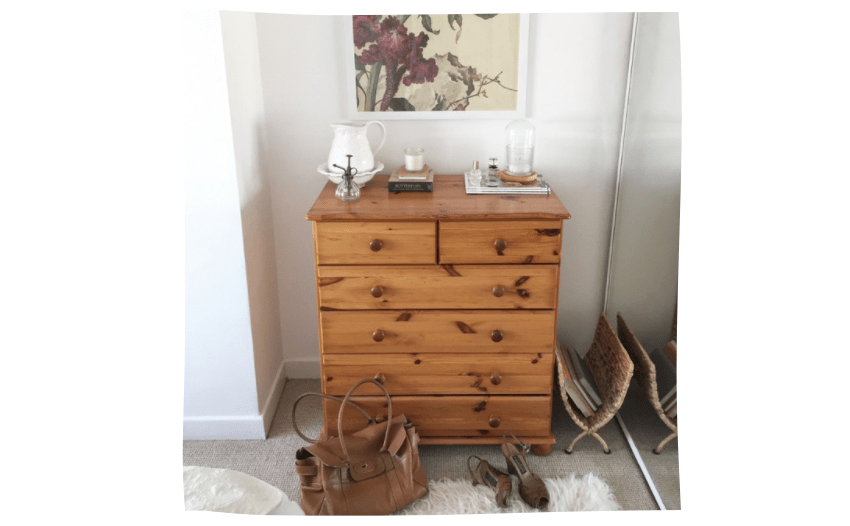 ---
For a total of £55, I now have my ideal bedroom furniture set up and all Preloved, reused, and with a bit of a backstory which I love.
If you would like to sign up to Preloved Annual Full Membership with an amazing 50% off, just click here.
Enjoy and good luck hunting for Preloved gems!
---