An unassailable icon of the open road was born in a small shed in Milwaukee. From its humble birthplace at the beginning of the 20th Century, the Harley-Davidson Motorcycle Co quickly grew to produce motorbikes that have become lodged in the global consciousness as a byword for hitting the road for freedom and aesthetic design harnessed to sheer brute power.
By 1907, young mechanics William Harley and Arthur Davidson had been joined in their nascent venture by Arthur's brothers, Walter and William, and moved out of their shed to a new purpose-built factory. Demand means the factory is soon doubled in size and in 1908, the Detroit police force buys its first Harley.
Throughout the First World War, the US Army employs around 20,000 motorbikes, with the majority being Harley-Davidsons. The motorbike also gains the distinction of being ridden by the first American soldier to enter Germany after the Armistice in 1918.
The company continues to expand and by 1920 has become the world's biggest manufacturer of motorcycles.
Alongside its engineering prowess, Harley-Davidson revs up the fashion world in 1947 when it becomes the first company to produce a black leather jacket tailored to the needs of bikers.
The manufacturer enters the rock n' roll era in typical style, and is given an approving nod of the quiffed head of a young up and coming star, Elvis Presley, who is photographed astride a model KH on the cover of 'The Enthusiast' in 1956. A year later, the company launches the 'Sportster' which gains the label of the first 'superbike'.
The 1960s saw the company's bikes become symbols of the free-spirited counter culture movement as the motorbike of choice for the burgeoning and notorious Hells Angels. Adapted 'Hogs' also appeared on screen in the 1969 cult road movie, Easy Rider, starring Peter Fonda and Dennis Hopper. French actress Brigitte Bardot was also a fan, releasing a hit single celebrating the motorcycle, entitled, 'Harley-Davidson' – check it out here.
Throughout the 1970s and 1980s HD launches various popular models, including the FXS Low Rider, FXEF Fat Bob, and Heritage Softail.
In more recent years, Harley-Davidson celebrated its 100th anniversary in typical style, by welcoming over 250,000 people to Milwaukee for a celebratory party.
Today the motorcycle marque continues to power forward and has a growing fan-base of celebs who like nothing better than hitting the open road on their hog, including George Clooney, Hugh Jackman, David Beckham, Pamela Anderson and pop star, Pink.
Want to experience the easy ride of the open road on a classic Harley-Davidson, crank the throttle and head right here and check out a few of our favourites below.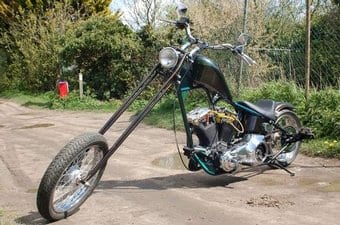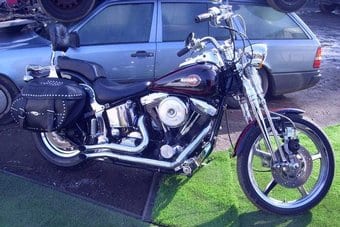 Harley-Davidson 1970 Shovelhead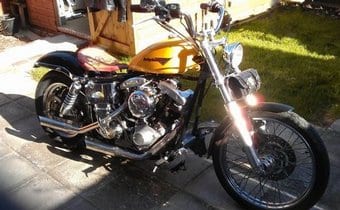 Harley-Davidson Fatboy