5 Popular Types of Heels and the Best Occasion to Wear Them
Ladies, let's admit – from fashion to fairy tales, heels are always in vogue.
Heels add a certain grace to women's outfits and body language. They always manage to enhance a woman's walk and make them look more confident – no wonder why we love heels so much!
However, with so many options, it often gets difficult to pick the best heels for the right occasion.
Have you ever had the perfect outfit, but then felt unsure which heels to pair it with to create that killer look? Sounds familiar, right? That is why every woman depends upon a trusty pair of heels for that special occasion. But, how amazing would it be to have different pretty options for various get-togethers and events throughout the year?!
You see, there are hundreds of heels for every occasion, and with that little bit of knowledge, you can make a smart choice. Here's our guide to finding a perfect pair that adds glitter and charm to your modern look. Read our blog to learn more about trendy heels and the best occasion to wear them.
1. Stiletto Heels
There is one word to describe a stiletto, that would be- deadly.
This popular shoe design started in the 1950s, and are perhaps the most well-known heels. They are typically high and thin, which can be found in open-toed sandals, boots, and pumps. Their height can commonly lie between 3 to 6 inches, sometimes even up to 8 inches high.
They are perfectly paired with any formal parties or club nights because of their sexy style and how they affect your posture. The only downfall is that because of their height, they can be uncomfortable for some people to wear as a work shoe or for an informal party.
Stiletto Heels bring an extra bit of oomph to your outfit. Make sure, you practice your power walk in them before hitting the party!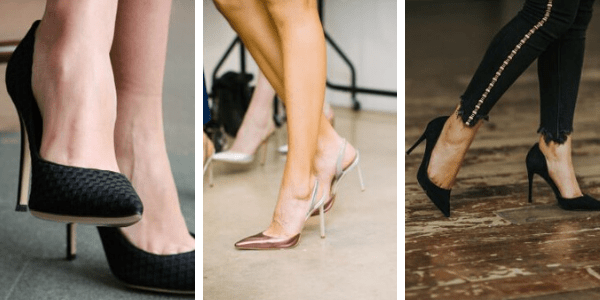 2. Platform Heels
These heels may be the most comfortable heels for women to wear; most commonly worn in a more professional environment with a classy business suit or dress. The top of the heels and bottom of the sole are closer than in the other types, providing a more pain-free experience. This gives you extra life off the surface, and make them the best types of heels for all-day wear.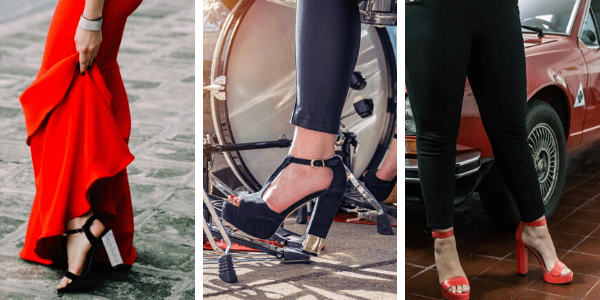 3. Red-block Heels
Oh so fancy!
Fashionable and unique- this trend has existed for many years, and its comeback is even more glamorous. It suits and compliments your cocktail attire to a T. You can also add chic accessories like a casual clutch or chain-strap bag to make it more fashionable.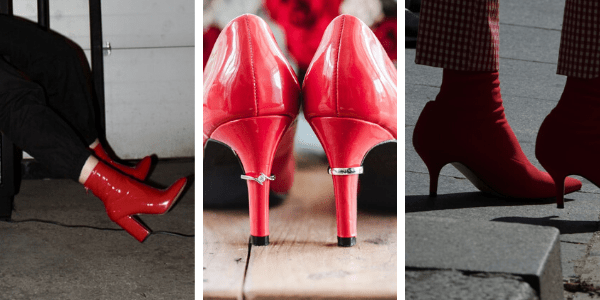 4. Wedge Heels
These are perfect for the woman who wants comfort. It doesn't require too much balancing when you are out on the town; as the high heels are attached throughout the sole. They go best with sporty dresses, for a night out. They also look fabulous when paired with a summer dress, maxi dress or skirt and wide or flared pants on a day date. They are also an exotic holiday essential!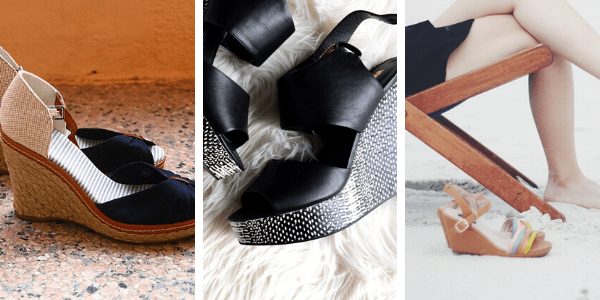 5. Cone Heels
Where does that name come from? Well, the shape is similar to an ice cream cone, broad at the sole and narrow at the base. If you need to wear it for extended periods, it also offers that much-needed support. Cone heels pair well with your everyday looks. They outstandingly boost your confidence if you're perhaps not accustomed to wearing heels.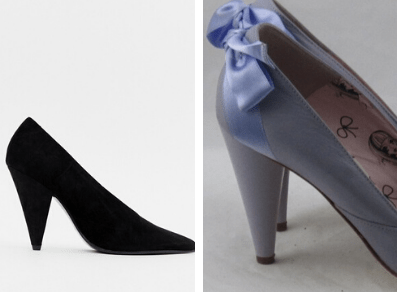 Keys to picking the right pair
Here are some tips which you must follow before making that purchase on the perfect pair of heels. These tips will come in handy, especially if you are buying them for a special occasion or spending a reasonable amount as a pay-day treat.
1. Get the right fit for YOU
This is the most significant step in choosing the right pair. Don't settle for a size slightly below or above just because you've fallen in love with the style. Going too big or too small can give you blisters, may end up pausing your step, and will ultimately ruin your night!
2. Try Before You Buy
Walking in them before you make the purchase is the most practical way to buy heels. If you're out for the day, it may be possible that you'll be walking in them for miles without even realising, so it is important to feel comfortable. Move your toes so you know that your feet don't feel squished and that you have a bit of wriggle room. Walk in them for a few minutes around the store- it is worth a few glares from fellow shoppers and they will just be jealous anyway!
3. Consider the Height of the Heel
The bottom line is that you have to be confident enough with the height to slay in your killer heels. Especially when you are buying stilettos, because of its angle between your toes and ankle. It can be a little difficult to go higher if you are flat-footed for example so choose a height that feels right.
4. Is the Insole Cushion of your Heel Comfortable?
The soft cushion will be able to lessen the pressure. If you choose heels that don't have a cushion in it then don't worry, you can buy detachable ones from any department store.
…
When you find the perfect pair, you can turn your outfit into a classy and sophisticated look, even if it's just casual jeans and top.
It's time to go shopping and get more trendy heels in your closet.
XY London has a variety of fascinating designer heel collections that can go well with any of your outfits. Alternatively, Preloved Clothing & Jewellery Section has hundreds of Ads for second-hand and sometimes never worn statement heels.
The beauty of online shopping is you can search for classy and gorgeous heels anytime and anywhere- Enjoy!
If you want to support your community whilst making some cash check out our membership page below
Buy easier and sell faster and upgrade your Preloved membership for as little as £5 – what Preloved gems could you find?