We are now well and truly into summer. However, the weather might not look that is. Aside from that we are still celebrating BBQ week! Which means that weather permitted we NEED to get that barbeque lit this weekend and enjoy that charcoaled flavouring! BBQ's are not just a summer staple they are a necessity, but let's be honest they can get boring. We wanted to share our knowledge on how you avoid food fatigue, with some of our favourite recipes. So, read on to find out our favourite BBQ food to cook this summer! Suitable for veggies, vegans and carnivores.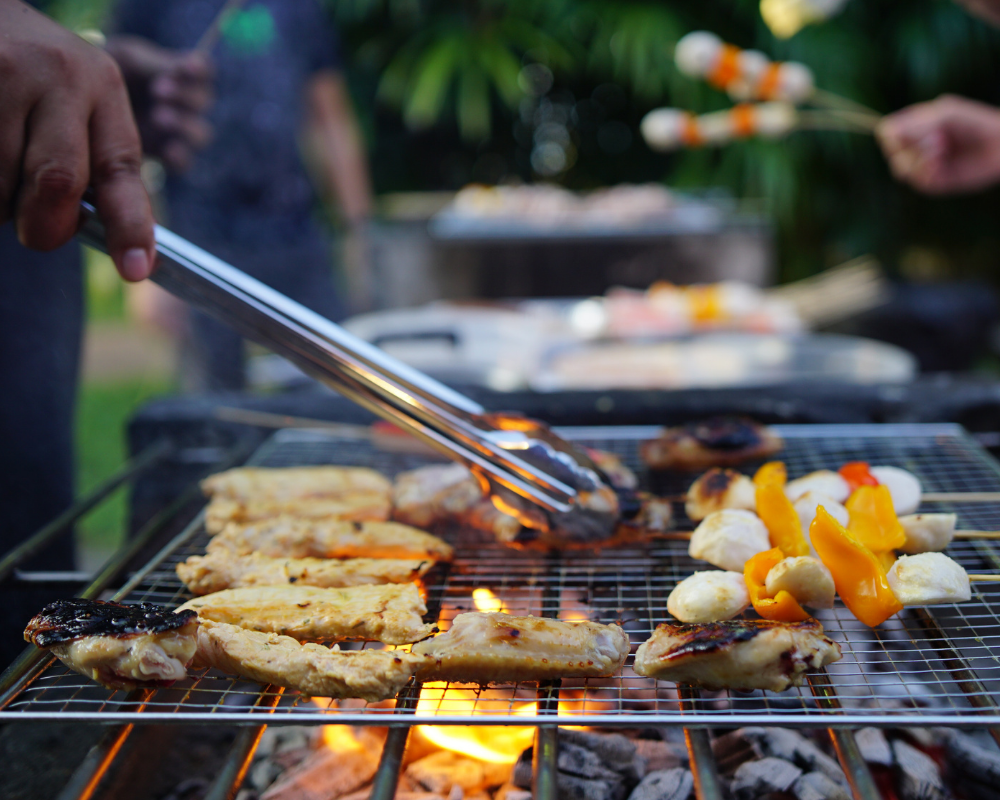 Where To Start?
To cook BBQ food, you need to start with the obvious. The BBQ! Whether you are striving to get a gas, coal or electric one, you need one! Even if your coal one is a disposable one. If you are looking for more of a permanent solution then check out what BBQ's our members are selling on Preloved. Not only are they selling the BBQ they are also selling gas bottles and coal for you to get off to a great start!
Once you've gotten the main compartment then you can start introducing the other elements, such as what BBQ tools and equipment you need! The most basic items needed are tongs, forks, and spatulas. Some skewers would also be great but these will depend on what you are looking to cook!
*** TOP TIP: Soak your wooden skewers in water before filling and barbequing as it prevents them from burning ***
Traditional BBQ Food With A Twist
It is easy to fall into the trap of getting your favourites from the supermarket. We don't want to stop you doing that but maybe inspire you to try them in a new and improved way!
Spice Up Your Corn On The Cob With Smoked Paprika & Lime Butter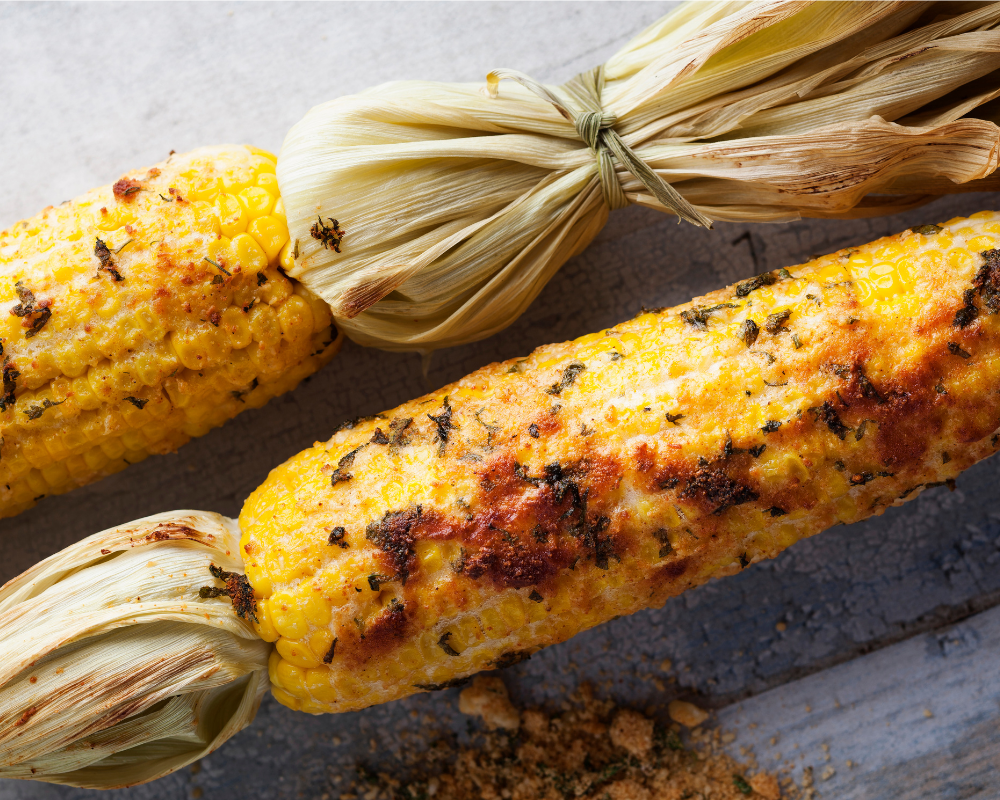 This is a simple way to transform your sweetcorn cobs and have a delicious new side with minimum effort. To make two corn on the cobs you'll need:
40g of salted butter;
1/2 tsp smoked paprika;
10g parmesan;
1 lime – zested then halved.
Then all you need to do is combine half your lime zest with your paprika, softened butter and parmesan, then coat your cob and grill! Garnish at the end with the remainder of your lime and serve!
Indulge In Some Middle Eastern Inspiration With Harissa Turkey Burgers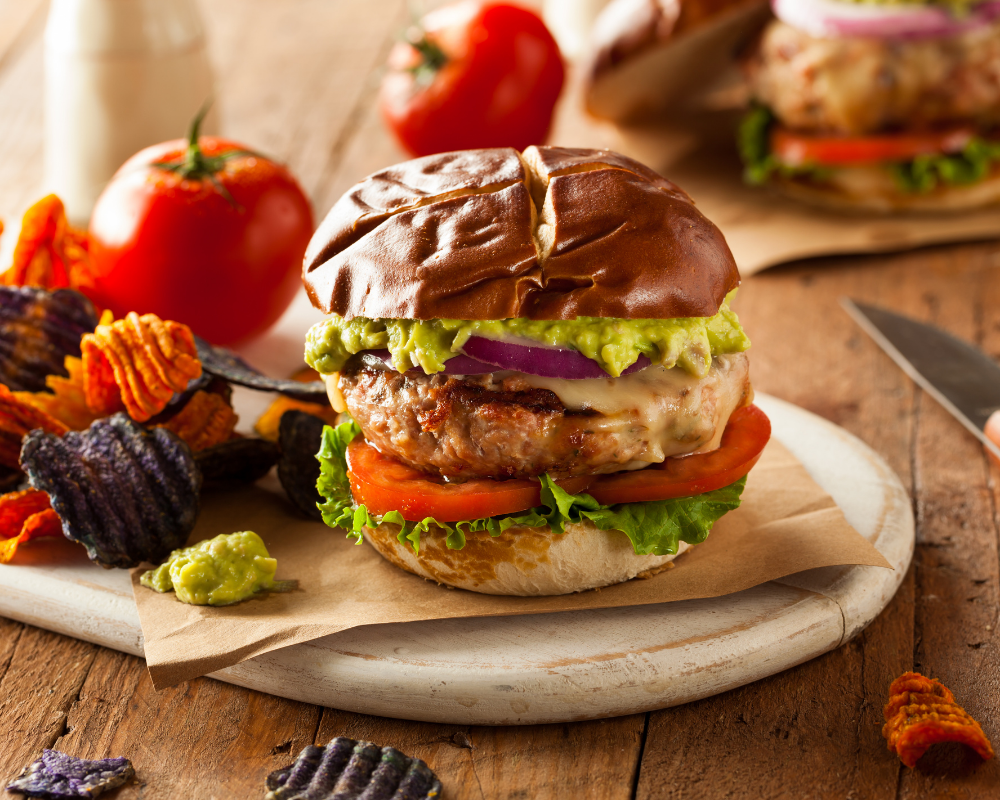 Considering a leaner option from the classic beef burger, then why not also consider how it can be transformed with just a few extra steps. To make 4 burger patty's you will need:
250g cooked mixed grains;
500g lean turkey breast mince;
2 finely grated garlic cloves;
1tsp coriander seeds, toasted and crushed;
4 tbsp rose harissa;
Small bunch of parsley;
Optional – 4 Burger Buns.
Once you have all these items the next part is easy. Get a mixing bowl and excluding the burger buns, pour everything in and use your hands to mix it all together. Once you are happy with how it has combined then shape them into four even patties, cover and chill. Then once all your other BBQ food is ready it's time to get cooking. We suggest that you cook them for roughly 6 minutes per side, and serve with a talatouri (mint tzatziki) and burger buns. ENJOY!
Asian Inspired BBQ Food – Barbequed Mackerel With Ginger Chilli & Lime Drizzle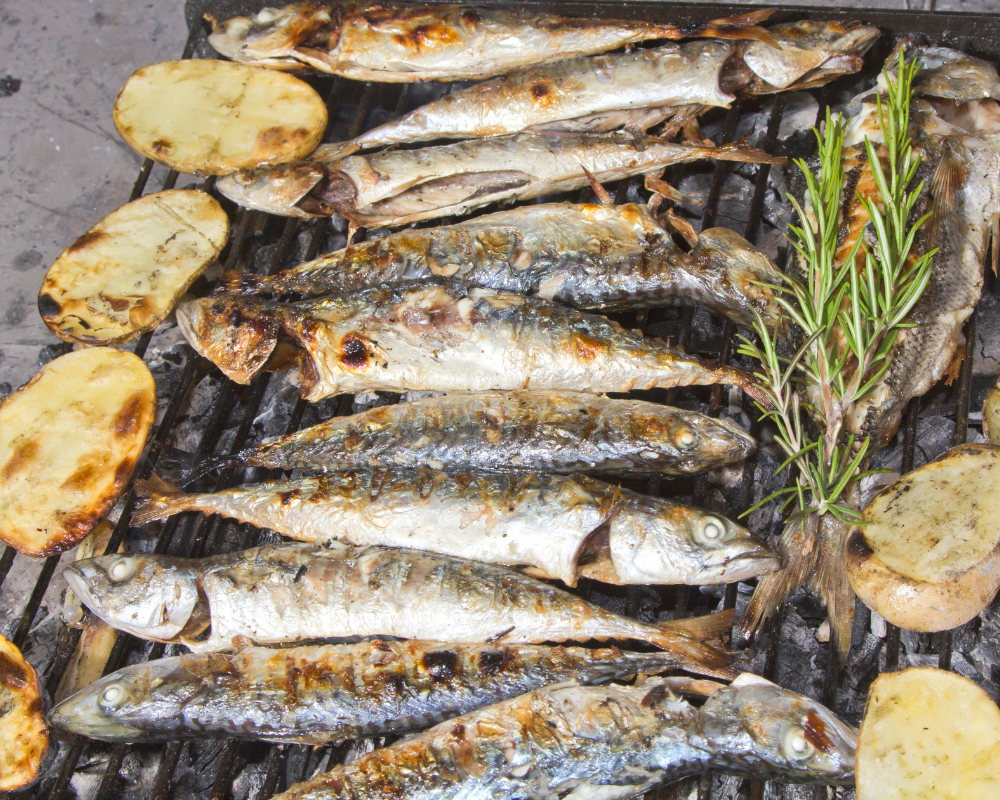 Mackerel is a great weekly staple to add to your diet, as it is one of the healthiest fish, being full in omega 3! Plus this dish packs a flavourful punch and is ready in under 25 minutes! To cook, as well as your mackerel you will need these ingredients to make the drizzle for 2 people:
1 finely chopped small red chilli;
1 finely chopped garlic clove;
Finely chopped knob of fresh ginger;
1 tsp of honey;
Zest and juice of 1 lime;
1/2 tsp sesame oil;
1/2 tsp fish sauce.
Once all your ingredients are prepped then it's easy pop them into a bowl and stir them up. Once you have your mackerels cooked how you like, preferably on the BBQ then pour over your drizzle! Leave the fish to stand for a couple of minutes to allow it to soak into the fish and serve!
Vegetarian and Vegan BBQ Food
Preloved is all about making sure everyone feels included and welcome! Which even extends to BBQ food! Here are some great vegetarian and vegan options that aren't just pumped up salads!
Don't Miss A Beat With This Miso Mushroom & Halloumi Burger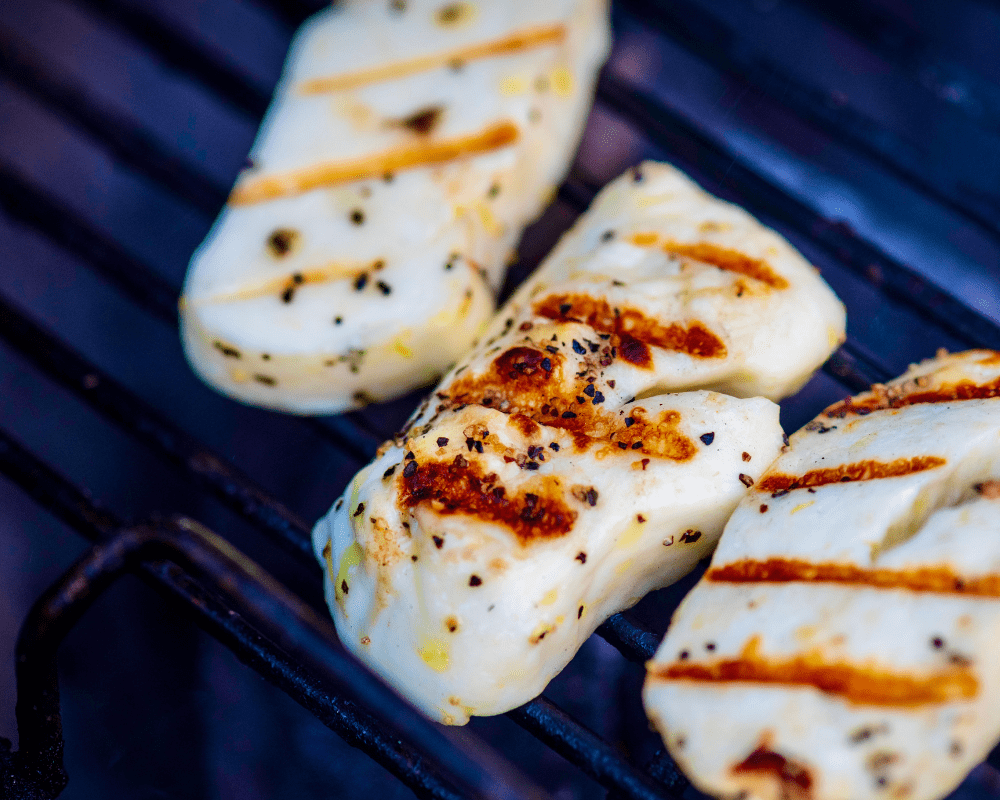 Take your veggie BBQ food options to the next level with these burgers. Then take it even further by adding Miso butter to them! To make the miso butter mix together 100g of butter with 2 tbsp of white miso and light soy sauce, then throw a grated garlic clove in to make the flavours pop! To make the burgers you'll need:
4 de-stalked large Portobello mushrooms;
1 red onion – sliced into 4 even thick slices;
250g of halloumi, in 8 thick slices;
4 halved burger buns;
2 tomatoes slice;
200g of rocket.
To start brush your onion and mushroom with the miso butter and grill for roughly 10 minutes, turning occasionally. Then when softened baste with the butter and keep warm. You want to cook your halloumi until browned, and brush the remainder of the butter on it along with the buns. Then build your burger and add your preferred burger sauce.
Try And Taste The Different With Vegan Pulled Jackfruit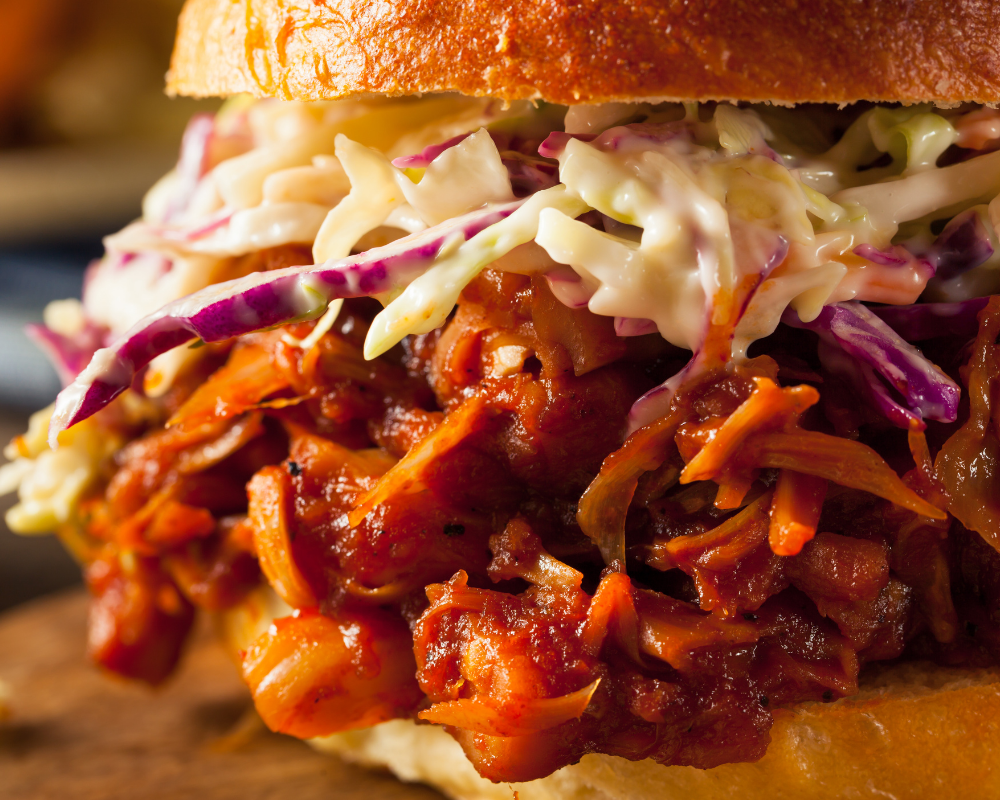 One of my favourite vegan substitutes and one of the smartest! This meat substitute is perfect for burger buns and adding all the other typical BBQ food too. To make this mouth watering meat substitute you'll need these ingredients;
1 Red onion;
1 tsp ground cinnamon;
2 tsp smoked paprika;
2 tsp hot sauce;
1 tsp cumin seeds;
1 tbsp apple cider vinegar;
4 tbsp BBQ sauce;
200g canned tomatoes (chopped);
2 x 400g cans of jackfruit.
Start by softening your onions in a frying pan for around 10 minutes, then add your cinnamon, cumin and paprika and cook till fragrant. Next add the hot sauce, BBQ sauce and vinegar, mixing well before putting your tomatoes and (drained) jackfruit in with 200ml of water. Cover and leave simmering for 30 minutes, checking and stirring frequently. Then take the lid of and cook for a further 10 minutes. Once cooked shred and there you have your pulled pork substitute ready to be served and enjoyed!
BBQ Food Isn't Complete Without Dessert
The title of this section is pretty self explanatory. We couldn't write up some of our favourite recipes without looking at what desserts you could have!
Sit Back And Relax With These BBQ Rum & Caramel Bananas
Prepare your rum and caramel bananas before your BBQ and then whilst you eat your BBQ food put them in the dying ambers of your coal. To make enough to serve up to 6 people you will need:
6 unpeeled bananas;
50g butter;
40g light brown sugar;
2 tsp treacle;
2 tbsp spiced rum.
Start by mixing your butter with sugar and treacle, then slowly add in your rum. Take a knife down the inner centre of your banana and make a slit, but don't cut all the way through. Next, spread your rum butter mix into the gap you have created. Finally, place your banana in the foil with the filled side facing up so that it doesn't leak whilst cooking. You should leave it on the embers for roughly 15 minutes so that it is warm, not mushy but nice and sticky! We always add ice cream, I personally choose to go for a pistachio flavour to add some texture.
Elevate Your Kebab Game With These Marshmallow & Strawberry Kebabs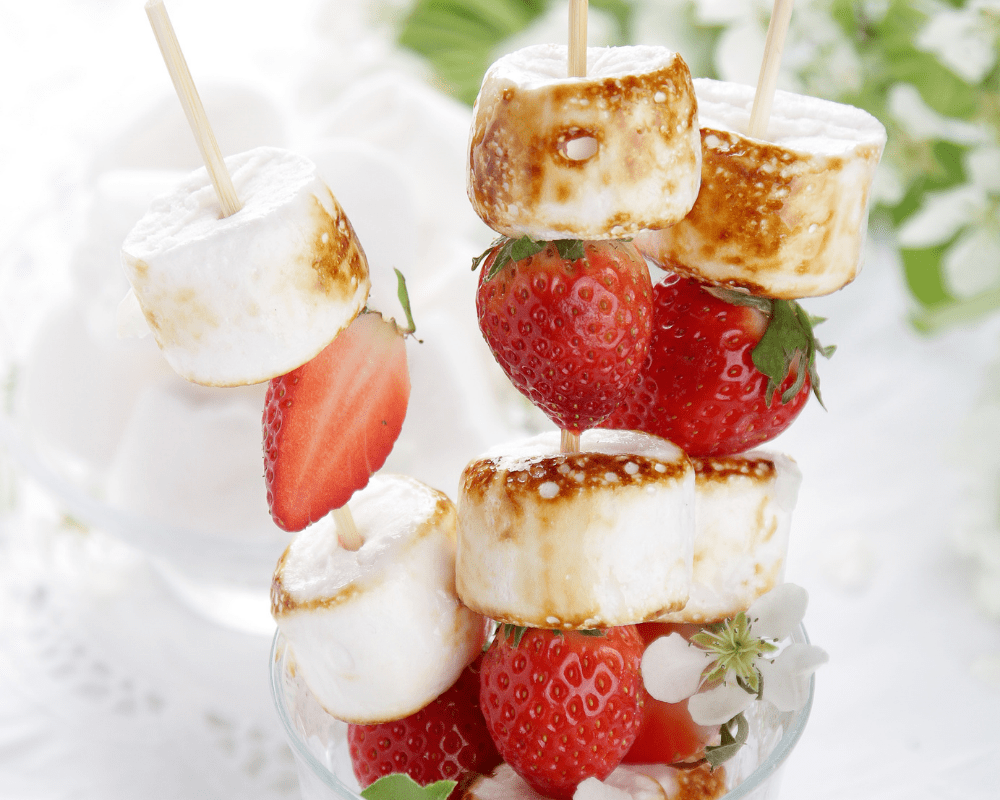 Keep the heat going and enjoy a sweet and immersive BBQ food treat! Toast up this sweet treat in three simple steps! All you need for 4 people is:
20 marshmallows;
16 strawberries;
Caramel sauce;
Toasted hazelnuts.
To make your life easier the first step is to hull all of your strawberries. Now you or whoever's dessert this is needs to thread their skewers, to keep it fair make sure it's 5 marshmallows and 4 strawberries. Then hold them over what you are using to toast them and be patient as they slowly toast and crisp up. Once the are done get that caramel sauce and drizzle it all over the skewers with some toasted hazelnuts for an added oomph.