Just last year the sale of new vinyl records hit a six-year high, rising by 40%, according to the Official Charts Company. This renaissance in new records has been driven by bands such as Radiohead who released a special vinyl edition of their album King of Limbs, alongside Adele's 21 and Different Gear Still Speeding by Beady Eye.
And the buzz of buying current releases on vinyl is mirrored by an upward trend in the value of some older records. In April 2011 collectors' bible Record Collectormagazine drew up its list of the best 51 records for investment, with an infamous band occupying the top slot that is unlikely to have Her Majesty's toes tapping in this her Diamond Jubilee year.
The magazine's top of the investment pops was the ultra-rare God Save The Queen recorded by punk royalty, The Sex Pistols, during their short-lived tenure at A&M records. With the band unceremoniously dumped by the record company before the record's release and most copies quickly destroyed, just about any collector would snog Johnny Rotten if it meant pogo-ing away with a copy of the record, now worth an estimated Queen's ransom of £8000!
Yet, this figure is dwarfed by a slice of late 50s pop recorded by an unknown five-piece that went on to global domination, following a change of name and shift in personnel. That'll be the Day recorded by The Quarrymen in 1958 and featuring a certain Messers Lennon, McCartney and Harrison, is today said to be worth around £100,000.
Other records worthy of investment attention include familiar names such as The Beatles',Please Please Me recorded in 1963 and The Rolling Stones', The Rolling Stones from 1964. Lesser-known artists and their work making the ones-to-snap-up investment list range from Hank Mobley's eponymous Hank Mobley from 1957 and Will Malone's self-titled, Will Malonerecorded in 1970.
Valuing Vinyl
But before you start twisting and shouting, as you recall seeing the iconic cover of The Beatles' album in a forgotten box tucked away in your attic, there are a few more things to consider.
Nick Courtney, owner of Sweet Memories Vinyl Records UK in Portsmouth, says, "A record is worth what a person is prepared to pay for it. However, a record's value can be determined by taking several factors into consideration, including the condition of the sleeve and the vinyl, and determining if it's a recognised rarity by researching the item on the Internet or using recognised price guides."

Sweet Memories Vinyl Records
Make it Mint
First up, then, sought-after records generally need to be in mint condition. They should also be a first pressing. And finding both of these elements combined together on an old record you've picked up at a car boot sale or raided from your attic is no mean feat. Logic dictates that as a large number of these records were made by some of the most iconic and popular bands and artists of their era in 99.9% of cases these beloved disks were played to death by devoted fans! Imagine all those blunt styluses and pawing hands that the record has been passed through since it left the pressing factory in mint condition all those decades ago.
It's no small surprise, then, that most examples turn out to be later re-issues or have a tatty sleeve, more scratches than the LeeValley ice rink or poor sound quality due to deterioration. So, before making any purchase, use both your eyes and ears. While some sellers will describe the surface of the vinyl as looking visually perfect, this is not a guarantee that the record will have the sound quality to match, so it's best to meet and listen up!
Ben Darnton who runs Ben's Collectors Records in Guildford, says, "Look out for records in excellent condition, complete with any inserts, inner bags and stickers that came with the album originally."
Name your Price
Signatures may also enhance value. Other times, they won't. Last year a copy of Abba's first album, signed by all four band members, fetched £480 at Bonhams. However, a record that has been signed by a long forgotten singer may actually make it less desirable to collectors.
It's also worthwhile watching out for promotional copies, sent out to DJs and music industry insiders, that frequently have a white label or letter 'A' stamped on them. Similarly, acetates from studio sessions that contain examples of songs that were still works in progress and never meant for release can attract a lot of interest from buyers.
Then again, it can be a little detail that the untrained eye more likely than not would miss altogether. "A Beatles Please Please Me LP with the word Parlophone written in gold instead of yellow is always a nice find," says Nick.
Hits and Misses
It can also come down to simply what is currently popular with buyers and what's in fashion. "The factors that determine a record's value are demand and supply," says, Ben. "Led Zeppelin, Pink Floyd, The Beatles and The Rolling Stone are in demand, but James Last, Jim Reeves and Mantovanni are not!"
Nick says, "Vinyl is a good investment as long as you know what items are likely to go up in price, things change constantly and many different factors can affect the value of a record. A Gary Glitter collector would not be too happy with the value of his vinyl collection today."
While the appeal of those highly successful bands and artists, whose music helped to define their different eras and left behind a recognised legacy, is obvious, the works of more obscure musicians can also trigger a clamour amongst collectors. In such cases the number of records pressed might have been relatively low, and more still may have been lost over the decades. As Ben explains, "Some records are worth more than others because they were pressed up in small numbers because they were under-appreciated at the time, or perhaps they were withdrawn from sale or deleted quickly."
Turntable Turnaround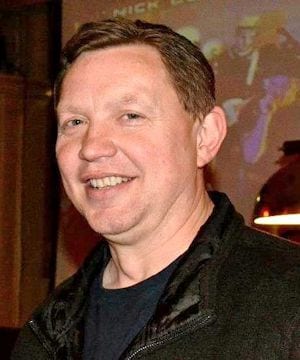 Nick Courtney
So what is driving this turnaround in the turntable's fortunes? "Vinyl records collecting is one the most pleasurable hobbies one could indulge in. As well as superior packaging and fantastic artwork, the music simply sounds better! Vinyl Records produce the closest reproduction of the sound that the artist was actually playing at the time the music was created," says Nick.
"Records are now being seen as a good investment as they are in fashion, nostalgic and great to look at and listen to. While iPods and downloads are fine, what's the harm in wanting to own a classic album?" asks Ben.
Indeed, it also seems that one of the world's most celebrated of techo innovators, the late Apple boss Steve Jobs, shared his view by displaying a penchant for ditching the docking station and putting the needle on the record. According to legendary rock singer, Neil Diamond, speaking at a media conference in California, when Jobs went home, "he listed to vinyl".
Old Appeal for a New Audience
Similarly, increasing numbers of young people are also rediscovering the simple pleasure of slipping a record from its sleeve, teeing up the needle and getting into the groove with vinyl.  Nick says, "Young people are starting to rebel against the fact that they are being sold fresh air in the form of downloads, this is why the majority of them refuse to pay and find ways to download their music for free. Once they hear the difference in sound quality that vinyl produces they realise that they are missing out and want the real thing!