Ceremony and speeches are the most difficult things to sit through if you are a child. Similarly, weddings where children are present can be tricky to navigate, especially if they are small but mobile. There are loads of great ideas out there on how to keep children entertained on your big day; after all, if tantrums start it's likely parents will call in an (extra) early night. So, why not try and make things easy for everyone?
You can source many toys and games second hand or from charities, which you can either give away to children once it's their bedtime, or you could drop them off at your local charity shop. A good idea is to find a babysitter (or 2) to mind the kids so parents do not have to be on guard all the time. If you are getting married locally, you could ask family and friends with children to mediate with their child minder; younger siblings of friends are also an option!
Give booklets during the ceremony so children can do some colouring games on paper. You could also research some free apps for iPads or mobile phones which parents can download and let children play with. Just remind them to turn down the volume.
Blowing bubbles always works. Children should be supervised for this, as children under 5 could swallow the bubbles.
Having a kids area outside (if it's warm!) can contain hula hoops, skipping ropes, tennis rackets or even a fishing pool.
Other games you could have, which adults can partake in as well are giant Connect 4, portable bowling and croquet.
If you have an indoor wedding, never fear! There are plenty of puzzles, games and stories you can have. Some couples even had a film corner! It all depends on the type of venue you have.
You could also combine entertainment with wedding photos! Leave a per with instructions for a photo scavenger hunt.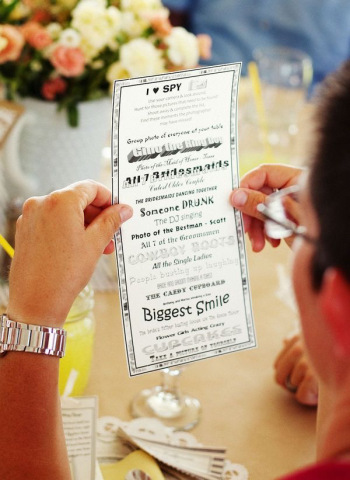 Leave a comment below telling us which activity you like best! Or what you did at your wedding to entertain the children.