Whilst there is a fleet of boats, kayaks, canoes and watercraft of all shapes and sizes always for sale on Preloved, it's not often that we get a German U-boat-submarine moored up.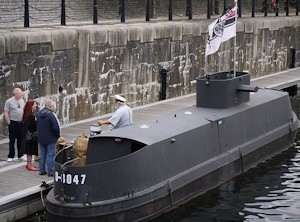 Yet, the captain of a unique hand-built 45-foot replica submarine that has attracted worldwide attention has the unusual vessel for sale on Preloved as he can no longer afford to run it as a tourist attraction.
Captain Richard Williams, owner of the U-8047 U-Boat-Submarine, which until recently was moored outside The Royal Armouries Museum at the Clarence Dock in Leeds, said that he placed the advert in the hope of finding either a sponsor for the vessel, which runs as a museum, or a new owner who wants to buy it.
He said, "We are only selling because British Waterways has moved us from the prime location outside The Royal Armouries, which has resulted in a 90% drop in visitor donations. If we had a corporate sponsor or a better position we could probably survive. If we sold, the buyer would have the option of us voluntarily crewing and operating her for them, in exchange for still living aboard."
The submarine gained international media attention when it was originally built by self-confessed eccentric Richard to mark his 50th birthday and launched on the Leeds Liverpool Canal at Botany Bay Chorley. It took three months to build at a cost of almost £50,000 and is currently home to Richard, his wife, Laurel and their three dogs. Converted from a canal barge, the boat's appearance was inspired by the 1981 film, Das Boot, about life aboard a WWII German U-boat. The hybrid U-boat and British submarine, which can float in six feet of water, boasts impressive attention to detail, including an outer body shell with a stealth bow, closed in stern and coning tower made by a Liverpool boat builder; miles of internal cabling for lighting, electronics and the sound system; a plastic periscope and fire escapes.
Captain Williams
Above the helm is a hatch to the coning tower and in the bow there is an overhead escape hatch. The captain's cabin is lined in oak panelling and contains a TV, desk/chart table, a sofa/bunk and a few home comforts. The rest of the crew have the pleasure of sleeping on bunks in the torpedo room.
The replica submarine is now run as a social enterprise trust and is an independent museum offering free historical educational visits for children, with any donations going towards the upkeep and running costs of the U-8047 Trust.
However, Captains Williams said that since the boat was moved to its new location in the commercial area of Clarence Docks visitor donations have dropped dramatically and forced him to take the decision to sell the craft.
Submarine at Clarence Docks
He said, "This is a unique opportunity to own the world's only mobile submarine museum, which is based in Leeds but able to travel the canal network." The boat is being sold with German and British items, uniforms, sonar, whoopar horn and morse key. "It can be used as a floating museum, tourist attraction or just as your own personal big boy's toy!"