Let all sit back and be honest for a second. The best part about celebrations and parties is by far the food. No one can tell me otherwise. As it's the queen's jubilee I expect to eat like royalty too! In order to keep in line with the event we need to make sure that we indulge in an array of British Classics, with the occasional twist! To commemorate Queen Elizabeth's II 70th anniversary on the throne, we are celebrating with a 4 day bank holiday weekend! From Thursday 2nd June to Sunday 5th June! If you are planning your own celebration we thought we would offer our help and suggest some jubilee party food ideas. Below we will run through some of our favourite recipes!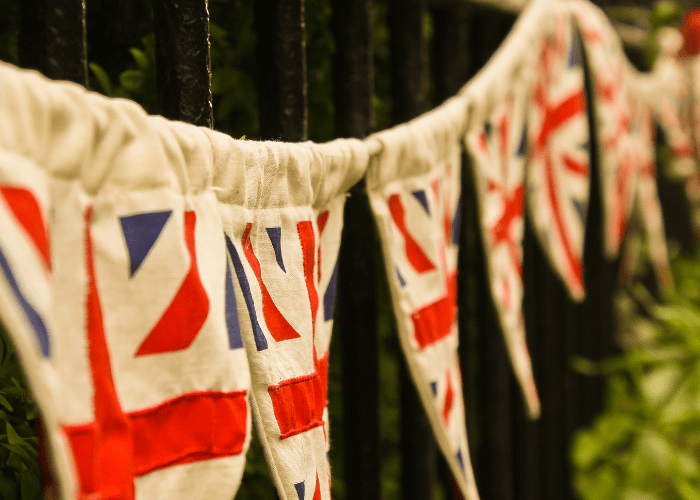 A Royal Recipe Line Up
If you are going to be hosting it is important to think about what it is that you will be plating up. Not just the food on the plates but what types of courses? Will you have a cocktail on entry? These are all the things we think you should consider:
Aperitif
Canapes
Sandwiches
Desserts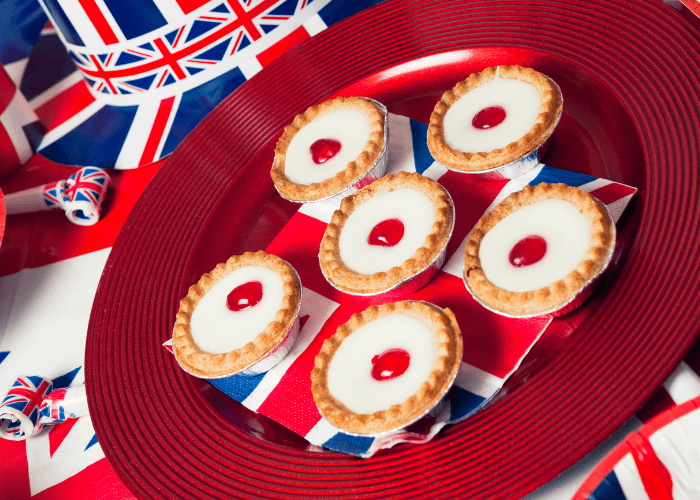 Once you have figured out what it is that you are offering then you can get buying. We have curated some of our favourite recipes, to help you pick which courses. As we are suggesting one or two recipes per course.
Aperitif Recipes
Like many of us in the UK Queen Liz, is partial to some gin, which is why we have the perfect aperitif recipe for you to serve those on arrival. Pairing the gin with her favourite style of drink, which is meant to be a martini. We have the 'Royal Red Martini'.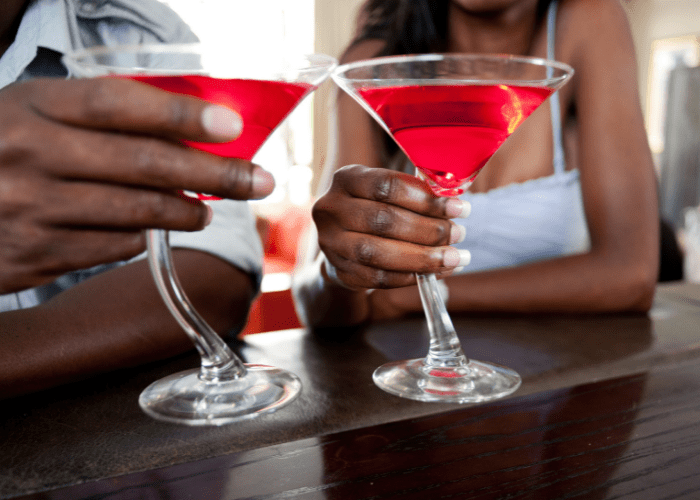 What you will need:
30ml

Dry Gin
Martini Extra Dry Vermouth
Sweet Vermouth (Not Bianco – as this won't have the red colouring)
How to make it:
Pour all three into a cocktail shaker over ice.
Shake – Shake – Shake.
Strain out into a coupe glass!
Garnish with either the skin off a lemon or a dirty olive. (Whatever your preference is)
Canapes Recipes
Depending on how many people you have attending will depend on what you want to do. Even if it's only a few people it can be nice to have canapes instead of bowls of crisps, and it can cost you just as much if not less! For this we have a cheaper option and a bit more expensive but just as easy. Both are delicious, and you could even combine them so you have a veggie option too.
Firstly we have crab and crayfish bites, what you will need to make 30:
15 Small Brioche Buns
5 tbsp mayonnaise
2tbsp ketchup
1 1/2 tsp Tabasco sauce
1 1/2 tsp Worcestershire Sauce
Splash of Vodka
180g Crayfish tails
100g white crabmeat
Finely grated zest 1/2 lemon
Chopped Chives
How To Make Them:
Slice your brioche buns in half, and if you think that they are still too big to canapes then cut them into smaller bite sizes. Any crumbs can be used for breadcrumbs on a nice soup or as a garnish on top.
Mix together the mayonnaise, ketchup, Tabasco, Worcestershire sauce and vodka, and season with salt and pepper.
Then add in your crayfish, crabmeat and lemon zest.
Finally spoon the cocktail filling on your brioche buns and sprinkle the chives on top.
Secondly we have cucumber, tomato and soft cheese bites, what you will need to make 30 (2 bites each):
2 Cucumbers
8 tbsp soft cheese (ideally garlic flavoured)
20 cherry tomatoes
Basil (optional)
How To Make Them:
Cut the ends off your cucumber and slice them lengths ways to make too long strips.
Gut the centre of your cucumber with a tea spoon.
Then fill this gap with soft cheese and cut each strip into 15 even bites.
Then cut your cherry tomatoes into quarters and using a toothpick combine the tomato and cucumber bite.
Optional before adding the cherry tomato add a basil leaf for more colour and flavour.
Sandwiches Recipes
Jubilee celebration are either BBQ's or sandwiches, but as the weather can't quite make it's mind up at the moment we are going to go with sandwiches! You can't go wrong, but it does have to be white bread if it can be! We are celebrating, this isn't a time for healthy choices. Firstly we have a roast beef tray sandwich.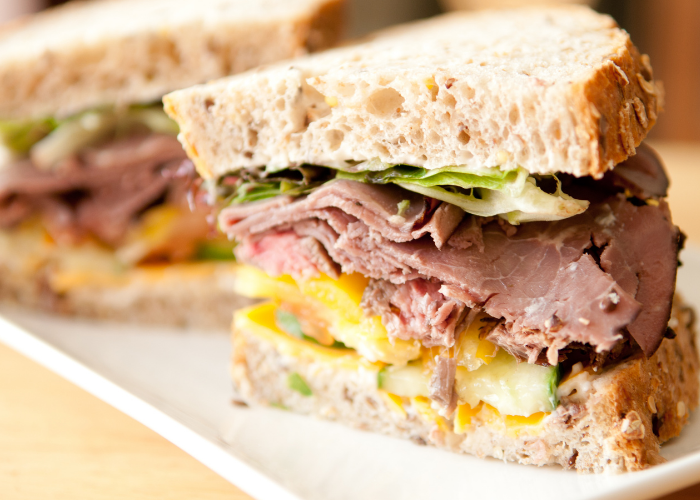 What you'll need to make 12:
2 slices of white bread
2 tbsp wholegrain mustard
3 tbsp horseradish
10 cherry tomatoes – halved
600g British Rump Steak
100g Rocket
How To Make Them:
Fry the steaks over a high heat for 2 minutes each side for rare, or 3 for medium.
Remove the steaks from the heat, rest and cool, then cut into thin slices.
Butter your white bread and spread on one side the horseradish and wholegrain mustard.
Then cover with the tomato halves evenly.
Distribute the beef evenly and sprinkle the rocket on top before putting the lid of the sandwich on.
Cut into the triangles and serve.
To make sure everyone is looked after, we have a veggie option of a chickpea salad sandwich.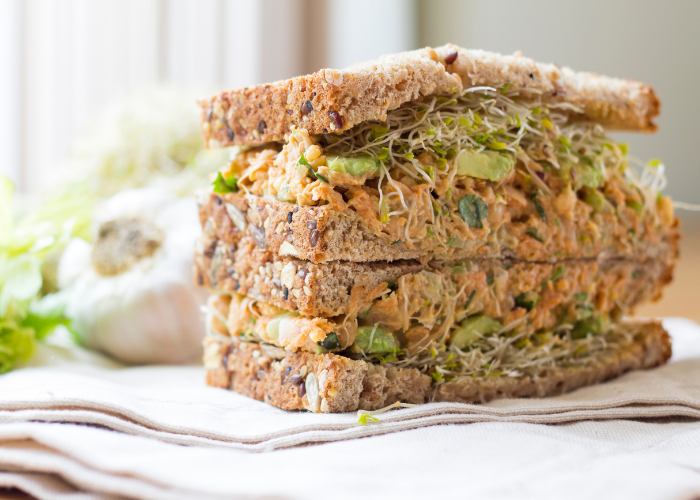 What you'll need to make 16:
32 slices of white bread
12 cups of chickpeas
8 sticks of celery
24 spring onions
16 tbsp mayonnaise
8 tbsp lemon juice
Lettuce
How To Make Them:
Thinly slice the celery and spring onion.
Drain and rinse the chickpeas, then transfer them to a bowl and lightly mash them.
Combine the chickpeas, celery and spring onion, then add the mayonnaise and lemon juice. Season for flavour.
Butter your white bread and spread out your mixture on one side.
Top with lettuce and add sandwich lid.
Cut into triangles and serve.
Dessert Recipes
We know that everyone loves the classic Victoria sponge, but we wanted to suggest something a bit lighter, which is why we have gone with a mixed berry pavlova! You can still decorate it to have a union jack as well so it's a winner all round. Plus we promise whilst it sounds scary it's really not that challenging, and it's a real crowd pleaser!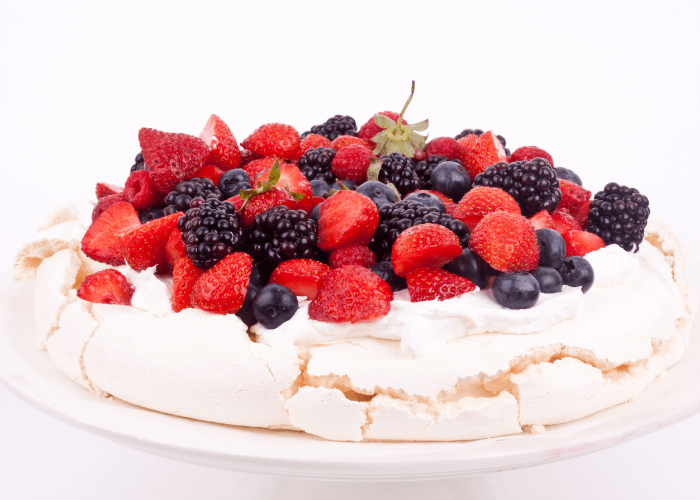 What you'll need:
4 large free range eggs (at room temperature)
225g caster sugar
2 tsp cornflour
2tsp white wine vinegar
whipping cream
mixed berries (to make a union jack think, strawberries, raspberries and blueberries)
How To Make It:
Turn your oven to 160'C and mark a 9in circle on your baking parchment.
Separate your egg whites and whisk them until they are stiff and cloud like.
Then add the sugar one tsp at a time, whilst still whisking.
Once all the sugar has been added then whisk in the cornflour and vinegar.
Then using the outline of the circle on the baking parchment spoon out the mixture and build up the sides to make a méringue bowl.
Place the mixture in the oven and turn the temperature down to 150'C and bake for 1 hour.
When it's finished leave it to cool.
Whilst the meringue is cooling whip your whipped cream until firm.
Then spoon onto the cooked meringue and decorate with your mixed berries.
Chill in the fridge for an hour and then serve.
Other Food Ideas