The rise of fast fashion has paved the way for a throwaway culture in the clothing industry, and it's having a massive impact on our planet. Globally, nearly three‐fifths of clothing ends up in an incinerator or landfill site within a year of being made. So it's no surprise to see that shoppers are turning to the second‐hand market for their next purchase, as well as finding other creative solutions to reduce landfill.
Renowned fashion journalist and author Tamsin Blanchard and Cara Smyth of the Fair Fashion Centre came together to discuss the state of the global garment industry, and shared their top tips for building a more conscious wardrobe.
Tip 1: Make the most of second‐hand shops and resale platforms
Second‐hand shops and websites have seen a resurgence in popularity in recent years, and for good reason. They are a great place to find hidden gems, vintage pieces, and one‐of‐a‐kind items that put a unique spin on your personal style.
Tamsin and Cara love the thrill of hunting for second‐hand clothing, as it brings together a community of like‐minded fashion enthusiasts. It's also a great incentive for people to take better care of their clothes: "[Second‐hand stores] are teaching people to really look after their clothes, because if you look after them you can sell them on afterwards. So it's a win‐win."
The rising popularity of second‐hand shops and resale websites is challenging the way we currently shop, and everyone is excited to see how this will change the industry in the future.
Tip 2: Rethink your relationship with new clothes
Fashion is often all about the brand new and the right now, but keeping up with the trends also produces a lot of waste. Tamsin argues that there needs to be a shift in the way we think about our clothes: "Every purchase that we buy, we have to appreciate that these are precious resources."
Before you make an impulsive buy, ask yourself the following questions:
– "Will I wear this 30 times?"
– "Do I like it just because it's cheap?"
– "How will I dispose of it?"
– "Can I recycle it?"
It's important to keep these questions in mind even when shopping for second‐hand items. Because ultimately, building a sustainable wardrobe is about reducing the cost per wear, buying less, and taking better care of the pieces we own.
Tip 3: Transform the existing items in your wardrobe
Doing a little bit of DIY work is a great way to breathe new life into old items. It's easy to create a whole new look just by making a few small changes, whether it be wearing different accessories or altering the hem of your clothes.
What's more, putting the time and effort means you come to appreciate that item a lot more: "If you try and repair your clothing – rather than just discarding it and buying something new – you actually have more love for that piece."
It's also a great life skill to pick up – how many people can say they know how to repair a zip, or sew on a button these days? That's why we've created three helpful guides to help you love and care for the clothes already in your closet.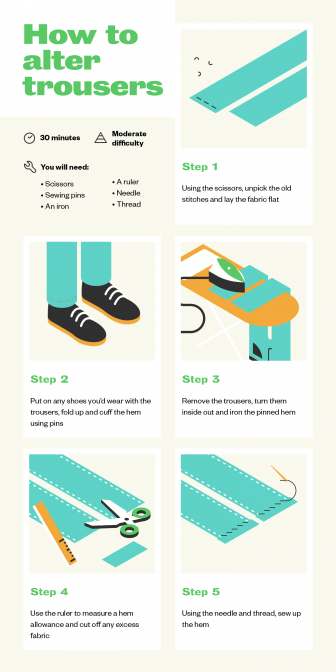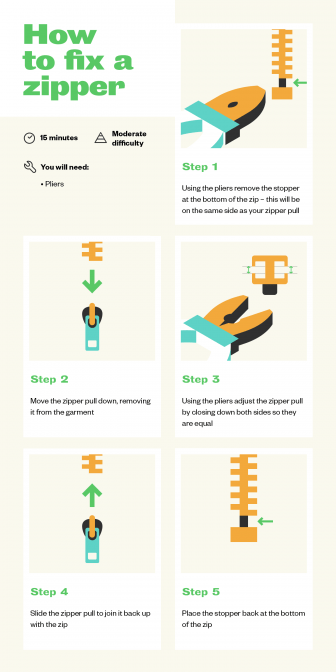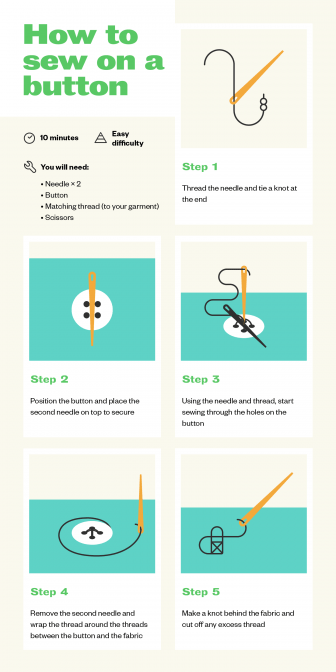 To find out more about Tamsin and Cara's insights, listen to the full episode here, or search for'Sunday School by Harvey Nichols' on your preferred streaming platform.