Hi, I'm Emily.  I'm a passionate allotmenteer, and I love plants so much I've just changed my whole career so that I can be a professional gardener.  This blog is to tell you about how I discovered gardening, and to share my best tips for your new allotment or growing space, wherever it may be.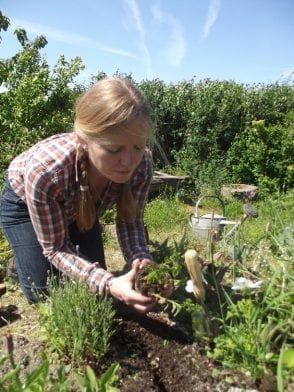 My gardening journey began in 2008, when I moved back to Brighton from my university, Dartington College of Arts in Devon.  As a child I'd been lucky enough to have a huge garden and when I moved to university, the grounds at Dartington had the most amazing, beautifully tended gardens. Then I moved back to Brighton to be nearer London for work, and after the rural atmosphere of Devon, Brighton seemed dauntingly urban. Suddenly, in my second floor flat, nature was two storeys down. Everything I'd taken for granted suddenly seemed very far away.
Firstly, I missed grass. So I used my flat's wide outdoor windowsills to house window boxes in which I grew…grass. Then I realised you could plant bulbs in grass, so I started miniature meadows. Only my guests and I ever got to see them, but I loved them, and started to get visits from bees and other insects, none of which I could name, then.  Unbeknownst to me, it had all started to snowball – if I couldn't be surrounded by nature that I could take for granted, I was going to create natural environments to surround myself with, instead.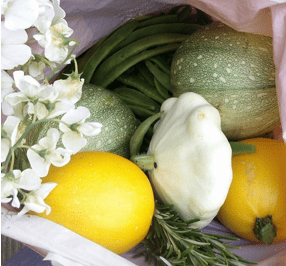 When I got together with my partner, we discovered we had both always toyed with the idea of living afloat. Moving on board an historic little ship from 1942 was a wonderful adventure – but once again, land was further away! After a succession of container gardens, I decided I needed real ground, and this is where my plot came in.
On a freezing day in November, in a torrential downpour, about 20 other hopefuls waited in a queue to choose our plots. By the time it got to our turn, I picked out the only number I could remember. Luckily I had chosen reasonably well.  Our plot isn't too far from the tap, which is a big plus, and it had some tools already on it.
Talking to my neighbours (and regularly wandering round the site) helped me to find out what grows well at our place, and the best allotment advice I could give anyone is to make friends. I found out that chard loves our soil and raspberries hate it, that we have a regular visit from a kestrel, and that frogs do, in fact, live on the top of hills. Also that despite being right next to the sea, unprotected from the salt winds, we can, and do, grow substantial amounts of produce.
My first winter at the plot was a revelation. Making endless tea on a Kelly kettle, I dug over every bed, rotted down copious quantities of bindweed roots in terrible buckets, and just before Christmas I put in my very first seed order to the wonderful Real Seeds. I discovered that when you're indoors, the weather outside seems frightful, but when you're outside
the rain lasts much less time than you think. The best test of faith in the future is planting beans or peas to overwinter. You can't believe they'll come through, but they do – and the moment when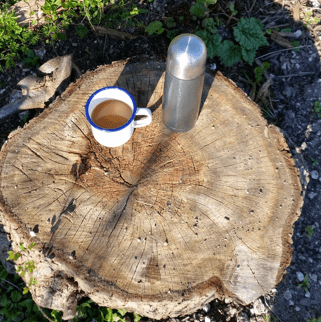 they start growing again in spring is when you wake up for spring, too.
My first harvest also became my go-to green vegetable, Swiss chard.  I grow chard now in a whole range of colours, and it grows almost like a miracle through winter, cheering you up with its acid colours, and then carries on all year through.  The best surprise, though, was the rhubarb – it began shyly appearing in early February, and turned into a huge, luxuriant plant.  Well, four plants, actually.
Learn to make green tomato chutney.  Collect seed and go to seed swaps, and pick up something
interesting to try – and if the mice eat your seed, or the wet destroys it in the ground, plant it again somewhere else.  Make friends, swap tools, and plant raspberry canes and rhubarb, even if you're only going to have your plot a year.  The next person will love you for it, and it's an inexpensive pay-it-forward. Improve your soil – bucket on well rotted manure like there's no tomorrow.  The worms will take it down into the soil for you, and you'll get happy vegetables.  Don't over water – I was really worried I wouldn't be able to water enough, but once a week can be enough, after vegetable plants are established.  If you've improved your soil, it will store water and do a lot of that work for you.  Most of all though, go there, and lie on your back on the path, and look up at the sky through a gently waving forest of courgette leaves, and know that when you grow plants, you're taking part in the world, and it needs you too.