To help you avoid the mad Christmas shopping rush this year as part of #PrelovedGreenFriday, we've put together our top 10 handmade gifts on Preloved, so you can avoid the mayhem and help support small businesses this festive period.
#PrelovedGreenFriday is Preloved's eco-friendly and sustainable alternative to Black Friday. It encourages you to think about how you shop and explore alternative ways of shopping to the online deals and high street discounts that dominate spending habits at this time of year. So, we're encouraging you to support the small businesses here on Preloved, to save you the hassle of battling the crowds through our top 10 handmade gifts.
Our Preloved top 10 handmade Gifts
1. Handmade Upcycled Tealight Holder
For the candle-lover in your life, how about a gorgeous upcycled tealight holder? Or bring some hygge goodness into your own home. Not only can you help support a local business, you're helping to reduce leftover wood going to landfill!
2. Handmade Murano Glass Figure
These handmade Murano glass figures are beautiful and super affordable, a perfect stocking filler or mantlepiece decoration.
3. 'Love' Light-Up Sign
Brighten up and add a little glam to any room with this amazing hand-made light-up sign.
4. Upcycled Dog Bed
Christmas isn't just about gifts for your human friends! Why not treat your pooch to this "Louis Vuitton" upcycled dog bed? Add a little luxury to their bedtime, reduce waste to landfill and support a small business at the same time? Sounds like a perfect way to avoid the mad sales shopping rush, and your furry friend will thank you too!
5. Personalised Christmas Box
Why not add some personalised charm to your Christmas morning? Or are you joining in on the growing trend of  Christmas eve boxes? Why not treat a little one to one of these gorgeous handmade, personalised Christmas boxes?
7. Handmade serving tray
This beautiful serving tray is made from reclaimed wood and old brass handle, perfect for breakfast in bed!
8. Handmade chalk hearts
Perfect for leaving reminders for the more forgetful, or just for adding some adorable accessories to brighten up a room! Why not treat a loved one to of these beautiful heart-shaped chalkboards for Christmas?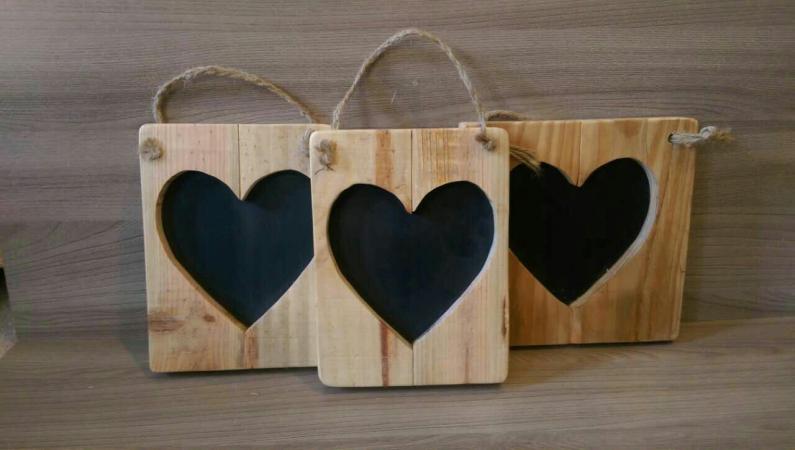 9. Handmade Hedgehog Hotel
Christmas isn't just about giving gifts to friends and family, why not give a gift to your friendly neighbourhood hedgehogs with this gorgeous 'hedgehog hotel'?
10. Needle-felted Cat
One of the Preloved's team favourites, this handmade, needle-felted cat is just the cutest little stocking filler we've ever seen! If you check out more of the creator's adverts, there's the most adorable collection of needle-felted creations – a real Preloved gem!
Have you found any Handmade treasures on Preloved that should go in our top 10 handmade gifts? Let us know!
Find our other ways to avoid the mad shopping rush and celebrate #PrelovedGreenFriday here. Plus, why not list your own handmade creation on Preloved?