A Guide to an Eco-Friendly Wedding
In general, weddings aren't considered to be eco‐friendly events. Food waste, disposal of decorations, plastic packaging, and travel pollution from wedding guests all add up to a hefty footprint. In recent years, more and more couples have been considering ways to cut down their carbon footprint by adopting a few eco-friendly wedding habits. Read on to learn a bit more about how to be extra kind to the environment on your special day!
The Venue
Your venue is the most essential factor to consider if you're looking for an eco‐friendly wedding. It doesn't mean trudging across a field in your finery – it's more a question of reducing the amount of energy and materials that are required to knit the day together.
Choose a venue close by as travel arrangements are the most significant carbon footprint your wedding will leave. Instead of transporting or constructing your own venue with marquees, choose a permanent fixture like halls, barns and country houses with recycling facilities and access to a range of fantastic local vendors. Keep guest numbers down as being economical with your list means you reduce waste and carbon footprint.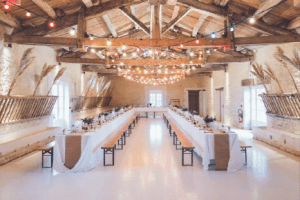 Eco-friendly Wedding Favours
Forget about gifts in wrappers and plastic gift bags, choosing an eco‐friendly wedding favour is much better for the planet. With DIY favours you could serve organic sweets, homemade jam, sloe gin, hot chocolate mix, the list is endless. Making your own confetti is also a much better option than buying the non‐biodegradable kind. This can be done really easily by drying out flower petals, which you can collect over a period of time to ensure you have enough. Why not also consider buying favours which give something back to the environment, such as packets of wildflower, chili seeds, and wild blooms?
Watch this YouTube Tutorial to learn how to do it yourself! https://www.youtube.com/watch?v=lBsCHkRRYPY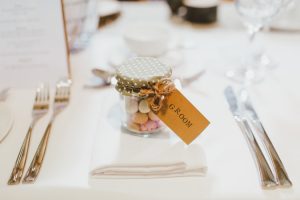 Bridal Clothing
Think about all the outfits you'll be needing for the day from bridesmaids dresses to flower girls. To reduce your environmental impact, perhaps a family member is happy to pass down their dress to you, or you've found something perfect on Preloved. Whatever the case, you shouldn't dismiss second‐hand options, as these are a bargain compared to the average price of a wedding dress being £1500! When selecting accessories for an eco-friendly wedding, find out what products are used with organic and Fairtrade materials. These items are not only beautiful but genuinely unique too.
Another tip is to let your bridesmaids decide their outfit- they are far more likely to wear their dresses again if they've picked something they really love! That way, it doesn't get thrown into the back of the wardrobe to collect dust once the wedding is over. Arrange to take them to a local bridal boutique and afterward either sell the dresses on Preloved or give them to a charity shop for someone else to enjoy?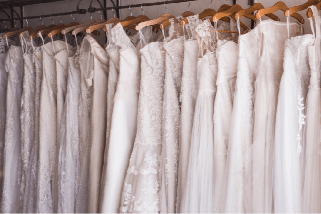 Eco-friendly Wedding Invitations
To reduce your environmental impact, it's worth considering the amount of paper required. So, skip the save the date cards and just give out wedding invitations. Emailing invites to your guests means they won't end up tossed in the bin, you'll save a considerable amount of money, and you can get creative. You could send links to a video, or a small website showcasing your theme.
If you do choose to send out paper invites, be sure that they can be recycled. Glitter, glue, ribbons and the other decorative touches are non-recyclable so it's worth shopping around a little bit. Plantable seed paper is absolutely perfect for an eco-friendly wedding, particularly in Spring. Guests can plant their card, and watch the flowers, herbs or vegetables grow. Did you know ink has volatile compounds that produce high levels of toxicity and air pollution as it breaks down? Vegetable and soy‐based inks are far kinder to the environment!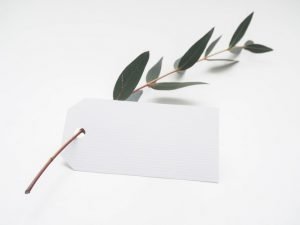 Catering
Food is usually the key culprit for waste at a wedding, particularly if you have a buffet. As well as this, plastic packaging and tableware are another cause for concern. If you're keen to use local produce and help the local economy, select your own local supplier or caterer since locally sourced ingredients can lessen your impact.
It's important to avoid disposable dinnerware like plastic plates, cups, and cutlery since they are not recyclable. Asking a local, organic bakery or even a friend who loves to bake, to make your wedding cake is a good choice if you're keen to invest in local business and receive a delicious treat in return. Most bakeries are now well versed when it comes to vegan, gluten and dairy‐free options, so you can be sure to cater to all of your guest's needs.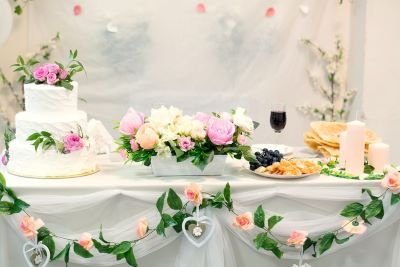 Wedding Flowers
Flowers are a crucial element in reinforcing your theme and adding a lovely natural touch to your wedding day. To be eco-friendly, buy your flowers seasonally and locally to reduce the carbon footprint of purchasing imported flowers.
When putting together your bouquets and buttonholes for your eco-friendly wedding, ask if the flowers are locally grown and in‐season. Consider replacing cut flower centerpieces with potted plants, working particularly well with dwarf conifers. Always ask your florist to make arrangements without floral foam. This kind of material is an open‐cell plastic, which is no better for the environment than single‐use plastic, taking hundreds of years to break down.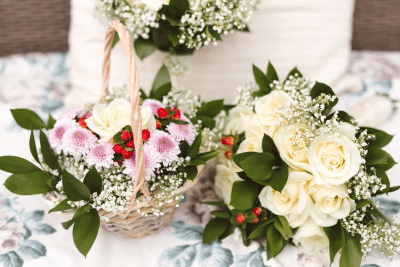 The Reception
The wedding reception is a visual way to bring your theme to life and keep your guests entertained, without relying on single‐use plastics. Be as green as possible and embrace technology. Instead of printing out a table plan, why not consider using a projector display on the wall or give your ushers tablets so that they can show people to their seats before the meal? Look into borrowing decorations and speak to your venue since they may have tablecloths, decorations and other accessories that you can hire. You can also embrace tradition. Light candles, where it is safe to do so, as you can create a beautiful, mellow atmosphere whilst switching off any unnecessary lighting.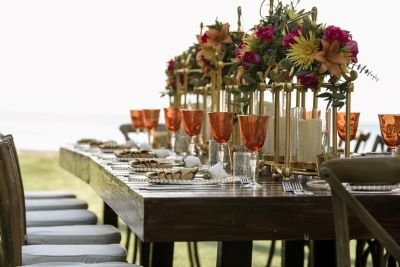 All in all, planning any wedding is a difficult task, let alone if you decide to make it an environmentally friendly one. That said, you not only do your bit for the planet, but you can save some money too. With the average cost of a wedding reaching £26,989, an eco-friendly one is not something to be sniffed at!