The 1950s saw a surge in individuality and freedom. People in Britain still experimented rationing in one form or another until 1958; so despite the decade being associated with bursts of colour, it was a decade when a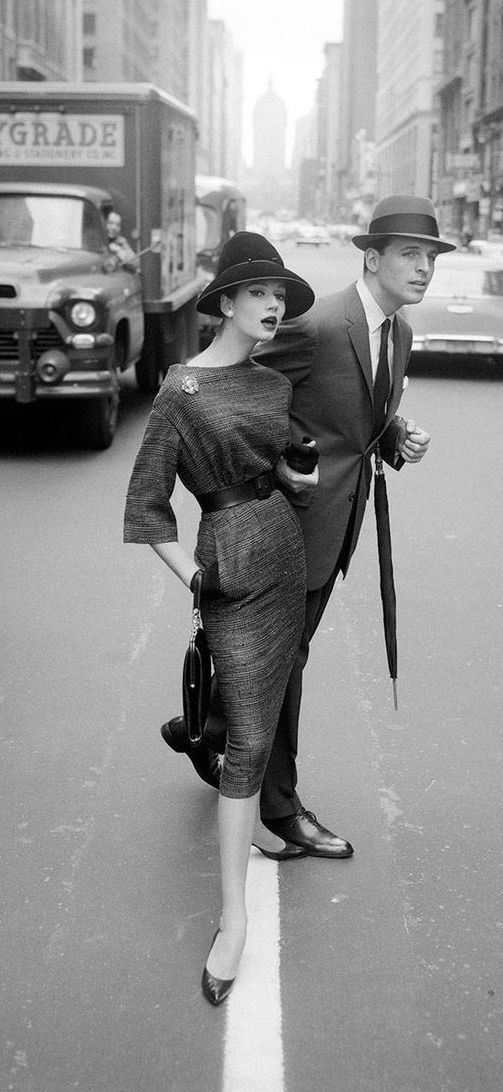 nation worked together to put the country back on its feet. With the arrival or disposable income came the rise of 'ready to wear' fashion, and so did the decade's design focal point: the waist line. While some women enjoyed the snug fit of skirts and dresses, other preferred Givenchy's "sack dress", precursor of the 60's style we think of today. The phrase "the wandering waistline" was coined at the 1952 Paris spring collection because of this wide variety of tastes.
Christian Dior created a succession of silhouettes based on letter shapes. In 1954 he introduced the H Line, which consisted of a slender tunic suit with a slim skirt that later became more of a dropped waist dress, reminiscent of the 1920s. A year later the A Line and Y Line appeared; the former consisting of a skirt, dress or coat that was slim fitted at the waist and which flared out towards the knees; the latter was a slim-fitting shape with a straight, narrow cut that fell from the V-neck to or just below the knee.
While hemlines, waistlines and hairlines grew progressively shorter throughout the decade, there are key looks that stuck throughout. The arrival of rock'n'roll with Elvis or Johnny Cash influenced the scene greatly, as well as The Rat Pack, with such characters as Frank Sinatra, Judy Garland, Katherine Hepburn and Cary Grant. Other style icons were Marilyn Monroe, Sophia Loren, Brigitte Bardot, Grace Kelly, James Dean and Marlon Brando.
The beauty of the 1950s is that there was a style to suit any body shape, and curves were achieved with belts, foundation garments, net and padding.
Wiggle walks, sweater girls and peep toes
Women would wear a petticoat and full skirt, which consisted of a circular or pleated skirt with layers of petticoats to give lift. These were never shorter than mid-calf, and could be worn at day time or as evening wear. Pencil skirts were narrow, fitting straight dresses. They restricted women's walking, resulting in the (in)famous wiggle walk. It was a very sophisticated look, and ideal for the more mature woman. The sweater girl look originated in the 1940s, and the aesthetic is rather peculiar to us as it emphasised a conical bust shape, as opposed to the rounder shape we are used to today. Shoes changed during the decade, presenting a chunky heal with a rounded toe or peep toe at the start, and moving towards the iconic stiletto towards the end.
Trilby hats, denim and The Rat Pack
Men were greatly influenced by The Rat Pack, and wore suits and trilby hats. Unfortunately for men, the fashion industry had yet to pay them the attention they deserved and so the choice of colour would range from navy, to brown, grey and black. Checks and cardigans in a lighter-styled fabric were chosen as casual-wear. Perhaps the most significant change in men's fashion was that denim started to be worn.
Women would wear their hair with a wave or curl, a French pleat or pony tail, embracing the beehive towards the end of the decade. Men would grease their hair – the amount of grease was directly proportional to how young they were; as did the height of their quiff.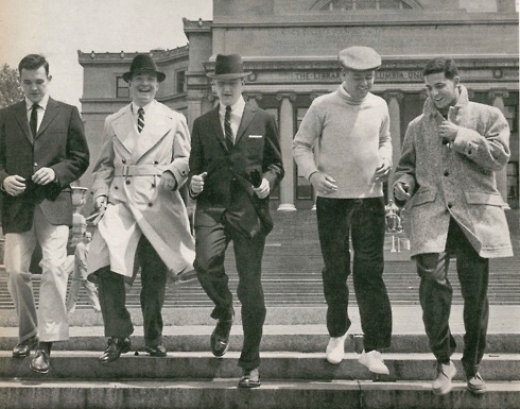 Teddy Boys, tight waists and rock'n'roll
The 1950s was the first time there was a market for teenagers. It was a time to dress differently to one's parents, and so girls wore brightly coloured patterned dresses with tight waists and wide skirts, ideal for rock'n'roll dancing. Capris, tight tops and flat shoes such as oxfords were also part of the Look.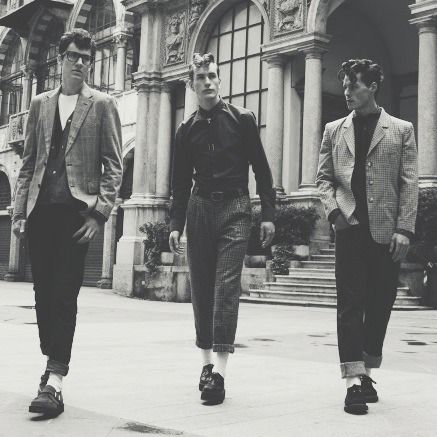 Young men went for the Teddy Boy look, inspired by the Edwardian Style. This consisted of an Edwardian 'Drape'-style jacket with a long, knee-length, single-breasted jacket with cuffs and lapels in contrasting velvets or satin. They were worn with tight trousers, stiff shirts and brocade waistcoats. There were also wool jackets with an abundance of pockets, normally combined with contrasting ties. To complete the look, they would opt for pointed shoes.
Nowadays, many of us are inspired by the 1950's style; the rockabilly and pin-up looks being the most prevalent. You can browse the Time Machine for more inspiration in your home as well as your choice of clothes. Share with us a photo on Twitter of this or other Fashion Trends over at @Preloved!
All images sourced from Pinterest