YOU can beat the rush to grab the best bargains FIRST by seeing brand new adverts on Preloved as they're created across the entire United Kingdom on our exciting new live map feature!
Whether you are willing to travel for the perfect find, or would prefer to bag brilliant buys right on your doorstep, you can keep an eye on every new advert on Preloved in real time as secondhand sellers across the nation create them.  It's easy to zoom in and see the very latest adverts in your area, or zoom out for a helicopter view showing the UK's most exciting secondhand deals.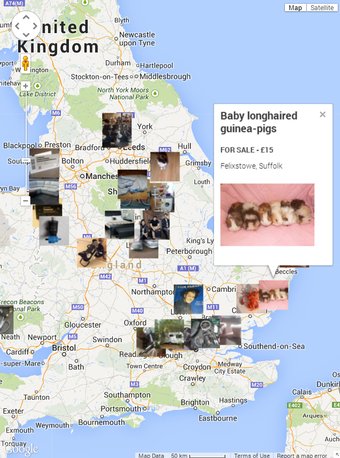 Perhaps you are waiting for your dream secondhand wedding dress to be put up for sale? Or maybe you are keeping an eye out for that perfect family pet? You can quickly spot the latest cars, caravans, houses to rent, clothes, toys, laptops, sailing boats…
And if you are not looking for anything in particular, then take a sneaky peek to see what cool secondhand delights are up for grabs in your area! There are more brilliant deals being added every second!
When you see something that catches your eye, simply click on the thumbnail to get a brief overview of the ad, then find out more with a quick click to go straight to the full advert and get in touch! Go on, have a nosey and try it out for yourself NOW!